Antwerp: 2021 could be crucial for Beerschot
source: StadiumDB.com [MK]; author: michał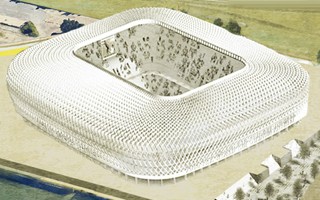 This year may be decisive for the future of Belgian premier league's Beerschot. Relocation to a new stadium is the preferred option, though details are still being worked on.
Looking at Belgium's Eerste Klasse A today it's hard to believe that as recently as 2017 there was no club from Antwerp among the contenders. Now Antwerp is one of two derby cities, with Royal Antwerp second in the league and Beerschot also able to compete for European competition spots, having been the leader for one weekend, earlier this season.
First of the two clubs is expanding its stadium one grandstand after another. The other is yet to decide where the next few decades will be spent. The time is right to make such determination because Beerschot's lease of Olympisch Stadion (De Kiel) will end soon and the Rats have to examine all options.
In short, there are two ways forward. One would be to extend the contract, stay put and upgrade De Kiel gradually. The second one, which is officially preferred by the club, is relocation to a brand new stadium north of the current home, in Petroleum-Zuid.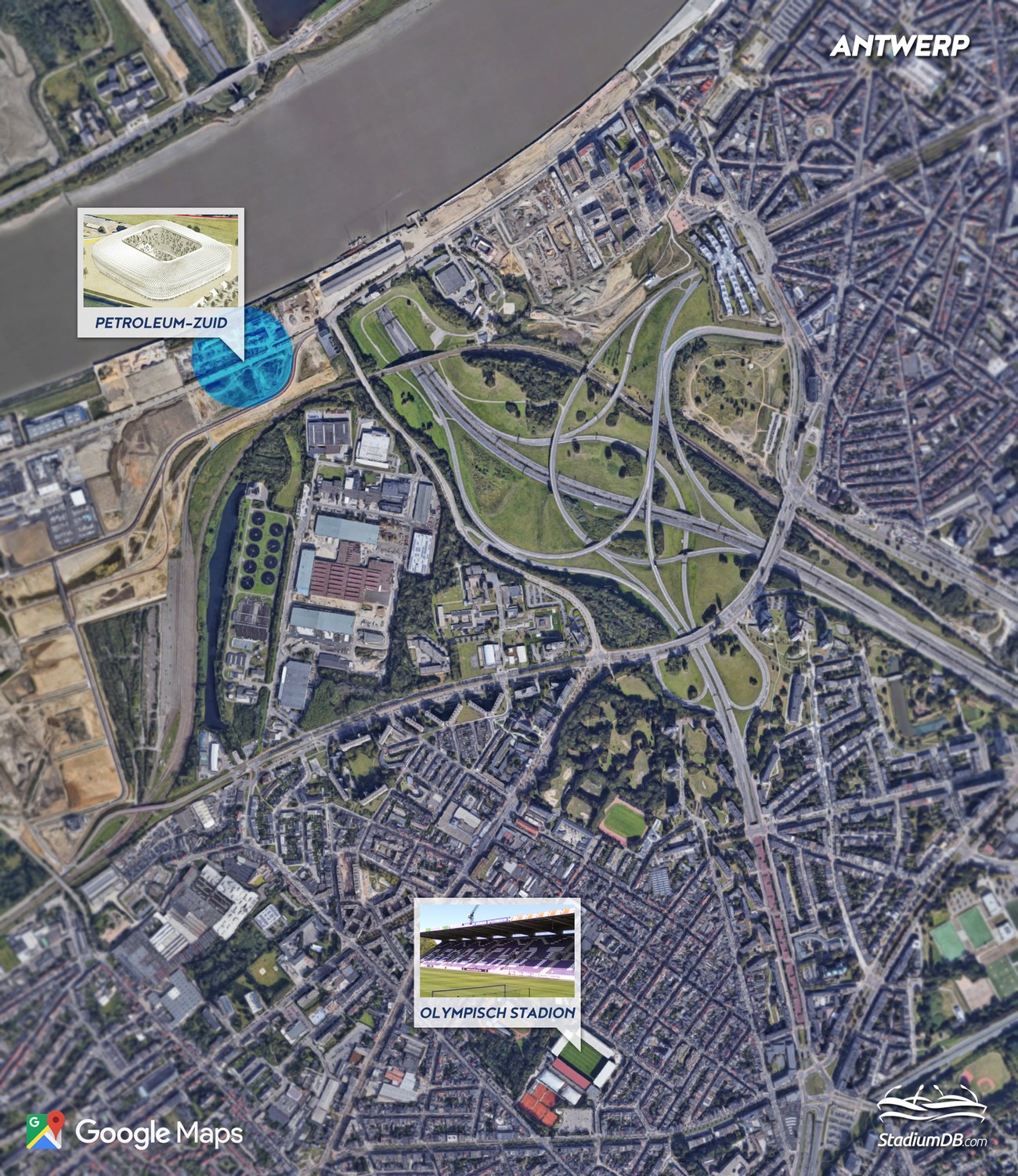 You may recall that Petroleum-Zuid was considered when the city of Antwerp opted for a common stadium for both Royal Antwerp and Beerschot in 2017. Back then neither of the clubs was interested, now it's a different story. While 'The Great Old' won't abandon their plans of reinventing Bosuil, the 'Rats of Kiel' are keen to relocate to the Scheldt riverfront.
First, the plot of land is just 1.8 km north of Olympisch Stadion, within the same part of the city. Second, the city has recently approved plans for new bicycle bridge in the area, part of the wider revitalisation of Petroleum-Zuid. As depicted on the below rendering, there will be enough room left for a new stadium.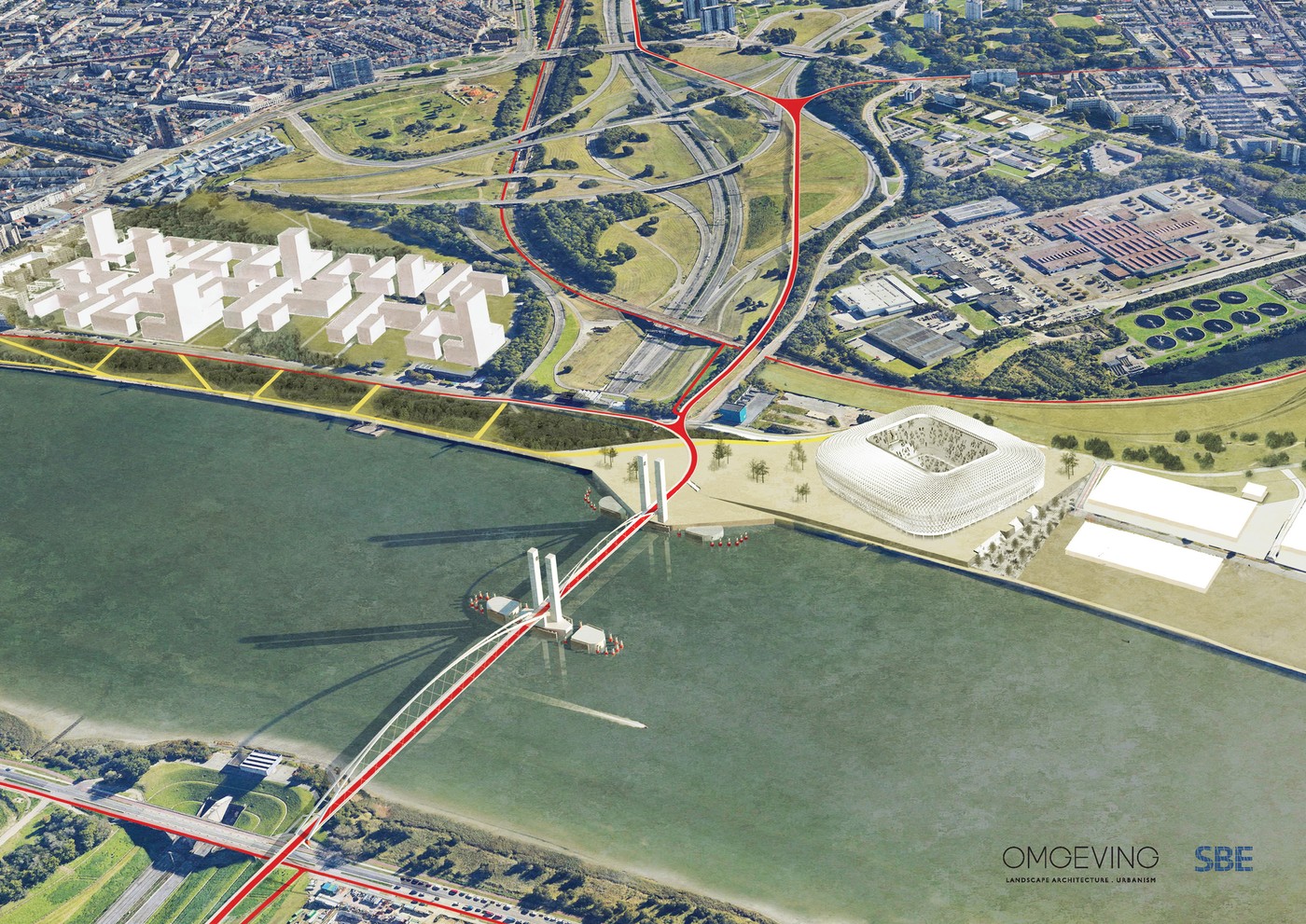 Even having lost €7 million during one season under pandemic restrictions, Beerschot consider relocation the better option. But in order not to rush to any decision, the Rats have commissioned a study into the viability and financing of a potential new stadium. The outcome should be revealed in August.
Then, the stadium dossier would be presented to the city of Antwerp for evaluation. The goal set out by Beerschot's board is to have a decision by the end of 2021. The ambition is to play in a new stadium in 2026-2027. It will take a few years to build, but 2021 will be a crucial year. said chairman Francis Vrancken in late 2020. He has recently reaffirmed the statement during a meeting with supporters from Beerschot AktieKomiteit (BAK).
Author: Michał Karaś