Ukraine: Shakhtar would like to return to Donbass
source: StadiumDB.com [MK]; author: michał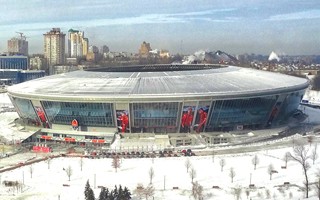 Within the next 10 years Shakhtar is hoping to be back to Donbass Arena in Donetsk. So far that's only a wish, however. The only sports around the stadium now is kids playing in snow.
Snow on the roof and all around the stadium, with kids running around cheerfully. That's what you'll see when trying to find current Donbass Arena photos on social media. But it's good there's snow there, it helps hide how much weeds have overgrown the stadium's once meticulously landscaped gardens. The pavement is falling apart and being reclaimed by nature, while wooden elements from benches around were stolen.
What's been happening at Donbass Arena since Shakhtar left?
Although at first glance the stadium seems perfectly fine, you can notice it's no longer under Shakhtar's control. And it's not, because in February of 2017 local authorities expropriated billionaire Rinat Akhmatov. The symbolic act took place a day after Akhmatov-financed humanitarian aid distribution from the stadium was stopped by the rebels.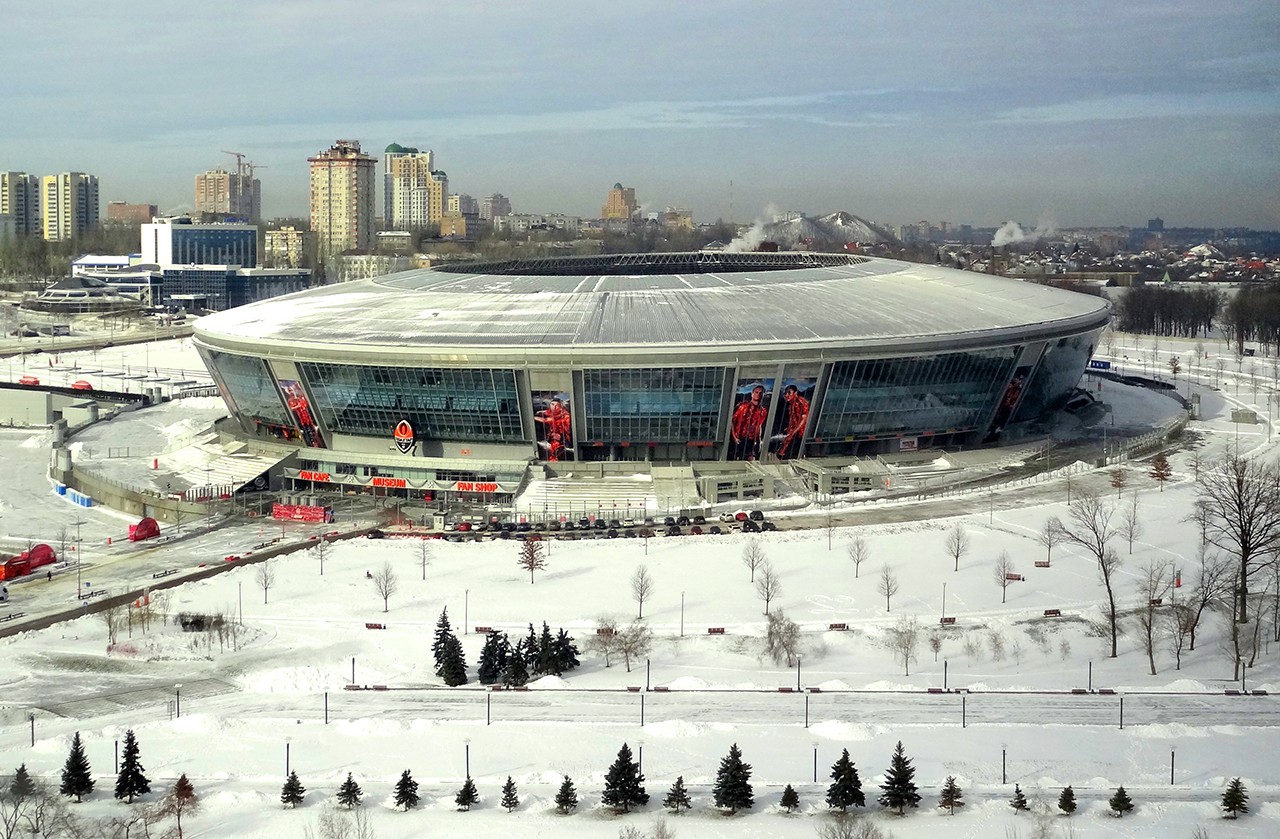 © Валерий Дед
Although the stadium was repaired after damage from the 2014 shelling, it hasn't been well maintained since expropriation. No regular cleaning and servicing is done, which made the building lose its gloss. There was only one confirmed series of repairs to the stadiums crucial systems, in 2018, and it hasn't been used since. It's thus uncertain whether the building would be match-ready if it was needed.
The only match announced for the stadium in recent years was to be a fixture between the Donetsk People's Republic (DPR or Donetsk PR) national team and… an unknown rival. The match didn't happen because DPR doesn't really have rivals willing to play with them. Not recognised by FIFA and UEFA, the team has in recent years met only with other 'republics' with similar status, namely Abkhazia and the Lugansk People's Republic. Games of the national team were played at much smaller Stadion Metalurh (some 5,000 capacity).
Shakhtar hoping for better days
Asked recently about plans for the next 10 years, Shakhtar CEO Serhiy Palkin announced that he sees the club back at Donbass Arena. But it's hard to treat this as a solid plan or strategy, more like a desire. At present there is no concrete solution to the geopolitical impasse. We should keep in mind that there plans of a come back in 2016 and they didn't happen. Even more, Shakhtar lost ownership of the stadium. Even if local authorities aren't recognised, the change is factual.

© Валерий Дед
Meanwhile, Shakhtar has moved to Ukraine's national stadium, to Kyiv. The groundshare with archrivals Dynamo caused quite some criticism on Dynamo leader Ihor Surkis. He had to explain that the club had no influence on the relocation as it doesn't own the stadium. NSC Olimpiyskiy is a state-run company.
Relocation to Kyiv seems to be a logical move. Not only is it a large city, it's also the most popular destination among internally displaced people (IDP) fleeing the troubled eastern regions. As of late 2018 the number of registered IDP's was over 160,000, many of them actually from Donetsk. Some have since moved back east but others came in turn.
For Shakhtar Kyiv is already the third major base since they had to leave Donetsk. Between 2014 and 2016 they played at Arena Lviv. Then in 2017 the club moved back east, this time to Kharkiv's Stadion Metalist. Finally, in May of 2020, Shakhtar signed a contract with Olimpiyskiy.
Author: Michał Karaś