Ukraine: Stadium for next to nothing? Investigation ongoing
source: StadiumDB.com [MK]; author: michał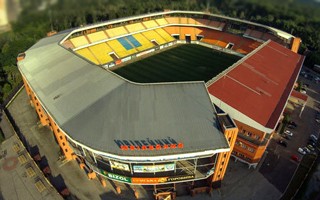 Another major stadium was auctioned and this time the price tag is ridiculous. Once a source of national pride, now the Sumy stadium is under investigation. Who will play here now? Wish we knew for sure...
If you know anything about Ukrainian stadiums outside Euro 2012, you surely know this one. Perhaps not by its name – Stadion Yuvileiny – but from photos. Before Ukraine even thought of hosting the UEFA tournament, this was the most modern stadium nationwide. Today, however, its large scale of nearly 26,000 seats is a major burden.
Auction before New Year
On December 30, 2020 the stadium was auctioned by Ukrainian state agency SETAM through the OpenMarket platform. The starting price might make you smile, just UAH 5.4 million ($190,000). This wouldn't have been a major issue if not for the ending price, which proved only a bit higher, contrary to expectations.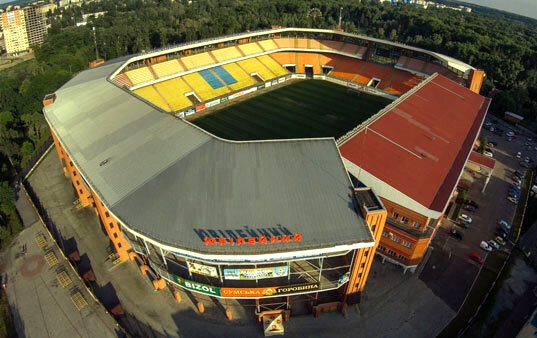 Instead of a multiple of the starting price, the auction ended at UAH 8.12 million ($290,000). This, as has been compared numerous times across Ukraine, is the price for a house, and not even a high-end one.
Just as a comparison, back in 2001, when it was delivered, the price tag was roughly UAH 50 million. And we should all keep in mind that in 2001 the Ukrainian currency was far stronger than today. Put simply, the stadium required some $10 million to deliver and would surely be more expensive today, if because of inflation alone. Yet it was sold for 33 times less than the original cost.
The lucky winner, who signed ownership of the stadium just a few days ago, is Serhiy Bondarenko, owner of Pivnich Agro Servis. He's also the owner of amateur football club Victoria, just a short drive away from Sumy, in the village of Mykolaivka. Bondarenko was one of just three approved bidders, although there were 20 expressing interest. Officially, only the three have paid the required entrance fee (5% of the starting price).
Prosecutor to decide
The laughingly low price caused quite a stir in Ukrainian media, even if symbolic amounts paid for unused public infrastructure are nothing new. But for a stadium this is a new low. Keep in mind, when last year the Chernomorets stadium in Odessa was sold for UAH 194 million ($7.3 million), it was regarded as close to nothing. Now we're talking about 25 times less!
And when over 7,400 m2 of floor space (let alone the playing field!) in the centre of a city is sold for this little, suspicions are sure to arise. The Sumy prosecutor's office has almost immediately launched an investigation into the transaction.
Early reports in Ukrainian media suggested that the stadium was 'arrested' until the case closes but that proved not to be the case. Still, charges are possible for the public officials in charge of the auction and the buyer himself, should a conspiracy be proved between them to make sure the price and competition remain limited.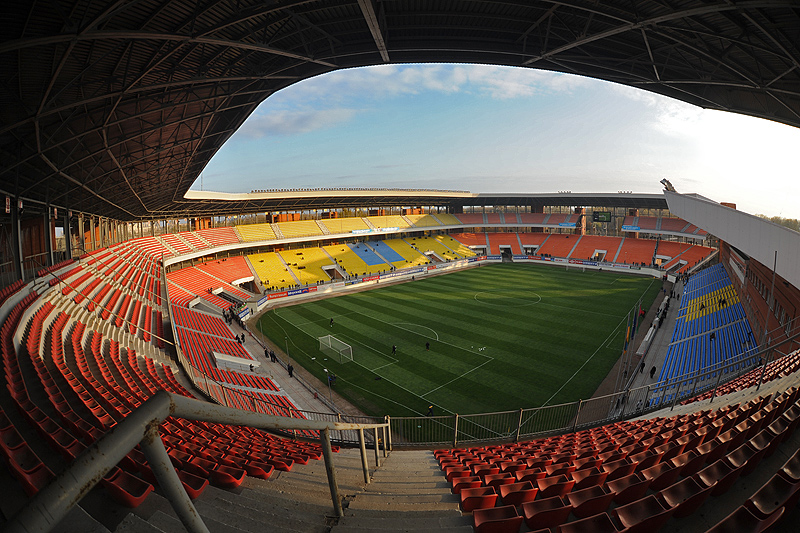 © Валерий Дед
Painful history of the regional pride
Yuvileiny was built for the jubilee of Ukraine's 10 years of independence, in 2001. Circumstances of its erection remain in a realm between humour and urban legend. While public authorities were unable to finance such projects back then, it was built with private hands, quite literally.
Supposedly, local businessmen were given 'offers they couldn't refuse' to support the project with funding. When they didn't have the money, they were asked for construction materials. And when that wasn't possible, they packed their boots and went to help out on the site. Whether that was voluntary or 'voluntary' is still subject to anecdotes. But that's how the price tag remained so limited and also why we'll likely never know how much "around" 50 million it cost.
The stadium was built for and owned by Spartak, a phoenix club to once more bring professional football to the city. Spartak was built upon nearby Javir Krasnopillia but didn't enjoy a long life. By 2007 the budget was dry and the team dissolved. Succeeded by FC Sumy (then PFC Sumy), the team survived until 2019, when it folded once again.
Along with severe financial issues, ownership of the stadium was changing. As rescue measures, it was first transferred to the city of Sumy but eventually ended as part of Sumy Machine-Building Research and Production Association, a massive local industrial manufacturer. But even those hands didn't prove safe enough, the company is undergoing restructuring and its capital is auctioned to cover creditors.
Over the years, Yuvileiny was used not just by local teams from Sumy but also FC Kharkiv or Olimpisk Donetsk. Since 2019, it's the home of second league's Alians Lypova Dolyna but in late 2020 news of one more reactivation of FC Sumy surfaced. Whether this will work out this time, time will show. As will the prosecutor's office, who might block Viktoria Mykolaivka's ownership of the venue.