Madrid: The amazing sliding field of Real
source: StadiumDB.com [MK]; author: michał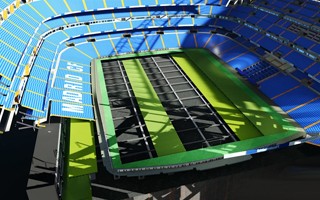 We've seen a fair few retractable fields over the years but this one will be unique. For the first time ever the field will be stored vertically, in a cave beneath the stadium. Here are the details.
Retractable fields themselves no longer impress the world, there are quite a few of them already and the first ones are over 20 years old. But the original solution included the entire field rolling out of the stadium.
It wasn't until 2012 that we saw a first divided field, when half of the turf at Stade Pierre Mauroy was able to roll over the other half, revealing an indoor arena beneath and not having to move outside the building. Then in 2019 Tottenham Hotspur revealed its field, this time divided into three long portions, able to hide beneath the south stand and its plaza.
Today you'll see the third divided field, this time into 6 longitudinal portions, each app. 15 m wide. It's being built at Estadio Santiago Bernabeu as we speak. The system was announced quite some time ago but only now presented in motion.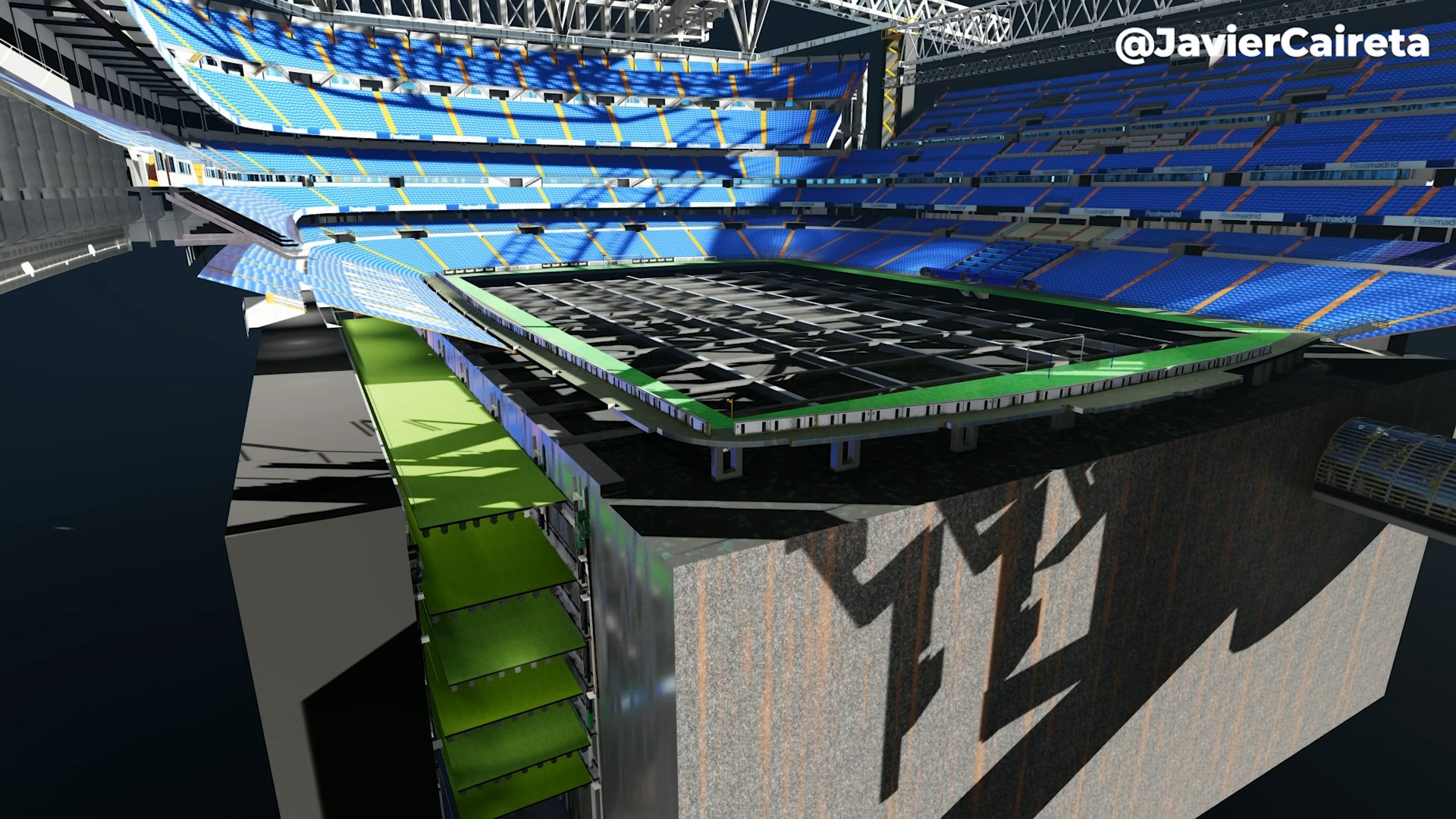 © Javier Caireta
Interestingly, the presentation wasn't made by Real Madrid, rather by youtuber Javier Caireta. His amazing 3D model of Bernabeu under reconstruction is fantastically detailed and is based on official documentation of the stadium to recreate the new mechanism.
It's quite obvious why Real didn't opt for more conventional solutions: there's simply no room to store a sliding field in one piece, especially outside the venue. But the space available is so limited that engineers decided to build a 30-meter deep cave under the bottom tier of the west stand.
Here, the field can be stored one segment on top of another, with ventilation ensured. This way Real can hold non-football events at the stadium (keep in mind, the sliding roof will make it Europe's largest indoor hall!) without worrying about damage to the turf.