Valencia: Levante to play at home in just a month
source: StadiumDB.com; author: michał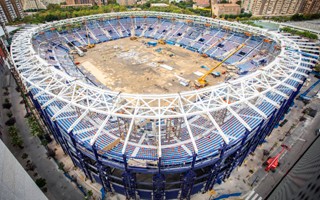 The photo might not inspire much hope but it's already a few weeks old and progress has been substantial. Levante's goal is to play at home on October 25, against Celta. The roof will not be 100% ready by then, though.
Though demolition of the old main stand's roof only began on June 2, today Levante not only have the massive 'crown' (steel compression ring) adorning their stadium. Estiadio Ciutat de Valencia also has the cable roof lifted into place, now being fully assembled. When done, translucent membrane will be installed on top to protect all fans from the elements when they return home.
For now the players treat Estadio de la Cerámica (Villarreal) as their home but the plan is quite bold: to return to Valencia on October 25, for the game against Celta Vigo. César Azcárate, chief designer of the stadium revamp, warns that the roof will not be entirely complete by that time, though it was initially hoped to be.
"The roof will be up high but what it's not going to be is closed 100%." the architect commented. "After October 25, the closing of the roof will be completed and details will be finalized," the IDOM expert assured.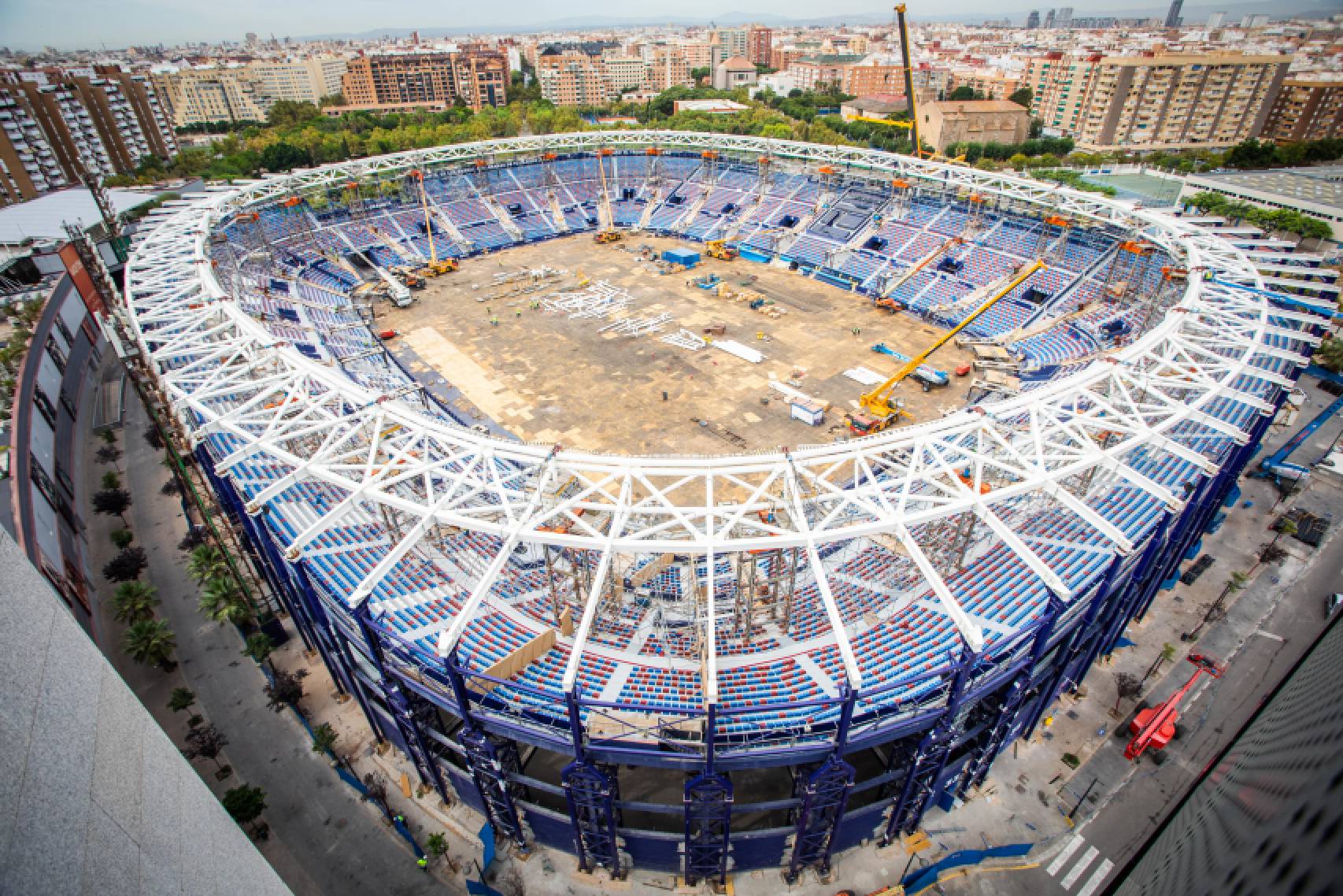 © Levante UD
For the game against Celta the roof will not have to be entirely sealed. What will be needed is the new LED lighting, sound system, broadcasting facilities and, of course, the field. Which has to be cleared after months of being taken up by construction crews and prefabricated structural elements.
The first phase of Estadio Ciutat de Valencia's redevelopment began back in January, which means it will be done in less than a year. This phase includes primarily the new lightweight roof, which will bring modernity to the 51-year-old stadium.
Once this stage is complete, the second one is to begin. It will include dramatic changes to the stadium's facilities, including vast expansion of its floor space. Once expanded, the stadium will be wrapped in a fresh mosaic facade in Levante's colours.
That's precisely why authorities of Valencia and Levante met on September 16, agreeing on a protocol for further works. Levante will be allowed to extend the stadium beyond current plot boundaries, leading to a slight overhang above paved areas.
Detailed documentation is being worked on at the moment. Once handed over, the city will have up to 8 months to run all proceedings and approve new works. When they begin, it's expected the second phase will last 20 months, enabling matchday use of the stadium.
[below: view of the stadium when phase 1 is complete]