Italy: Ascoli working on stadium revamp
source: StadiumDB.com; author: michał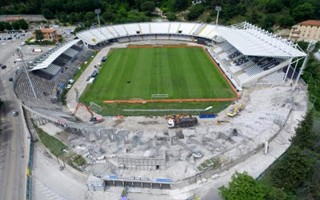 The south curve, damaged during the 2016 earthquakes, has recently been demolished. Now the replacement is being planned, hoped to be a transformative part of the aging Ascoli Calcio stadium.
In late August representatives of Ascoli Calcio (Serie B) met with the municipal authorities of Ascoli Piceno in order to discuss the medium- to long-term future of Stadio Cino e Lillo Del Duca. The ground now has only three stands, following recent demolition of the south curve.
Because there is no plan of returning to the multi-use layout with a running track, it's crucial to define how the stadium should be transformed. Talks are particularly important because the club is to prolong its lease of the municipal venue, so a framework has to be in place for future cooperation.
What is clear is that the city doesn't want to participate in the cost of the redevelopment. It's also necessary to build a new south end in order for the stadium be sustainable in the long run, let alone offer a sufficient capacity, now at just over 11,000.
The club has already hired a team to work on details of what should be put in place for the stadium to be viable as a private project. Before the end of September the team is to meet with municipal officers to discuss further steps. As of now there is no definite concept to present.
Del Duca has been in use for nearly 60 years at this point, however for quite a few years its structure has been deemed as in need of repairs. In 2015 the east stand required demolition and was rebuilt in 2017-2019 by Ascoli Calcio at a cost of €2.5 million, partly along the 2015 concept.
The south curve, in turn, suffered serious damage during the 2016 series of three consecutive earthquakes, after which it was deemed unsafe for further use at all. Demolition of the structure took place this year, between May and July.