Milan: Crucial steps coming soon?
source: StadiumDB.com; author: michał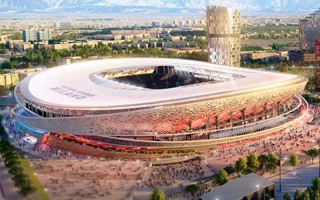 Leading Italian media outlets are suggesting we should expect two crucial Milan stadium developments soon. Agreement between Inter, Milan and the city is supposedly reached, while the final stadium design should be selected soon.
As per Tuesday's edition of Tuttosport, the Milan city authorities may have reached a critical agreement with proponents of the new stadium, AC Milan and FC Inter. Having already agreed on vast majority of the city's 16 conditions, including retaining parts of San Siro as a leisure destination, now the final accord on built-up space ratio is expected.
As you may recall, Inter and Milan have both argued they need the ratio of built-up space to equal 0.7 of the project's total land surface. The city requested halving the ratio to 0.35. Now both sides are supposedly on the same page, at 0.51.
While official confirmation is yet to be seen, the news is very promising and could mean progress within the next few weeks. Without this agreement the project would effectively be dead.
Another interesting development comes from Corriere dello Sport. The newspaper's printed edition indicated the next few weeks will also deliver another milestone: selection of the winning design.
Keep in mind, there are two visions for a new 60,000-capacity stadium, one by Populous and one by Sportium. Only once the final decision is made between the two, can the investor begin the long and burdensome procedural route towards construction. However, after extensive negotiations with the city hall, Inter and Milan are hopeful the project would not meet any unexpected hurdles to clear.
While the new stadium for both derby rivals would come at a price of roughly €650 million, the entire project would likely consume double that amount (€1.2 billion according to recent estimates). All of the project is expected to be covered privately, with bulk of the commercial space expected to help recoup investment cost.