USA: Will we all envy the new Nordecke?
source: StadiumDB.com; author: michał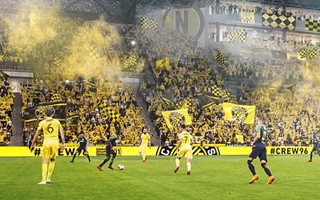 Tifo rigging to the roof, drums, safe standing, beer garden and even their own smoke pipe system to boost atmosphere. Here's what's under construction in Columbus, Ohio.
In Columbus we're almost at a symbolic, milestone moment. Construction of the stadium is nearly halfway done, with 339th day of works and roughly as many days to go. And Columbus is symbolic itself, after all, being one of the MLS founding members, home to the first MLS-specific ground and to a vibrant, faithful fanbase.
Faithful enough to having saved their club when former owner wanted to uproot it and relocate to Austin. While Mr Precourt eventually got his Texas move, Columbus Crew also got to have their club with new owners and a new 20,000-capacity stadium just north west of downtown.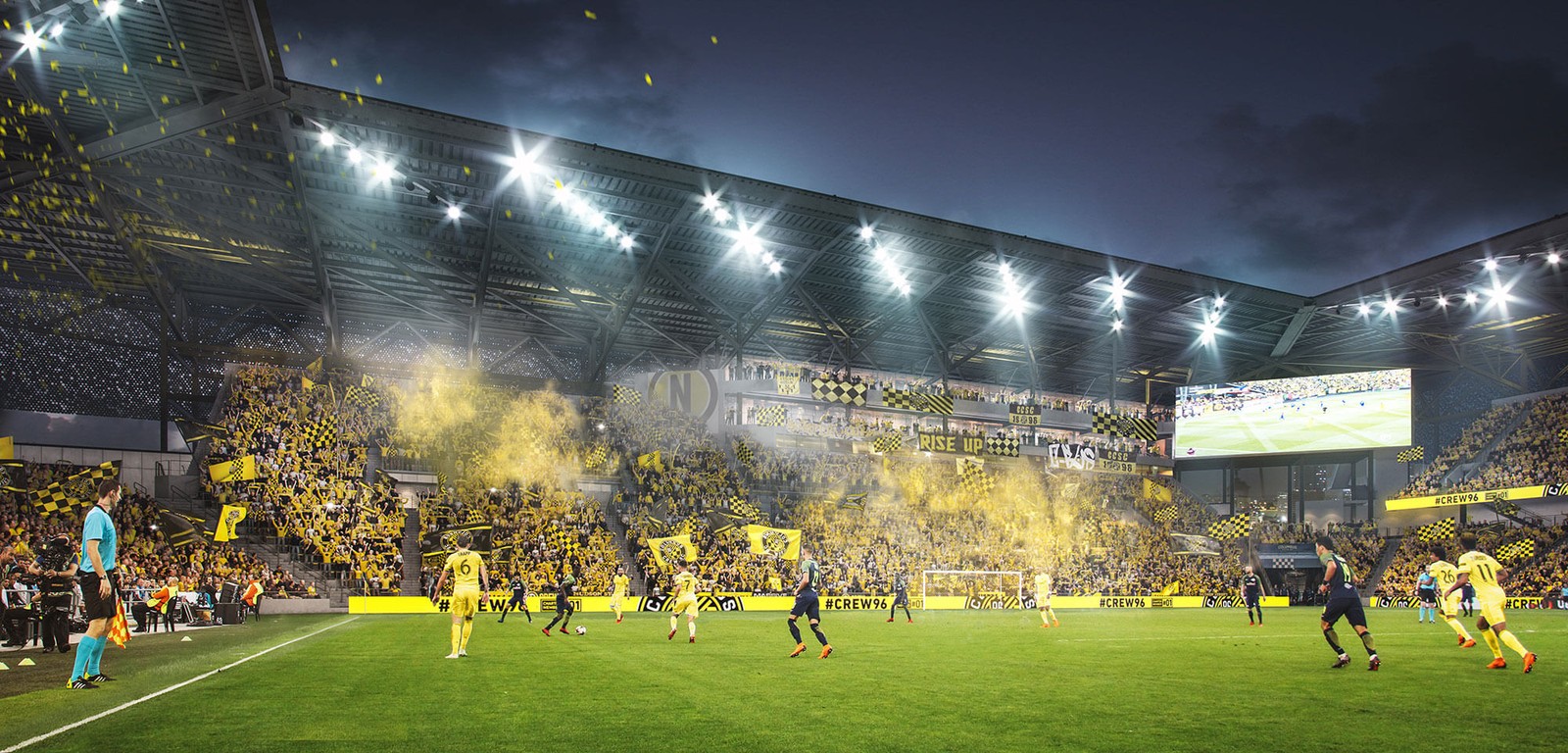 Crew remain one of the most recognisable teams of MLS, just as fans from Nordecke, or the north corner of MAPFRE Stadium. The name is German to honour German heritage of Columbus and also because it sounds quite cool. The story of the most vocal section ending up in a corner is an accidental one, caused by Crew building a concert stage behind the goal, which forced three major fan groups to consolidate in the corner. They're a lively and diverse bunch, with both European and Latino influences in how they support their team.
What's coming in mid-2021
Ever since MLS finally stopped marketing the league to soccer moms and realised a vibrant futbol atmosphere is what could distinguish the 'product' from other American leagues, new stadiums have been becoming more and more fan-friendly. To the extent that most supporters in Europe can look in envy as European clubs and authorities are still trying to sanitise the experience.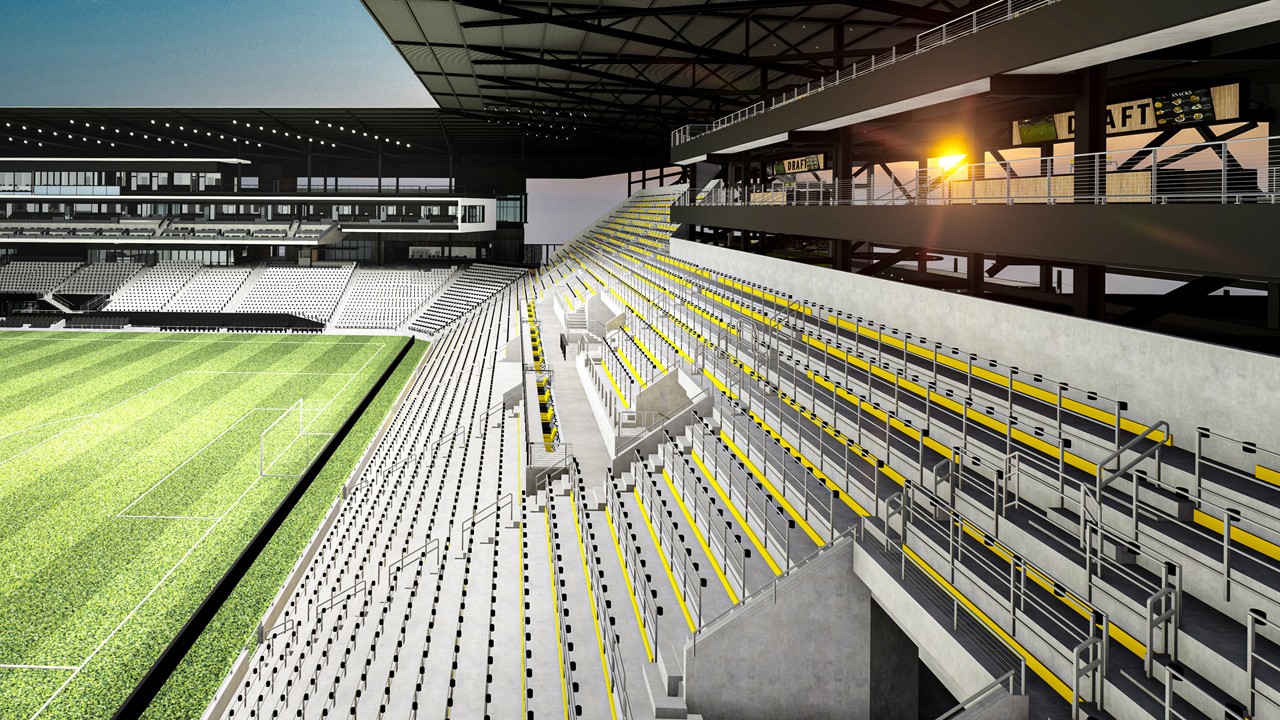 Safe standing is already a very basic feature of supporters' sections, as is moving fans close to the field and creating single-tier stands as steep as safely possible. Columbus Crew's new stadium offers all that and much more. In fact, possibly the only downside of their supporter section is that it won't cover the stadium's corner. So no 'Ecke' but still 'Nord', as supporters will have a yellow and black wall behind the north goal.
The single-level terrace will of course be equipped with railings for all 22-29 rows, in total offering room for 3,400 people. Much larger than the original Nordecke, the new stand seems to have size well thought through, should be packed and atmospheric, especially with the rake of 34º, you can't build it any steeper these days.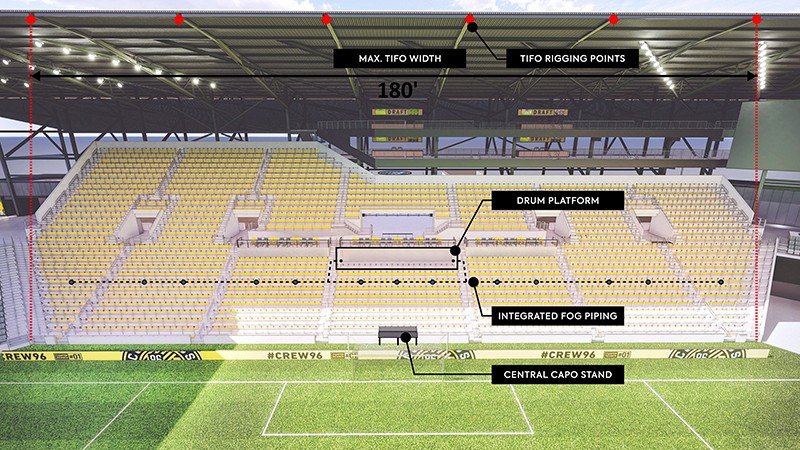 The new Nordecke should be prepared to accommodate everything fans could have in mind. Aside from standing room, capo's stand and centrally-located drum platform, the roof has been designed with attaching tifos to it in mind. Obviously, nearly every roof is able to withstand the weight of a hanging display but it almost never happens that rigging points are created as part of the structure. In Columbus fans will be able to lift displays 180-foot (55-m) wide, which means over a thousand square meters of vertical display space.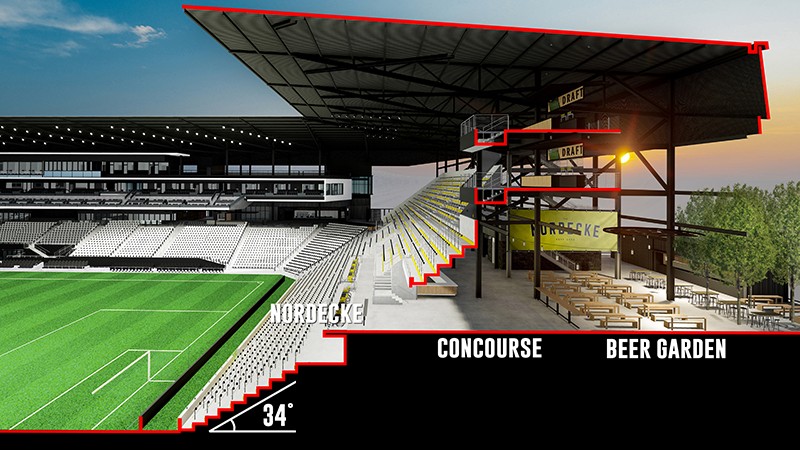 Perhaps the biggest novelty and a feature we haven't seen anywhere else is the fog piping integrated into the new stand, around the 7th row. It's a way of additionally boosting atmosphere during tifos. While certainly lacking in spontaneity, it's an interesting addition and an attempt at compromise between the need for smoke/pyrotechnics from fans and lack of legally being able to set them off.
And once emotions aren't as high, between halves or after the match, fans will have their own beer garden just behind their new Nordecke. What more can you ask for?