Las Vegas: 57 days to finish Allegiant Stadium
source: StadiumDB.com; author: michał
In order to finish on time a third shift was introduced. But while the number of COVID-19 cases on the site continues to rise, delivering the stadium on July 31 remains uncertain.
Owner of Las Vegas Raiders Mark Davis has confirmed that there is no guarantee Allegiant Stadium will be done as projected, on July 31. "The least important thing in life is the score at halftime. Until you get the job done, you just don't know. When we do that ribbon-cutting (ceremony) you may see me wipe a bead of sweat off my brow." the multimillionaire said this week on ESPN Radio 1100.
The $2 billion (€1.78 bn) project has less than two months to be ready for use, 57 days to be more precise. Meanwhile, work hasn't been going smoothly because of the ongoing coronavirus pandemic. "You think everything is going great and everything is on time, and all of a sudden real life steps in the way," Davis said. "You have to be prepared for those types of issues."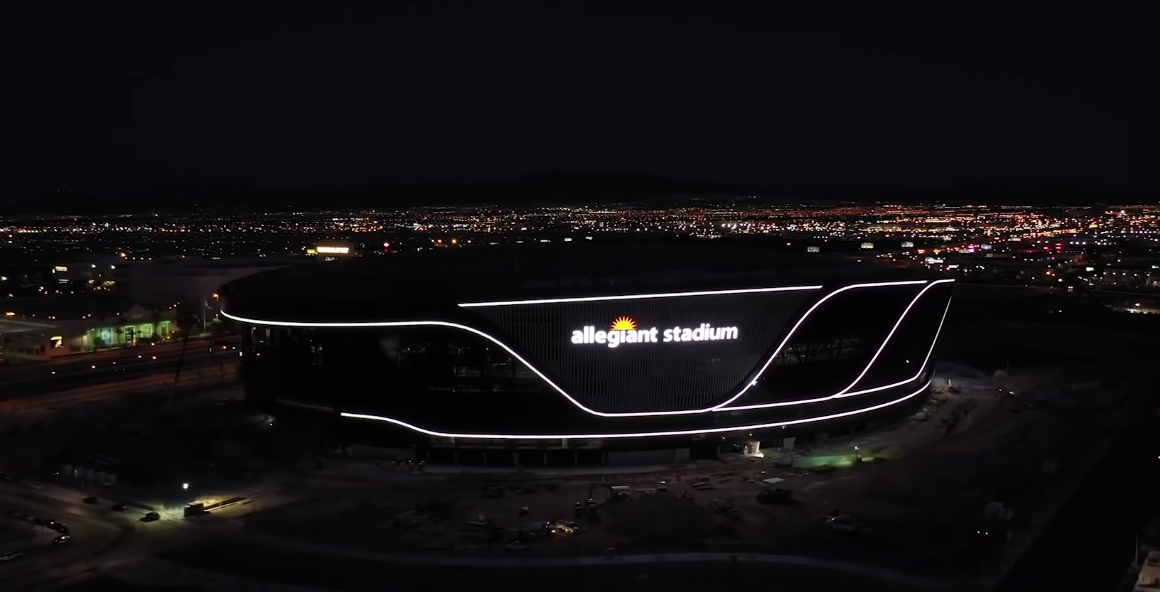 © Raiders
In order to carry on, the contractors introduced a third shift, spreading tasks for 2,000 workers not only spatially, but also over time. Work is now carried out around the clock, of course with special sanitary regime. And yet the number of COVID-19 cases on site is still rising, as of end of May 15 active cases were confirmed.
On the surface the 65,000-seater seems complete by now, with landscaping already being done. But inside there's still a lot of work going on, on many fronts. May and June have been very interesting, seeing significant milestones reached.
The vast dome was completed in May, both the black compsite and translucent ETFE panels. Meanwhile, outside the stadium installation of the natural field was ongoing. Why outside? The project will become one more to have a sliding field, which rests outside when not in use to make the best of exposition to sunlight. Natural turf will be moved inside on rails, by 76 electric motors. Because the tray holding it weighs 9,500 tons, the process will take up to 90 minutes.
In late May installation of a second field began inside. Just like the new Tottenham stadium, this NFL venue will have two fields: one natural and one synthetic. But unlike in London, here both of them will be used primarily for American football. The synthetic field will be used by University of Nevada Las Vegas (UNLV), while the natural one by Raiders. UNLV has 6 home games contracted in the upcoming season.
Finally, this week the sliding walls on the north end of Allegiant Stadium were opened for the first time. You may recall, the building has vast glazed walls that slide sideways, creating a window of 2,600 m2. Once the walls open, spectators inside can get a view of the Strip's casinos and hotels.
With the interior revealed, passers-by could finally see the Davis Memorial Torch, which adorns the northern concourse club. Named after Raiders first owner Al Davis, the torch is considered to be the largest 3D-printed object worldwide, 26 meters tall. It's not even a torch, however, rather mimics one with its multimedia and light effects.