Brazil: Novo Mangueirão – about Pará's stadium plan
source: StadiumDB.com; author: michał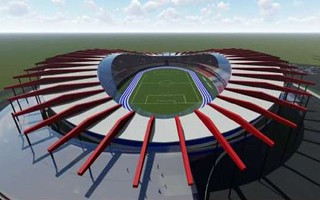 After 42 years in operation the gem of the North Region is getting a thorough revamp. Architecturally not much will change, however in terms of capacity and infrastructure it will be a brand new stadium.
Though without the international fame of Maracanã or Mineirão, Belém's Mangueirão is one of Brazil's most iconic stadiums. Opened after prolonged construction in 1978, it saw several renovations over the years and has lost roughly half of its projected initial capacity. Today the number stands at just 35,000.
Late last week the state authorities of Pará announced plans of major upgrades, to begin later this year. State Secretariat for Urban Development and Public Works (Sedop) will oversee the project, which is estimated to cost taxpayers some BRL 155.8 million ($28.5m).
First work is expected to be carried out in November, while deadline for last phase is set for July, 2022. Among other improvements, the primary structure will be renovated, amenities for athletes and fans await improvement, while the field and lighting will be replaced altogether.
Perhaps most importantly, the auditorium is expected to grow significantly despite individual seating being envisioned. From today's 35,000 it's expected to reach 53,645, which will make it the largest stadium throughout the North Region and the 8th largest across Brazil.
Below is the stadium in its current form: