Cincinnati: FCC fans want club symbol on stadium seats
source: StadiumDB.com; author: michał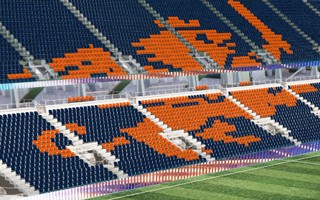 Over 5,000 people voted and 95% of them asked for seats to have Gary the winged lion depicted on the east stand of the new stadium. Here's the entire seating layout of West End Stadium.
May hasn't been too fruitful for MLS supporters. But, unlike most supporters of the US soccer league, FC Cincinnati fans have one thing to be excited about: their new stadium. Construction in the city's West End is ongoing as planned, intended to conclude in Q1 of 2021. By autumn installation of seats should begin as the first roof trusses were lifted on May 14.
Precisely the seats came into focus recently. FC Cincinnati decided to get fans involved to a limited extent in the selection of final seating pattern. We're using the 'limited extent' part intentionally because FC Cincy gave little wiggle room from the default navy seating.
Four patterns to select from were basically two variants of two nearly identical patterns (one solid navy, one speckled navy). The difference was the inclusion of Gary the winged lion across the east stand of the stadium. And, as was perfectly clear from the start, fans went strongly in favour of the club's mascot.
Of the 5,000 people who took part, 95% gave their support for a Gary-including option. Of the two, the version with solid navy background and orange lion was more supported, getting 55% of all votes in favour of Gary.
The club announced the decision on May 27, adding a small bonus for fans: FC Cincy's initials FCC written across the upper south end. In the north there's not much potential for any pattern, as a 3,100-strong standing section is being created there. Meanwhile in the west mostly corporate seats are planned. The stadium will offer 4,500 premium seats and 53 traditional boxes.
In total, West End Stadium should offer up to 26,500 places, vast majority of them seated.