New design: This is Minsk's national football stadium
source: StadiumDB.com; author: michał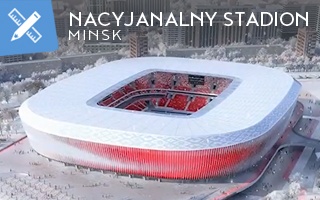 Though they already have the Dinamo Stadium, Belarus will also get a second national stadium, for football only. And it will be 50% bigger in terms of capacity.
Along plans that had been surfacing for nearly a decade, the new national football stadium for Minsk would be built beside the aging Stadion Traktor, along the Partizanskiy Prospekt. Because the Belarusian government proved unable to find a financial formula for such project, in the end the project was ceded to the Chinese government entirely. As confirmed previously by president Lukashenko himself, his administration asked for support from numerous countries, however only China was responsive.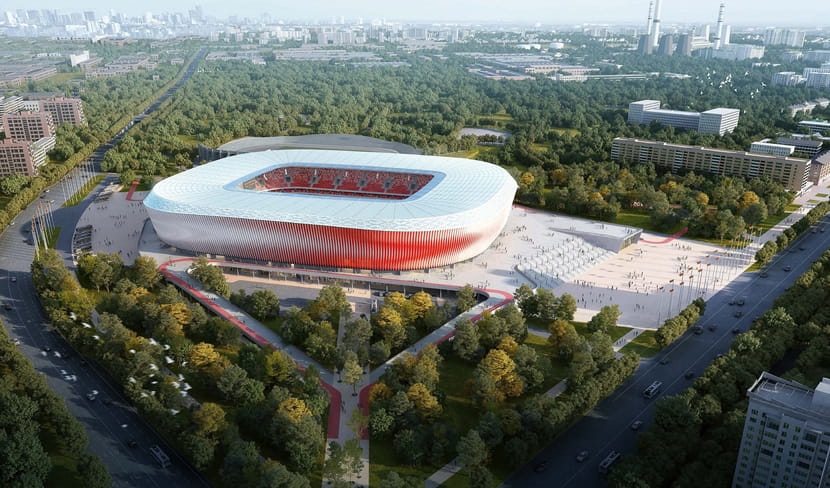 It's precisely the Chinese who are financing all works, from early designs shown for the first time last spring to end of construction, which should result in a turn-key venue in 2023. In total spending of $235 million is planned, however only part of it will be dedicated to the stadium. Another portion will cover the cost of an Olympic-size natatorium. Initially the swimming pool was to be attached to the stadium, however in the end it will be set in a different part of Minsk.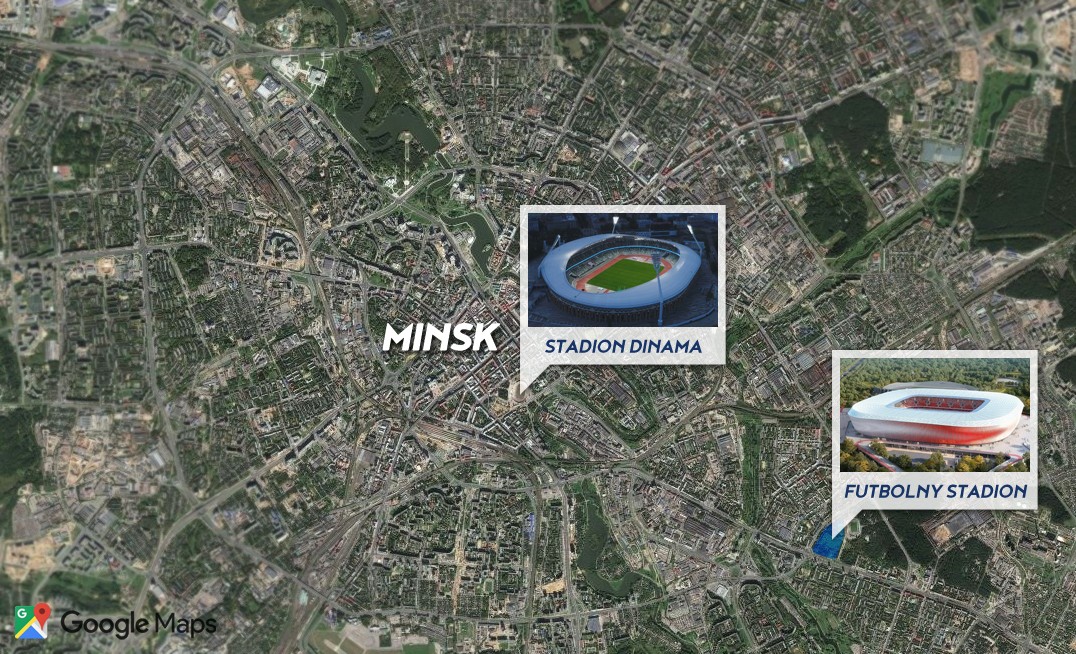 IPPR International Engineering Corporation has been tasked with delivery of the project. At present the company is also building the new national stadium of Cambodia in northern Phnom Penh, having previously delivered the Cape Coast Stadium in Ghana – all as part of the same 'stadium diplomacy' strategy.
The last mentioned stadium was reportedly built with very poor quality, requiring intervention after just several months. In Belarus this should be avoided thanks to requirement for the stadium to meet all criteria even for Euro 2020 host venues, while the Chinese will also give a 2 year warranty.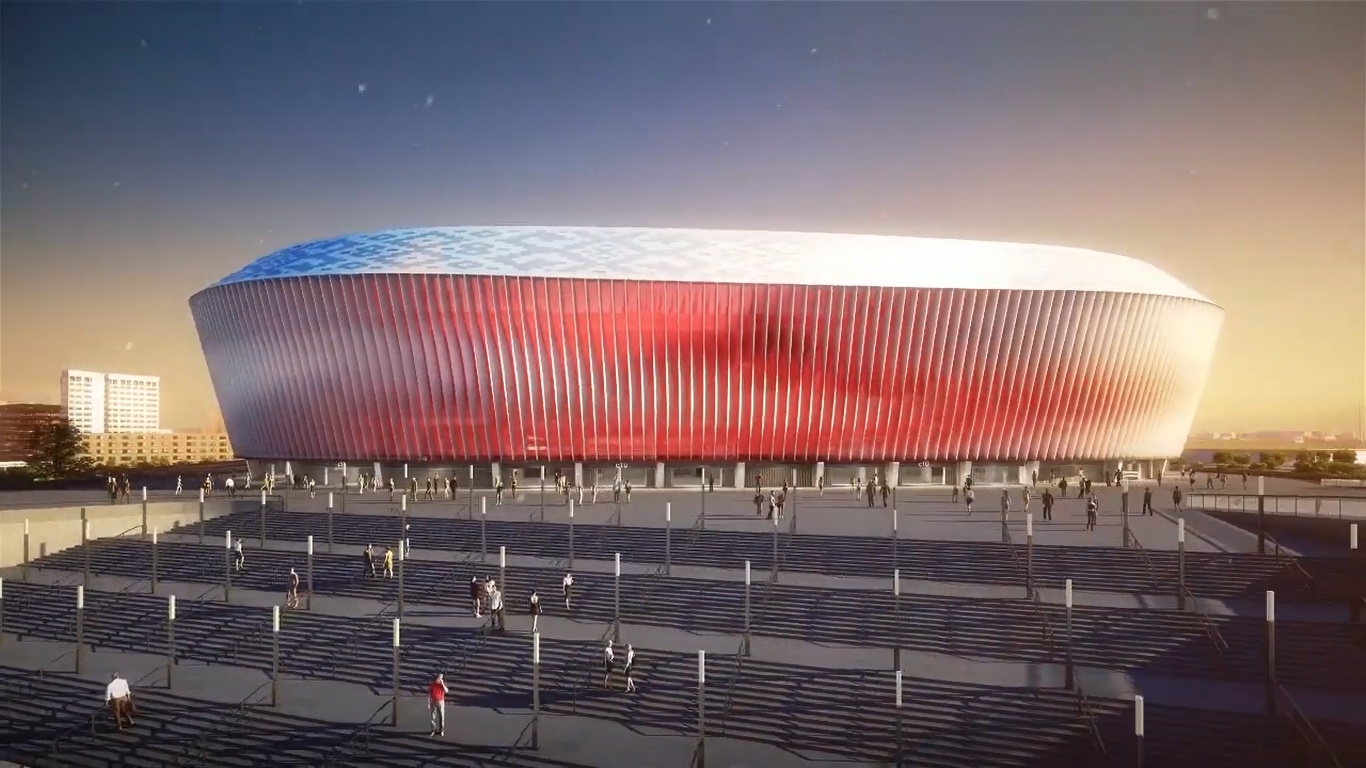 The stadium is expected to hold 33,000 people on a double-tiered seating bowl, with strips of skyboxes on the west and east sides. Its signature feature is a double-layered facade in white and red, which changes its appearance as one walks or drives along it. The facade cladding will not be opaque, which should provide sufficient sunlight access and ventilation of the concourses behind.
Compact seating bowl and steep upper stands are supposed to enable creation of good atmosphere. Acoustics is aided by inner lining of the roof. Structurally simple, the stadium will offer extensive infrastructure spread across 6 floors, one of them underground.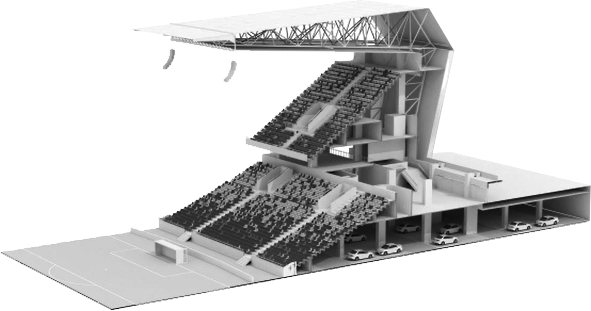 On levels -1 (main stand) and 0 (north and south) inbuilt parking sites will be located, ensuring that as much of the current park as possible would be retained. In total 307 publicly accessible parking bays would be located under the north and south ends (136 and 171, respectively). The east stand would offer large commercial space, while a pavilion with national football museum would be integrated into the southern plaza.
Fans are expected to enter the stadium largely from the north and south, which is where two public squares are planned, allowing people to congregate both before and after games. From the west a ramp is planned, rising gradually among trees.