COVID-19 crisis: European lockdown in 4 days
source: StadiumDB.com; author: michał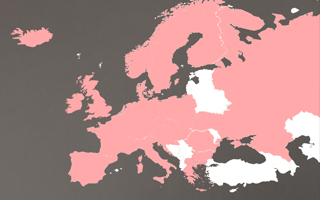 Though it's been weeks since Italy has closed its stadiums to spectators, vast majority of Europe only decided to follow suit this week. At least 25 countries have closed their stadia between Monday and today.
Oh, how we wish we could now be writing about stadiums like we do every day. But instead the newsfeed is a constant list of COVID-19 updates. And we don't just mean mainstream news media, also the football-specific outlets. Infected players of Juventus, Sampdoria and Hannover, Real Madrid under quarantine – those are just some of the headlines.
It wasn't so long ago – literally – that everyone was laughing about the futility of Champions League ghost games. After all, tens of thousands flocked to plazas around Estadio Mestalla and Parc des Princes to show their support for players inside.
But when you think that the UCL fixture between Valencia and Atalanta was the reason why COVID-19 got to Valencia in the first place (as has been confirmed), it's not really funny any more to think that football fans want to flock to stadiums, disregarding the threat to public health.
That's why we appreciate much more the stance taken by fans of Poland's Lech Poznań, where supporters associations plead with members not to come to even amateur games and instead take care of seniors in their neighbourhoods, of course while keeping hygene in mind at all times.
Earlier today the European campaigns have basically collapsed. Getafe refused to go to Milan, UEFA in turn asked Milan and Roma to simply drop out, thus abdicating its own responsibility as tournament organiser. But the governing body cannot pretend everything is ok much longer. Which is why we are expected to hear about Euro 2020 postponement to 2021.
Under this text you'll find a very simple video. Apologies for how rough it may seem, we had little time to research and put it together. The point is to show you the dynamics of decision-making across Europe.
As you can see, it's been three weeks since supporters were banned from the first stadiums, in Italy. But the vast majority of countries only reacted this week. Two days ago, all of the top leagues (Serie A aside) were still playing as usual, today only some Bundesliga fixtures may be played with fans.
One major caveat: the map doesn't show how exact regulations in place. We simply took the first official bans on mass events as crucial factor. Whether this ban starts at 100, 150 or 1,000 people is secondary. It's also secondary whether it's nationwide, regional, provincial or local. Because in every single case a local ban is followed by a wider one.
As you can see, the decision to hold Serie A games in Italy without fans was taken on February 22. It then took nearly a week (Feb 28) until Switzerland joined with their own ban on mass events. Today, looking back, it may seem other countries were holding back, especially with open borders between many of them.
It wasn't until this Monday that Greece, Iceland and Slovenia followed with their bans on gatherings. On Tuesday they were joined in differing scale by Austria, Bulgaria, Czechia, France, Spain (single games only in France and Spain at that point), the Netherlands (mostly North Brabant), Northern Macedonia, Germany (mainly NRW) and Slovakia.
On Wednesday, Croatia, Denmark, Poland, Portugal, Romania, Sweden and Hungary joined in. Finally, today we've seen England (Scotland to follow from next week onwards), all of Belgium, Finland, Norway and Ukraine also ban crowds at sporting events. First public bans have been announced in Russia, while in Spain all of La Liga is put on hold.
While specific measures taken in those countries differ, it's quite remarkable that 25 countries across Europe took these in just 4 days. Surely we'll be seeing many more announcements in upcoming days. Already today MLS has been suspended in the USA, Mexican football is uncertain and in Turkey the debate on closing stadiums is ongoing.
It's been 3 weeks since the first league (in Italy) stopped allowing supporters. And yet 25 countries in Europe only decided to follow suit this week. Quite remarkable.

Opublikowany przez StadiumDB.com Czwartek, 12 marca 2020