New stadium: Slovakia's most advanced stadium
source: StadiumDB.com; author: michał
They've waited 10 years between closing of the old Tehelko and opening of the new one. But after all this waiting Slovakia's most technologically advanced stadium is here. Like it? Your opinion will mater during the Popular Vote!
Slovaks have had a romantic relationship with this place north-east of Bratislava's strict centre since 1939. That's when the first stadium was built on Nové Mesto's Tehelne pole site. Commonly known as Tehelko, the stadium served as home of Slovan Bratislava and the national team of Czechoslovakia, then Slovakia. At peaks it was packed beyond capacity, like in 1957, when 70,000 came to watch the national team clash with Yugoslavia. And though there were many memorable nights like those, dissolution of Czechoslovakia left the stadium in disrepair.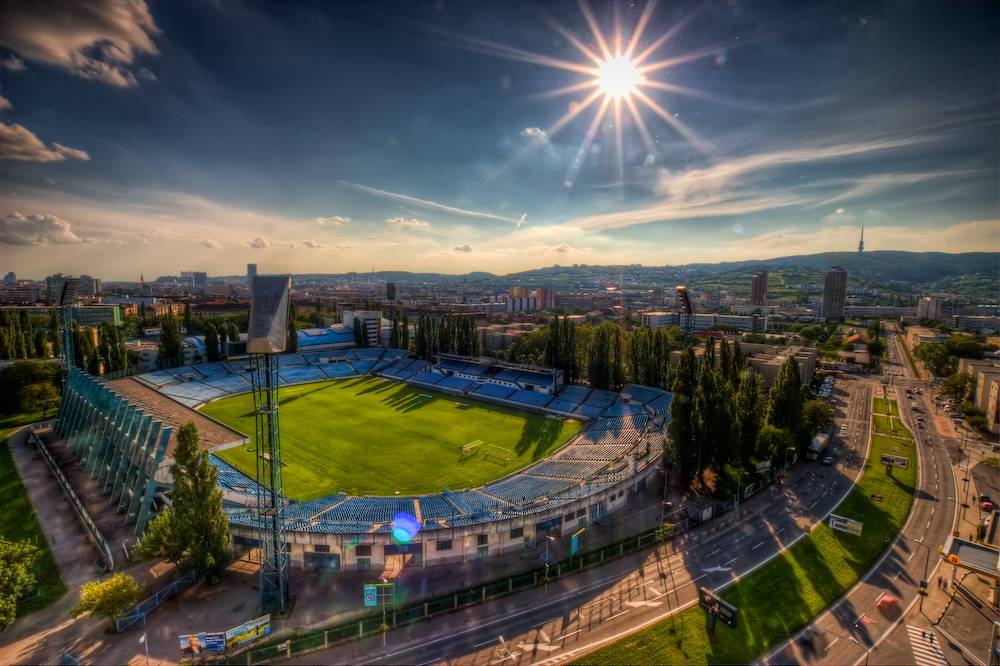 © Miroslav Petrasko
It was converted into an-all seater in 1990s (reducing capacity to 30,000) but that was far from enough to keep up. From early years of the new century there were ideas of replacing the stadium but could not come to fruition. Finally in 2009 the government came into existence between the government and Slovan's investor Ivan Kmotrik to deliver a new venue. In that year old Tehelne pole was closed and construction was to begin in 2010.
Unfortunately, the project got deadlocked due to continuing disagreements between partners and demolition of the old ground only began in 2013, when it was partly reclaimed by nature already. While it may have seen like things would go smoothly from then onwards, that wasn't the case. Excavation went underway in 2014 and then dragged on to 2016. That's when the final design was released and funding secured, allowing foundation work to begin.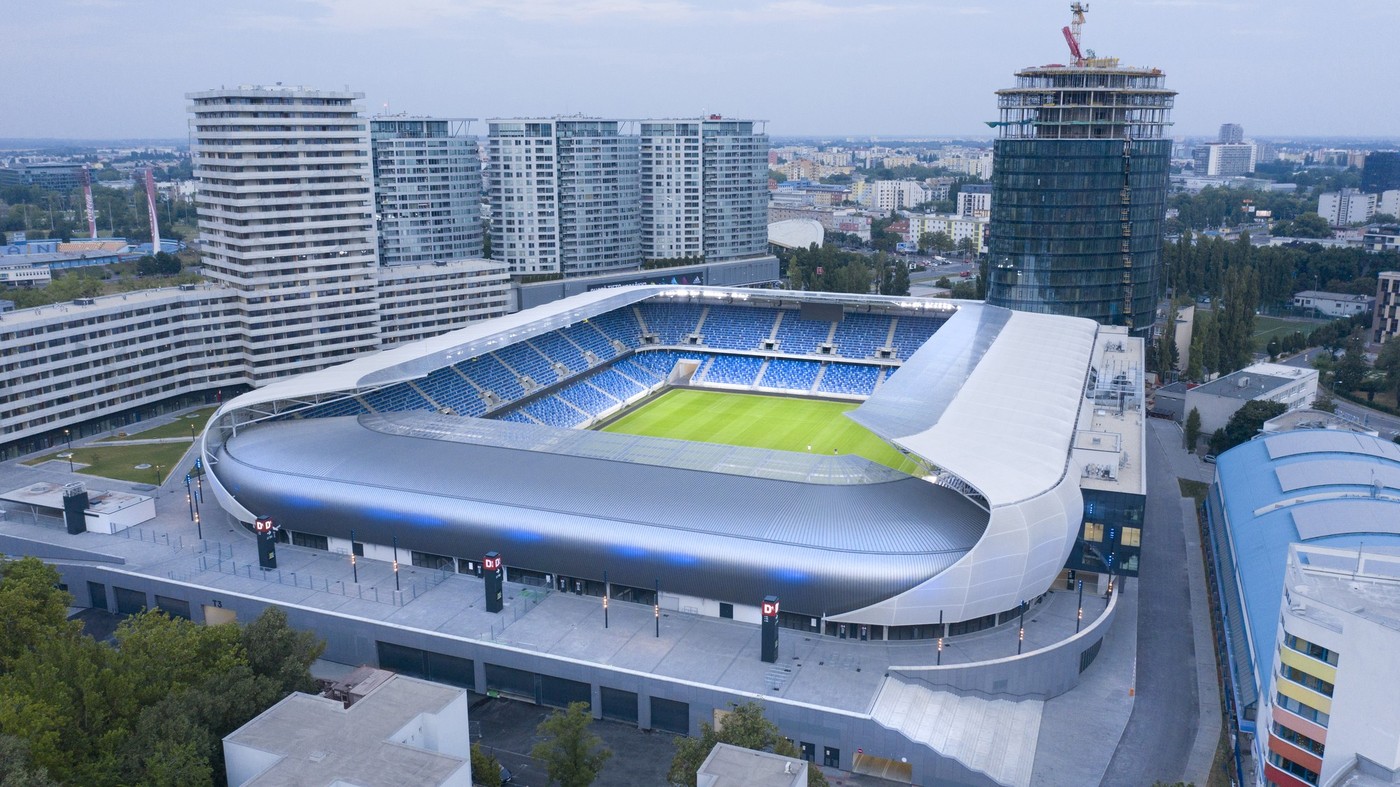 © ŠK Slovan Bratislava / Grafobal Group
The 5-hectare site was nearly entirely excavated in order to meet all anciliary functions required by the private partner. These include a tall residential building along Bajkalská street (north-east part of the plot) and an office tower tucked in the south-western corner of the actual stadium. With lack of space for surface parking, 996 spaces were fitted under the plinth on which the new stadium was erected.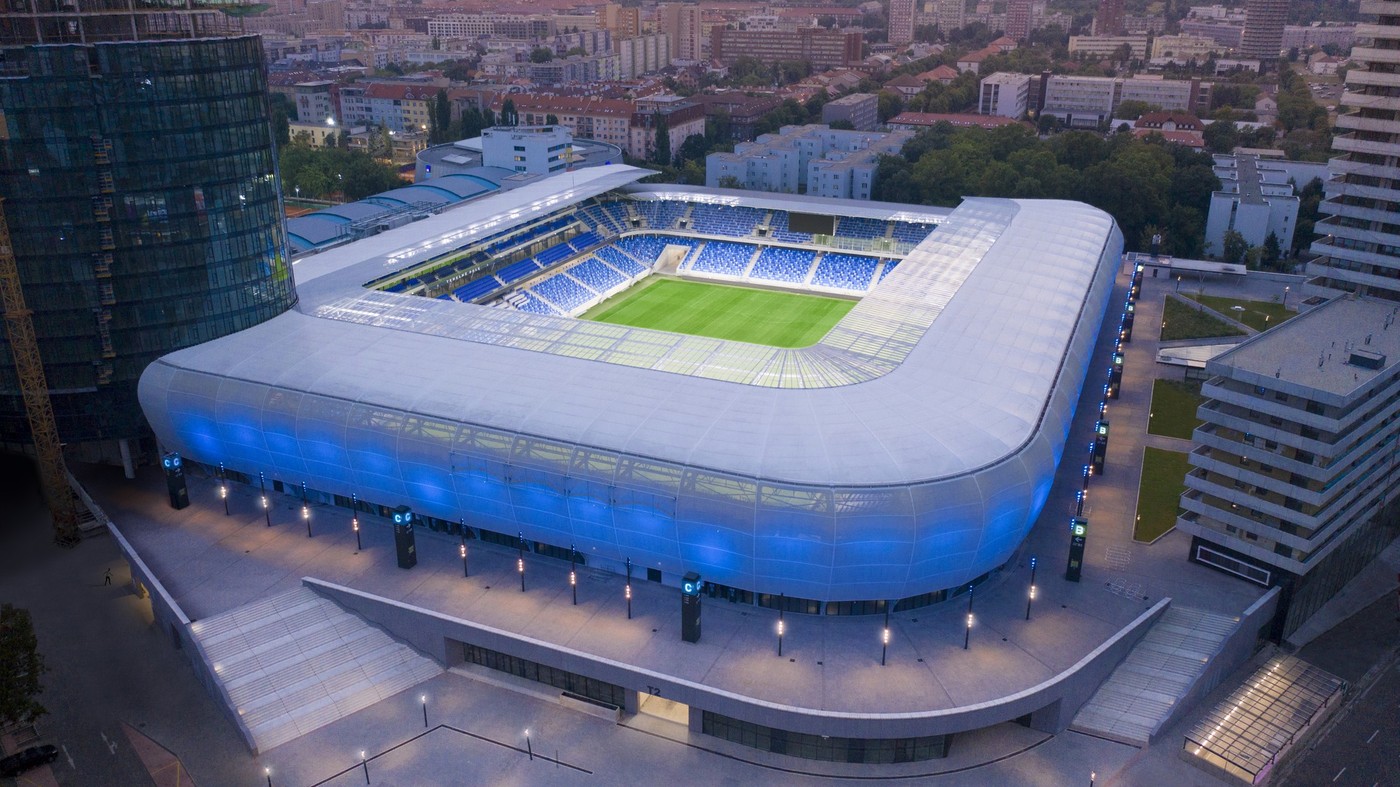 © ŠK Slovan Bratislava / Grafobal Group
The stadium itself, despite early 2000s visions (those spoke of 30,000 to 35,000) was reduced in terms of scale, having 22,500 seats eventually. This scale is supposed to be more fitting for actual demand for both Slovan and national team games. The seating layout is a robust two-tier system with front rows placed just 7.65m away from the field.
The stadium's outer perimeter is accessible through four staircases, one on each end of the plot. For logistical and economic reason membrane cover was selected for both the roof and facades of the 27.5-meter tall stadium.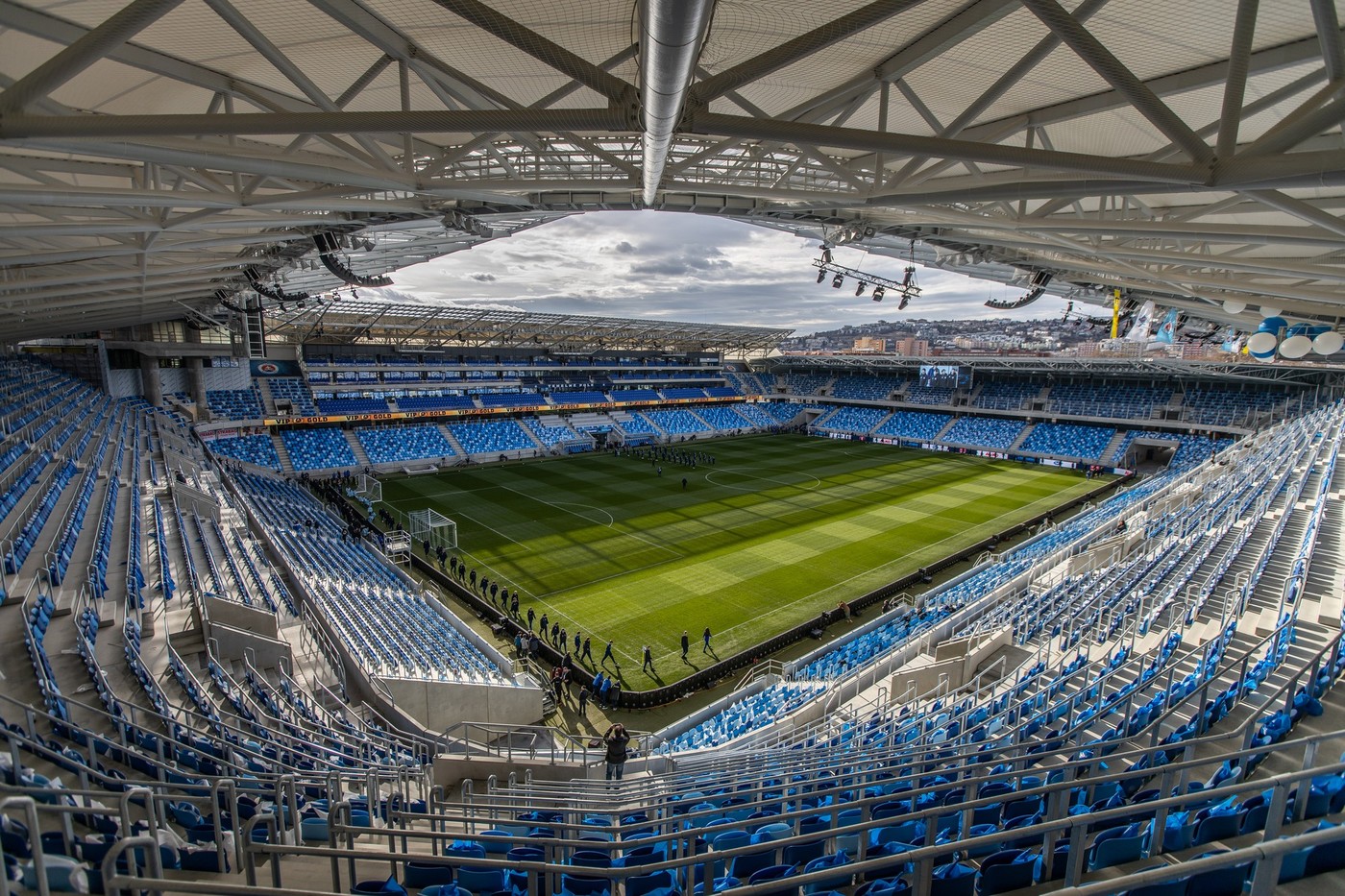 © ŠK Slovan Bratislava / Grafobal Group
The north end is an exception, however. Here the stadium has reduced height in order to not impose on nearby residential blocks. It was used as opportunity to create a distinctive aesthetic feature – the north end is clad in aluminium and seems to emerge from the larger membrane cover, as if a layer was peeled off.
The auditorium isn't only the largest across Slovakia, it also offers by far the largest commercial potential. A VIP section for 900 people and as many as 42 skyboxes were created, while more of hospitality areas are spread across the 5 floors of the main stands. This is where conferences for up to 2,000 people can be held on non-matchdays. The stadium's gross area is 65,960 m2.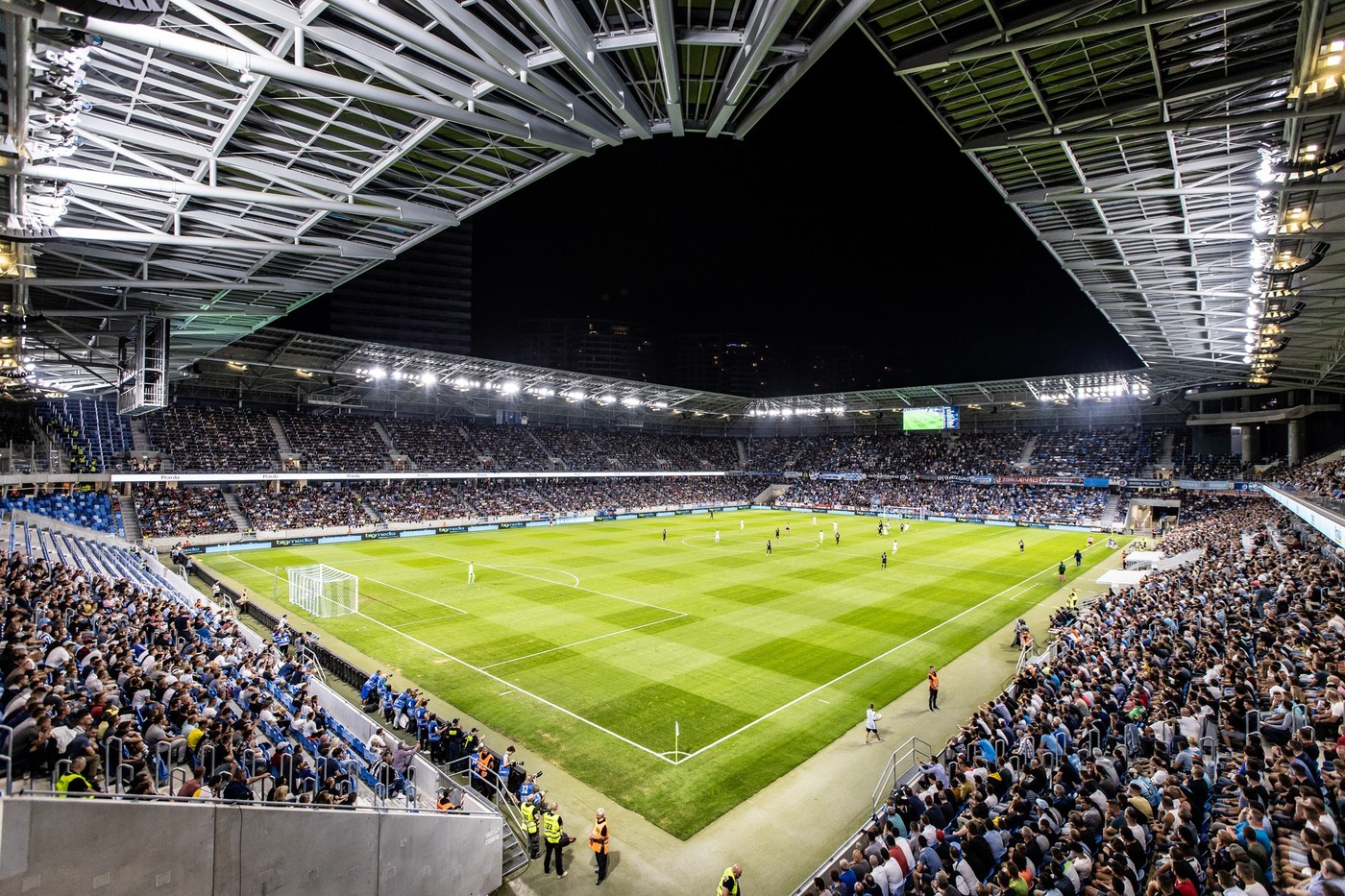 © ŠK Slovan Bratislava / Grafobal Group
Upon opening the new "Tehelko" became the most advanced stadium across Slovakia for a number of reasons, including those very clear to spectators. From biometric turnstiles, through cashless payment and screens placed around the stadium, it provides a modern experience, whether one likes that or not. It also uses technology to ensure energy efficiency, including LED lighting and WLHP system that allows up to 45% of heating/cooling energy to come from renewable sources.