New stadium: Here comes Tokyo's timber stadium
source: StadiumDB.com; author: michał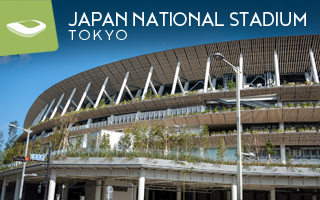 Although we didn't manage to get inside during our visit to Tokyo, finally the new national stadium joins StadiumDB as one of the largest candidates to become Stadium of the Year.
Construction of a new national stadium in Tokyo was officially on the agenda since 2008, due to ongoing deterioration of the historical Olympic Stadium of 1964. The successor was initially considered as a football-specific stadium. However, following the fiasco of Tokyo's 2016 Olympics bid, the city went for one more attempt, this time for 2020. That bid, later proven successful, became crucial for the stadium's future.
The plan became massively impressive, envisioning a stadium of 80,000 seats with retractable roof and air conditioning. International design competition brought 46 entries from around the world and Zaha Hadid's vision was selected as the best one. Her concept suggested basing the futuristic shape on two 370-meter arches.
While initial estimates suggested it would be built for some ¥130 billion but this quickly proved far too optimistic. Already in 2013 it was decided that floor space should fall by nearly 70,000 m2 (from 290,000 to 220,500 m2). Later further cuts included the moving roof and air conditioning, even dropping capacity to 60,000. And even then Hadid's concept was evaluated to cost massive ¥300 billion ($2.7b) and over a trillion by the end of its life cycle.

For this dramatic reason in July of 2015 the design was scrapped entirely and a new call for entries was issued, this time from joint ventures ready to design and build the stadium – a procedure selected for its time efficiency. By December of that year the bid by Taisei + Kengo Kuma + Azusa Sekkei was selected.
Along new guidelines issues by the Japan Sport Council it was proposed that the stadium would have a significantly reduced scale, with height not exceeding 50 meters (final figure 47.4m). Still, with 194,000 m2 of floor space, width of nearly 260 and length of some 330 meters it's the largest stadium across Japan in terms of size.
The selected concept is characterised by harmony and simplicity and was marketed as one welcoming residents throughout the week as a leisure destination. Opaque facade was scrapped in favour of open concourses with shrubs and trees planted on their edges. Significant plantings were also envisioned around the stadium.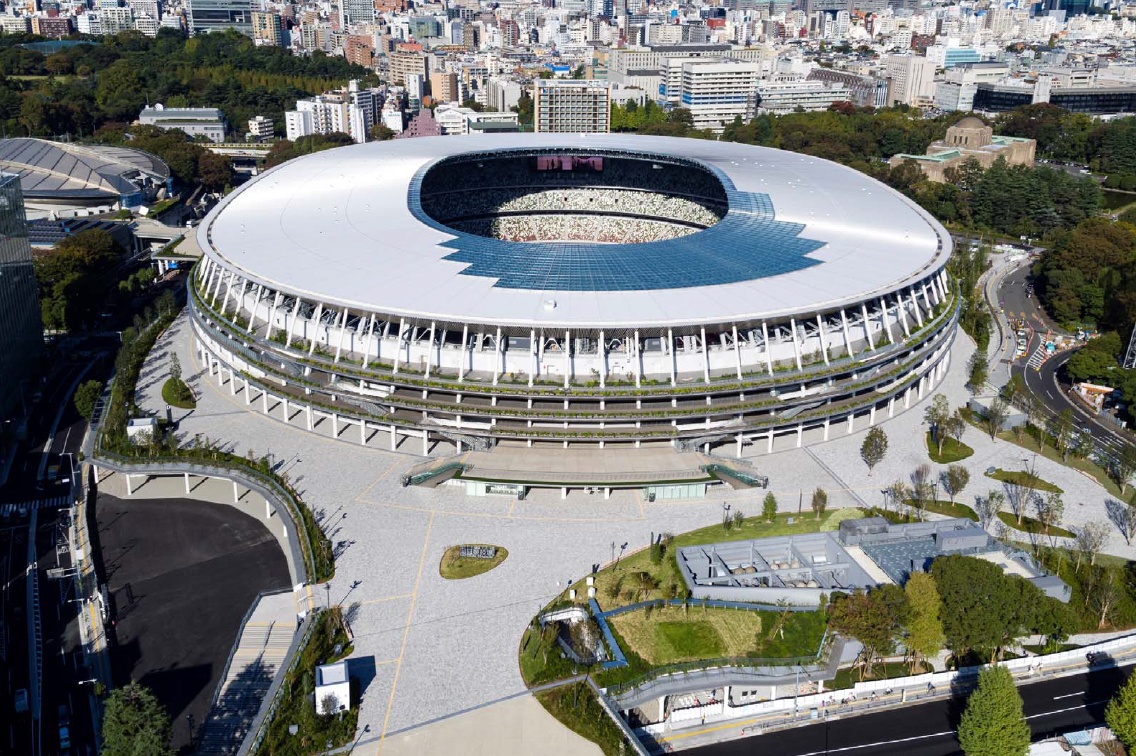 © Japan Sports Council
All concourses extend outwards and are equipped with eaves, emulating a pagoda-styled temple. Each of the eaves is covered with thin timber latticework, making it seem more natural and cosy. Lack of a more built-up cladding ensures good ventilation and if there's no wind the stadium has 185 fans to create air movement.
Wood follows fans inside the stadium, covering parts of the inner concourses and hospitality areas. But by far the most interesting use of timber is in the roof. While timber truss or frame structures are no rarity, this is the largest one worldwide to combine steel and timber. Weighing 20,000 tons, the canopy is indeed massive, even though its surface of roughly 45,000 m2 (with entire footprint of 61,000 m2) isn't among the world's largest.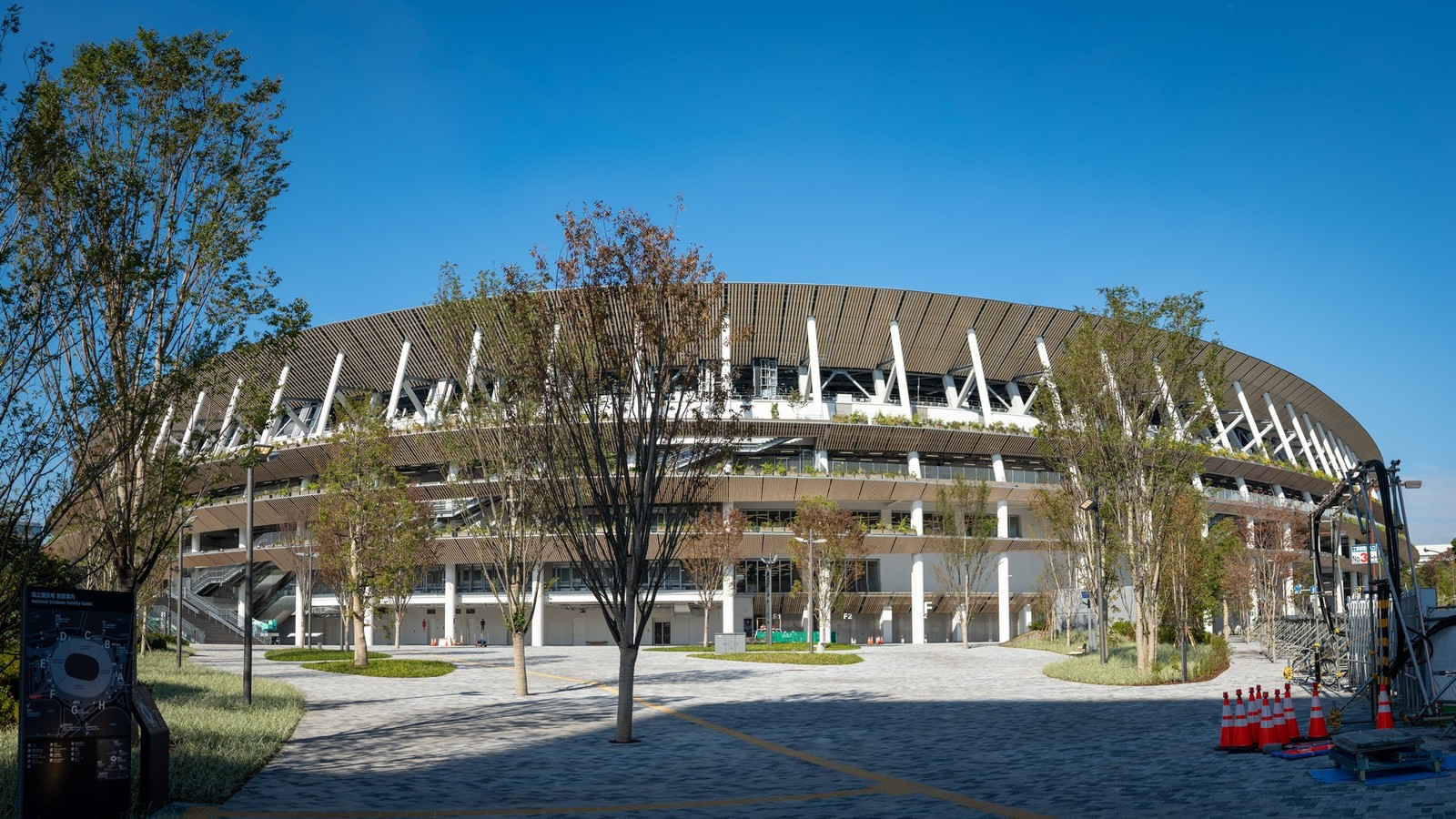 © Stadiony.net
In total the Japanese contractors have used 70,000 m3 of timber, mostly cedar and larch. Interestingly, the material has its own symbolism, having been sourced from certified locations across all 47 prefectures of Japan. This way the nationwide effort and unifying meaning of the national stadium are acknowledged.
The auditorium has been created in a three-tier layout, starting with rake of 20º on the lowermost one, through 29º in the middle, to 34º on top. Two lower levels also offer up to 500 places for wheelchair users, giving them a decent choice of locations. Behind the stands up to 7 floors of facilities are created, with 5-7 floors above ground level. The difference comes from the west side having street level two floors lower than the rest.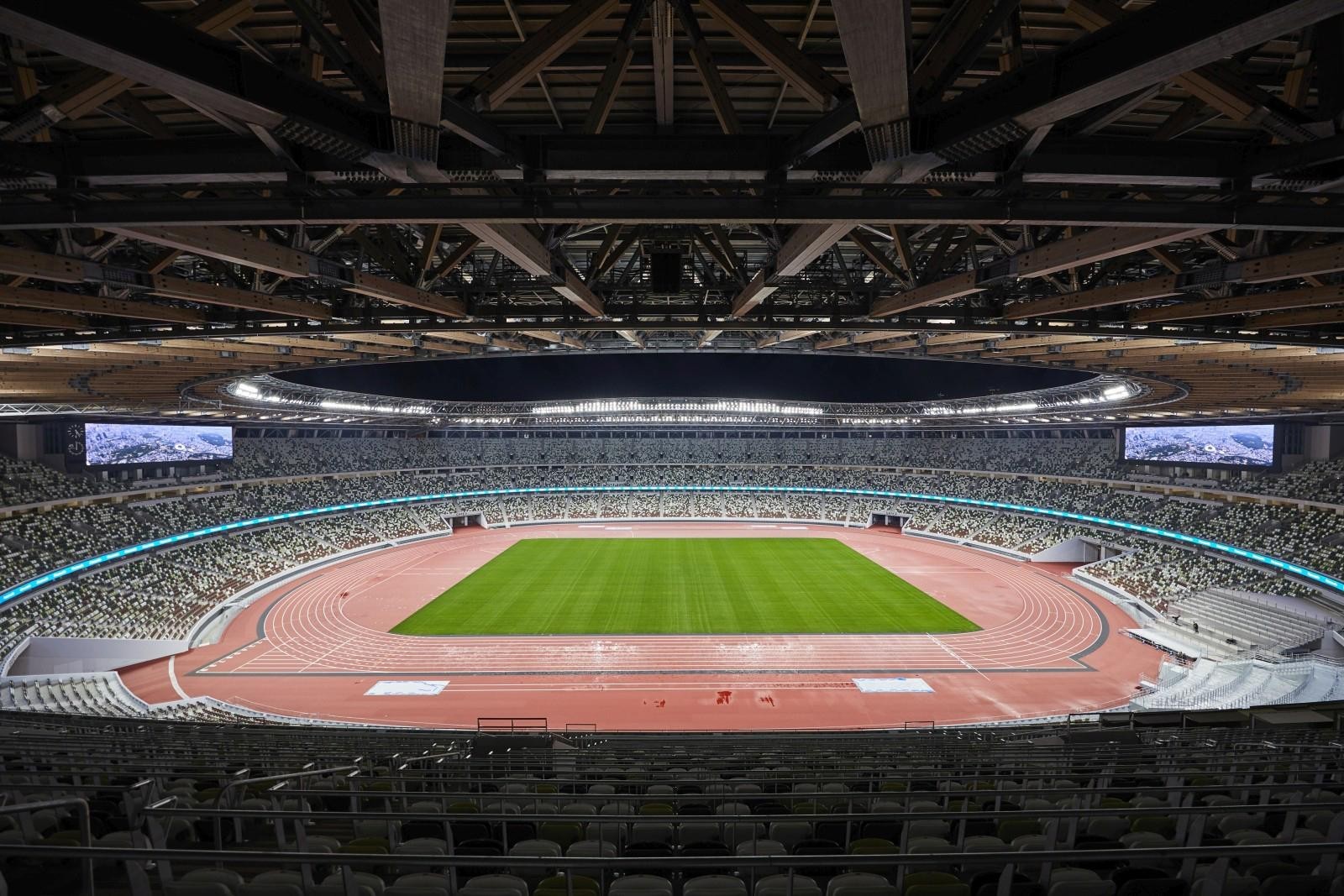 © Panasonic Corporation
Though selection of the winning bid happened late, within a year the documentation was complete and construction could begin in December of 2016. The deadline of just under 3 years was kept to the day, ending on November 30, 2019. Despite growing prices it was even delivered slightly below the estimated price, at ¥156.9 billion ($1.43 billion upon opening).
Along guidelines of the Japan Sport Council the stadium is to enable conversion from athletic to football use by reconfiguration of the lower tier. With seats moved closer to the field it could just exceed 80,000 seats. However, during construction decision was made not to remove the running track as its size would be helpful in organising concerts. Finally, a retractable roof is once more considered in order to weatherproof the stadium in the future.