Rotterdam: Feyenoord City opening postponed again, to 2025
source: AD.nl / Rijnmond.nl; author: michał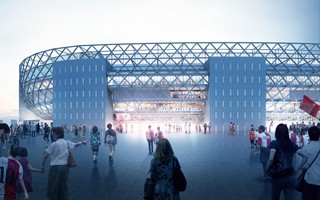 For the second time in 2019 Feyenoord was forced to postpone opening of the new 63,000-seater. Not in 2023, not in 2024, the country's largest football stadium will come no sooner than 2025.
The most ambitious stadium project of the Netherlands once more moves further away. Back in March Feyenoord was forced to postpone opening of the new 63,000-seat stadium from 2023 to mid-2024. Not even a year later there's one more setback, again pushing the project a year away, to 2025.
Green light for the project would hopefully be granted in mid-2020, which would enable piling to begin in March of 2022. But there's still uncertainty over whether all authorities are on board. The Zuid-Holland Province is sceptical regarding public interest and legal framework of the project at Nieuwe Maas.
Question marks are also arising around the stadium's budget, initially set ay €365 million. With delivery slipping away to 2025 it's becoming less probable that the price tag can be retained. Also, ongoing design work and bureaucracy is costing a lot.
Recent numbers for Stadion Feijenoord reveal a shortfall of €7 million despite 16% increase in turnover, precisely because of the cost associated with preparations.