England: Luton hit by new delay
source: LutonTown.co.uk / BBC.com; author: michał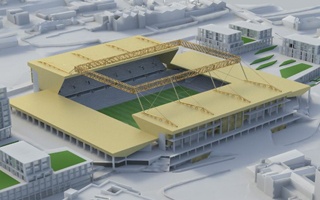 Request for judicial review by potential competition is the latest setback for Luton Town. It remains unclear how much time it could cost but the football club and borough council remain defiant in their decision to proceed.
Capital & Regional, operator of The Mall in Luton, filed a request for judicial review regarding planning approval for the Newlands Park leisure complex. Until the request is considered by the high court, the project cannot move forward.
Statement by Luton Town reads: "The claim by Capital & Regional does not come as a surprise given their track record of opposing our plans and, we believe, their claims have no merit whatsoever. Indeed, it has always been our view that Capital & Regional have opposed and continue to oppose our plans on commercial factors rather than factors of public interest."

The claim of commercial factors seems to naturally come into the equation. The Mall stands at risk of losing a lot when Newlands Park and Power Court, the interconnected projects by Luton Town, come to fruition. Newlands Park is likely to move a lot of commercial/retail/leisure traffic away from town centre.
Just as Luton Town, the borough council also considers the judicial review effort as biased and driven by self interest rather than interest of the community.
Luton Borough Council, which approved the plans, said it was "disappointed" the shopping centre owner had challenged the decision. In a statement, the council said it was "concerned about the potential cost to Luton taxpayers and the inevitable delays in this beneficial development coming forward. […] It is right that we vigorously defend the decision and we intend to do so," the council said.
Newlands Park is a crucial plan for Luton Town because this commercial development is vital to securing funding for Power Court's new football stadium.