England: Brighton abandoning cash payments at Amex Stadium
source: BrightonAndHoveAlbion.com; author: michał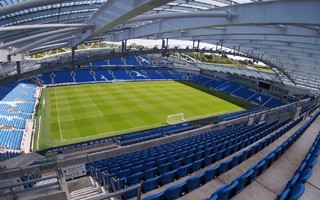 This time next year American Express Community Stadium will no longer accept cash. The process of dropping cash payments begins with first kiosks this weekend. The move is expected to cut queues in half at key times.
Working with American Express and catering partner Sodexo, Amex Stadium will switch to card payments only, for all matches and event days. Brighton and Hove Albion announced as much this week and the process will begin at the very next game, on Saturday.

© Stuart Noel Fuller
The shift will be gradual, starting with the kiosk on the north side in east upper, and the middle catering kiosks in all other home concourses taking credit or debit card payments only. Eventually all outets, including hospitality bars, merchandise store and programme booths, will go cashless ahead of next summer.
Chief executive and deputy chairman Paul Barber explained how the move will benefit fans, "Our research shows the average transaction time of a cash payment at the Amex is 167 seconds, compared with 83 seconds for all card payments.
"Improving service times during peak periods and shorter service periods, such as half-time and immediately after the game, will be better for everyone."
Cutting service times is, of course connected to boosting revenue. But the shift from cash to cashless transactions also means operating cost for both Albion and Sodexo goes down. Finally, money is more secure when cash is eliminated.