2019 FIFA U20 World Cup: Not that big of a tournament
source: StadiumDB.com; author: michał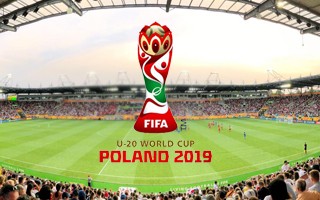 We were nearly sure 400,000 tickets would be sold for 52 games of Poland's U20 World Cup and yet the final number fell significantly short. On average stadium occupancy reached just 44%.
When the FIFA tournament in Poland began in late May, we were nearly sure we'd be reporting a major success by now, possibly nearing 500,000 tickets sold for Poland's U20 World Cup.
Realistically it wasn't inappropriate to hope for a result challenging the Korean hosts of 2017, when over 410,000 people attended games. Our optimism was rooted in Poland's U21 Euro of 2017, which saw average match crowd of over 11,600 people.
For a variety of reasons this hasn't come to be, even despite tickets cheaper than a visit to the cinema. Overall, out of 52 games played, only 13 drew crowds of over 10,000 people, while more (18) saw turnout below 5,000.
Average matchday crowd was 7,257 and occupancy reached barely 44% per game. While we should note that capacities officially given by FIFA were higher than real number of available seats, that's no consolation in the end. Poland ended up selling fewer tickets than South Korea (2017) or New Zealand (2015). Total number of people visiting stadiums topped out at 377,388.
Out of the 6 host cities/stadia, only Łódź managed to reach occupancy of over 50%, owing it largely to hosting games of Poland and the final. Meanwhile Bydgoszcz's stadium ends up as the least-attended for the second consecutive time, just like during Euro U21 in 2017.