New design: Second vision for St. Louis
source: StadiumDB.com; author: michał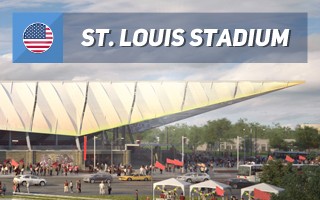 It's pretty much the same MLS bid but a brand new stadium concept. With competition growing, a fresh venue is proposed for St. Louis, even if it's still considered an initial concept.
On Thursday the St. Louis MLS ownership group officially revealed its new stadium vision. Though it's already the second stadium concept for the site beside Union Station (first one drawn in 2016), renderings presented should still be treated as initial rather than final. Cooperation between HOK and Snow Kreilich results in a brand new idea and increased capacity for Saint Louis' potential MLS host venue. Instead of 20,000 the opening capacity would be 22,500 with an option to reach 25,500.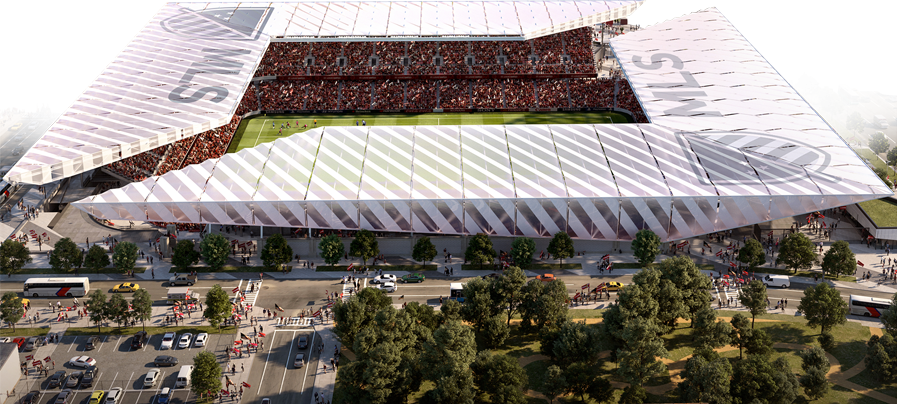 © HOK Architects, Snow Kreilich Architects
What we know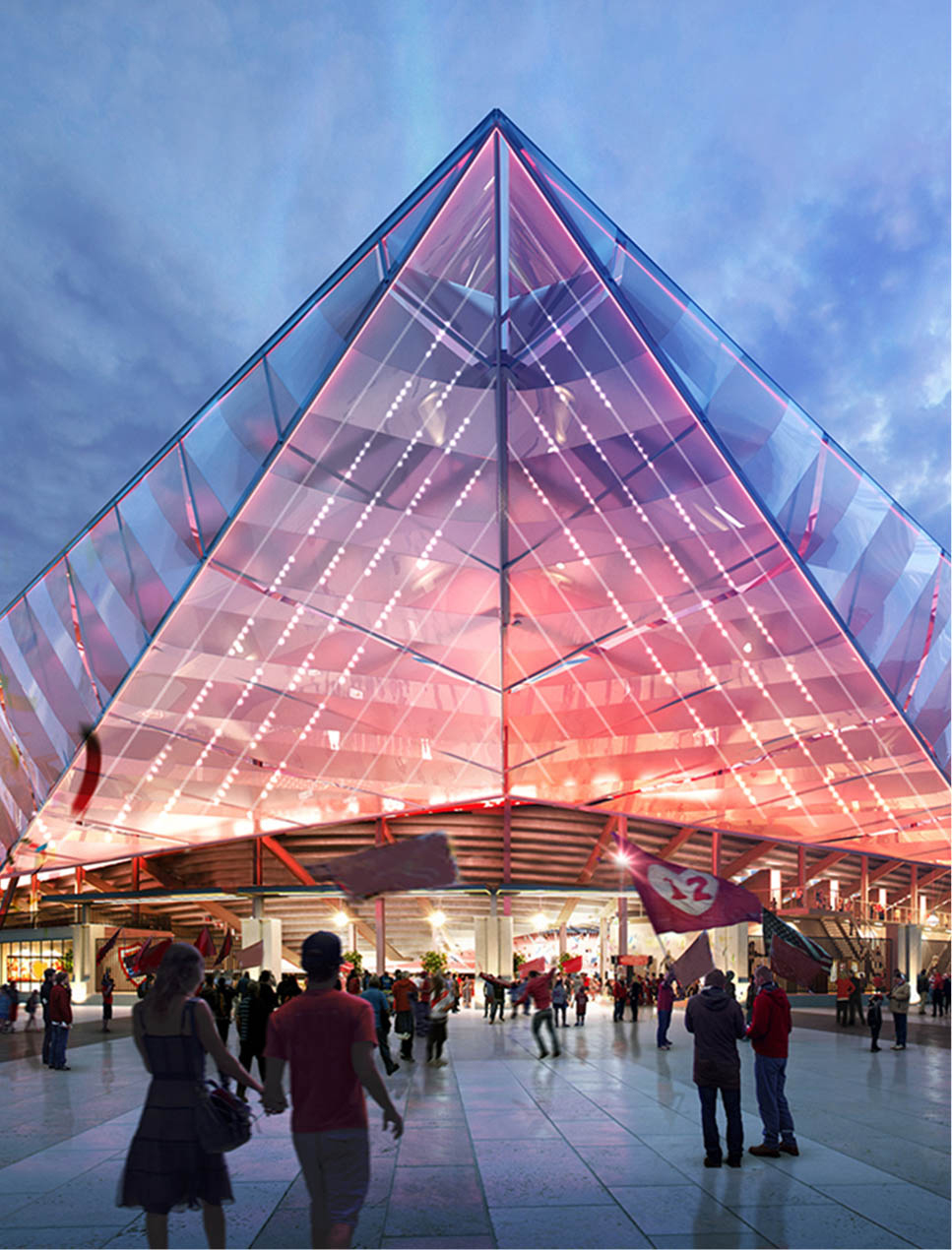 The signature feature is its lightweight canopy,almost ideally symmetric and cut diagonally from the north to east, opening two corners to the city. Two enclosed edges will literally have an edge – canopy would span well outside the seating bowl, onto entry gates and plazas outside, creating a dramatic entrance.
All of the roof, including some inner parts, would be covered by translucent ETFE membrane, facilitating both natural light access to the field and nighttime illumination. Combined with two semi-open corners, the sunroof would allow for an open-air feeling inside.
Aesthetic focus on the roof is justified because significant chunks of the stadium would not be visible from the outside. Field level would be 12 meters below street level, which means all of the lower tier will be sunken and parts of the upper floors, too. This way the stadium would not be too imposing and instead a friendly destination not only on matchdays. With retail and restaurants planned around, it's designed near the busy Market Street to attract people throughout the week.
The auditorium follows shape determined by the roof, seeing double-tiered stands under the roof and single sunken tiers in the two open corners. All seats would be located no further than 36 meters away from the field, a distance ensuring everyone enjoys the game. Front rows would be as close as 6 meters from the field.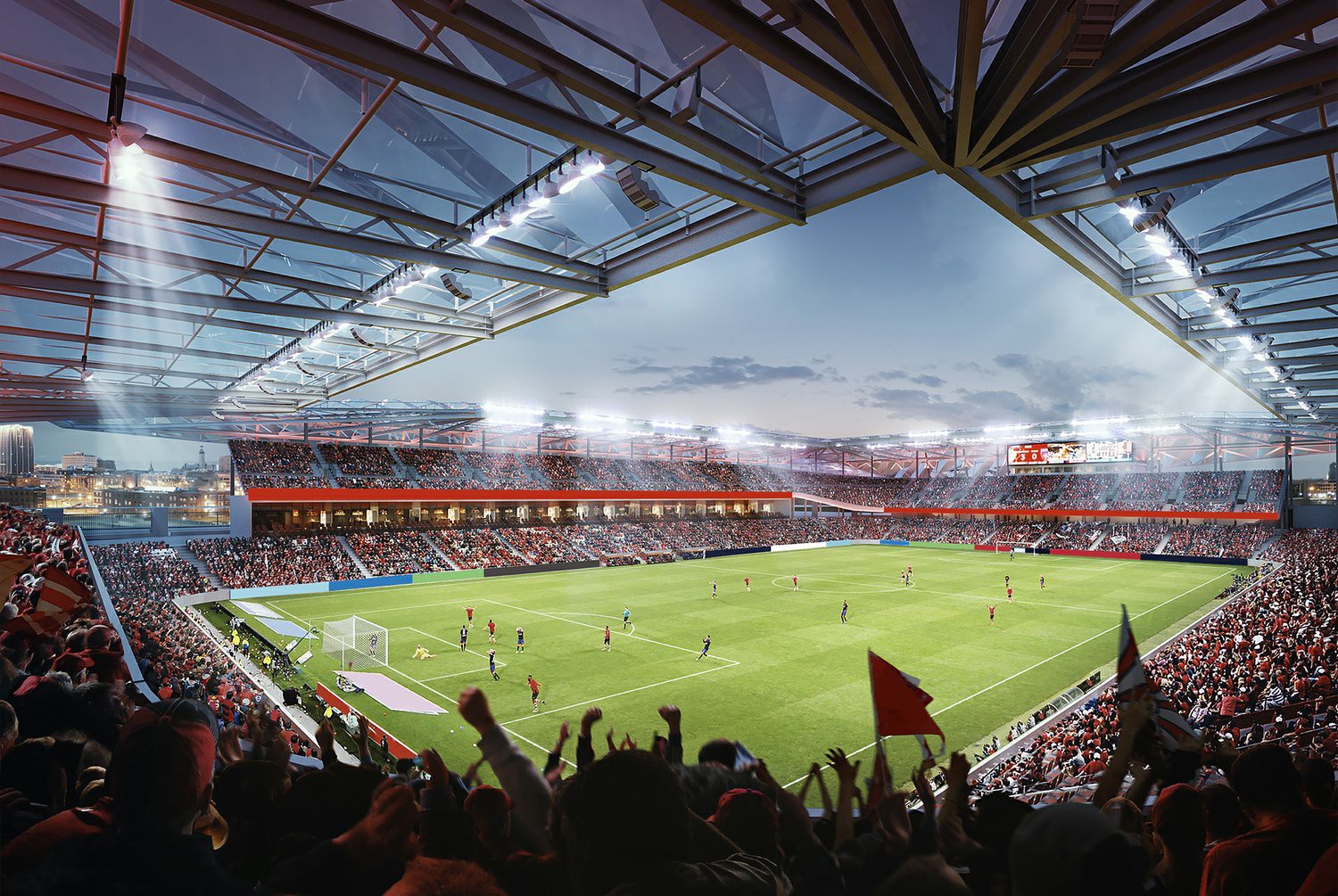 © HOK Architects, Snow Kreilich Architects
What we don't know
With the recent decision to expand MLS not to 28 but 30 teams, Saint Louis seems like a sure bet. The only question might be whether it's team 28 or 29. While Sacramento may look much more solid at this very point, the decision hasn't been made yet, at least officially.
At this point no solid budget for the stadium was revealed. Also, we have no financial structure aside from the assurance that vast majority or all of the bill would be paid privately. Demand for public funds is what killed the bid previously, in 2017.

© HOK Architects, Snow Kreilich Architects