Safe standing: La Liga and Premier League have their first railings
source: StadiumDB.com; author: michał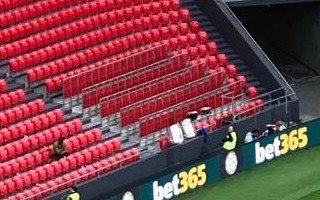 Athletic Club and Tottenham made strides between March and April as the first teams in their respective leagues to install safe standing sections. While they differ in scale immensely, both of them are notable!
Even supporters in Bilbao were surprised to find some changes in the ICHH section, when they came to see the Atletico Madrid victory on March 16. Five rows of the most vocal corner of new San Mames have been equipped with rail seating, a system also known as vario, allowing conversion from all-seating to all-standing within minutes.
That part of San Mames is all-standing anyway so Athletic decided to launch a pilot scheme with 75 rail seats to see how they compare to traditional folding seats. So far, as suggested by Federación de Accionistas y Socios del Fútbol Español (FASFE, umbrella organisation for Spanish fans), there have been no concerns raised and already upon installation it was rumoured that expansion of the safe standing area is a matter of time rather than mere possibility.
Bilbao is thus the first city in La Liga to see safe standing installed, meeting international norms of safety as all-seating section and also allowing fans to stand more comfortably.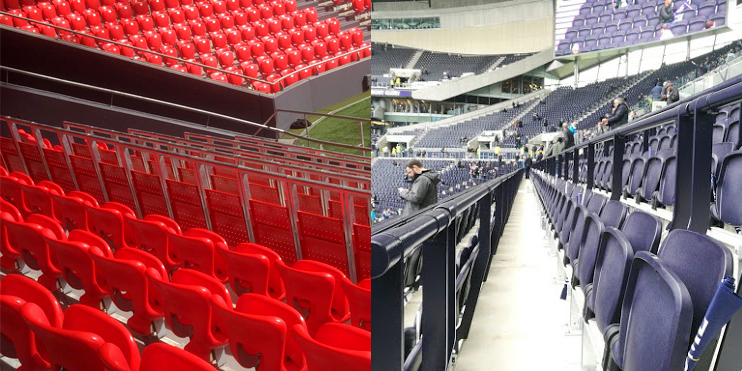 © I.C Herri Harmaila / Valerio Curcio, via Safe Standing Roadshow
That premiere took place in March, while in April official league launch happened in London, where the scale is much, much greater. In fact, exactly 100 times greater! Tottenham have installed 7,500 rail seats of a different model. Most of them are placed in the lower south end, which is expected to function as Tottenham's most vibrant area. Further 1,500 were given to away supporters.
It's Premier League's first such move, enabled by changes in safety recommendations from the latest Green Guide, released in November. The document even encourages using railings to improve safety in areas where persistent standing is a regular occurance.
Of course such infrastructural moves don't change the fact that standing room is not legal in any of the two leagues mentioned. Officially, both stadiums are still considered all-seaters, they simply make standing less of a hazard. Should regulations change, and the momentum continues for such move in England, Tottenham would of course likely use the new areas as standing.
For now fans are still being urged in official communication to take their seats and in places where small groups stand, stewards are asked to intervene. According to the BBC, Spurs have already issued first stadium bans for persistent standing at their new ground.