London: West Ham shows new straightened end zones
source: StadiumDB.com; author: michał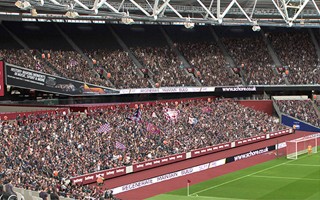 Instead of curves, London Stadium will offer new, straight lower end zones. While advertised as improvement for supporters, the move should rather be seen as way out of the biggest structural issue of the building.
As you surely know, every summer London Stadium is being converted from its football-dedicated layout to one with running track. This comes as legacy of the 2012 Olympics, following the promises made to IOC. All of the lower stands are moved further apart for the summer and reconstructed closer to the field afterwards.
Now West Ham are advertising a change in the football layout. Instead of curved end zones two straight stands are to be created. The move is said to "improve the seating and experience of supporters in the Sir Trevor Brooking and Bobby Moore Stands by bringing fans closer to the action".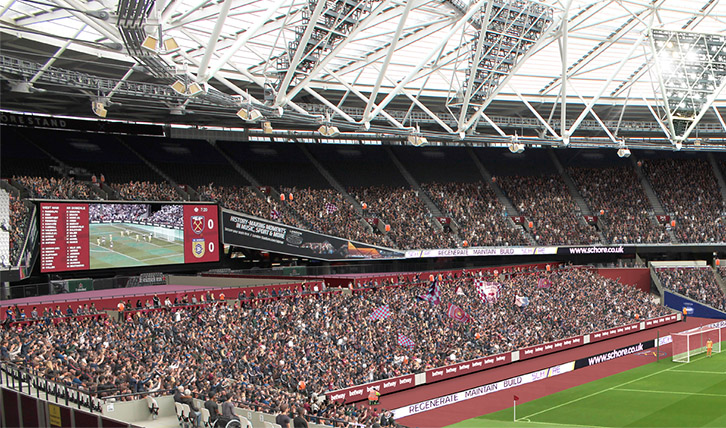 © West Ham United
While it may sound good, the move shows hardly any improvement overall. Indeed, fans at the centre of each stand will move some 4 meters closer to the field (still, at some 15 meters away that's not close), but those sitting near the corners will actually be moved further away. Even worse, those in new front rows will be more exposed to rain, some of them (fewer than 400 on both ends, but still) simply not having any roof over their heads.
The move should provide a slight improvement for West Ham, who are pursuing options of capacity increase. In total the straight ends should increase available capacity by some 700 seats. Not much but not nothing as well for a team that is hoping to increase available seating by some 2,500 in the short term (currently approved to use only 60,000 out of the 67,000 installed).
If the move will barely be an improvement for supporters and only a minor one for West Ham, who will gain from it? It's the public operator of the building.
A year ago senior officials of London Legacy Development Corporation (LLDC) had admitted that the selected retractable seating solution was a mistake and its immense annual cost is among the largest issues of the stadium, along lack of any naming rights deal.
While initially projected to cost some £300,000 to convert from football to athletics, the actual cost was £8 million in 2016 and as much as £12 million in 2017, pulling the stadium deep into the red financially. It's simply not viable at all in the medium or long term.
The new structures behind goals will be much lighter and easier to assemble than current ones, which will reduce both time and cost for conversions. And that's a good way to go, even if improvement for fans is barely a win. It just doesn't seem fair for the move to be advertised as experience-oriented when it clearly isn't.