London: QPR magic not working on council
source: StadiumDB.com; author: michał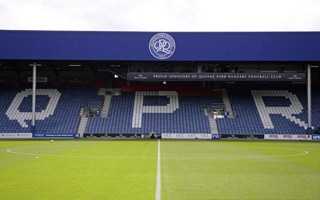 Despite a heavy campaign to promote their new stadium plan, the city council isn't budging. "No land for free" is the message. And if that message breaks any deal, it means the effort by QPR owners wasn't sincere to begin with.
Earlier this week Queens Park Rangers (currently Championship level) released a report by Hatch Regeneris, analysing the current and possible impact of having QPR as an asset to the Hammersmith & Fulham borough. The two studied options include QPR at their aged Loftus Road and the proposed 30,000-seater which would replace council-owned Linford Christie Stadium.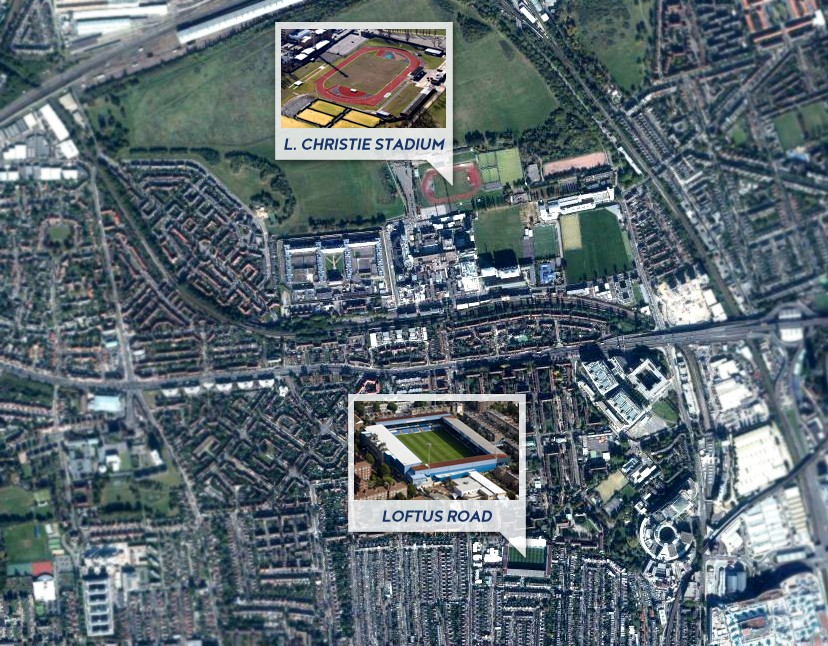 Quite one-sided, that report
As is common with reports created for an investor (rather than impartial, independent ones), the list of benefits of a new stadium is very long, while disadvantages aren't even considered. First, the construction of a new stadium means £190-265 million in direct spending, a lot of which would go to local workforce and companies. Second, redevelopment of Loftus Road into a residential estate with 450-550 apartments would bring £175 million further. And the apartments themselves in ever-so-crowded London, of course.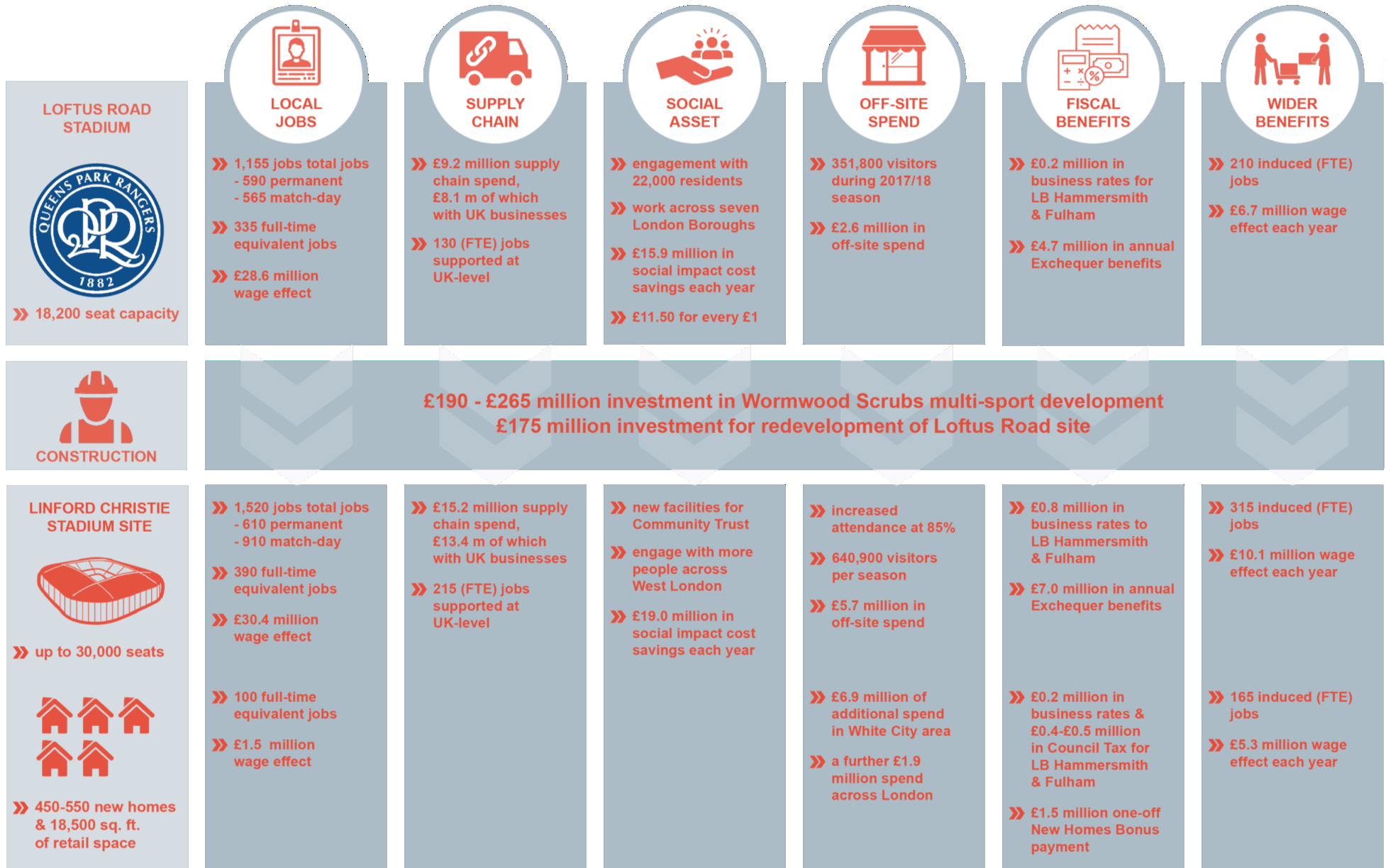 © QPR
Add to that doubling the matchday crowds and revenue brought by fans visiting the borough, additional taxes paid and you have much more that Hammersmith & Fulham would gain. Ironically, however, the report fails to mention any additional costs associated with increased use of infrastructure, traffic, loss of sports/leisure facilities, public green areas, etc.
As QPR state, the development would create "720 full-time jobs", except the quoted report fails to deliver confirmation for such statement. Actually, we looked for any 720 figure in the report and there is no such suggestion.
Under "total new jobs" the number created is a far less impressive 365 additional jobs, of which a mere 20 (!) are new permanent jobs, vast majority being matchday-related only. Of course, the report includes jobs that would likely be induced (in the area and supply chain) by the sports and residential development, but it still doesn't land near 720.
Council not buying it
Having gone through the nearly-40-page analysis, we're not at all surprised by the ice cold reply by the Hammersmith & Fulham council, published on Wednesday. It didn't at all help that QPR went out of their way to shout out in their graphic: let us build and you gain £20 million per year, if we go you'll lose £39 million per year.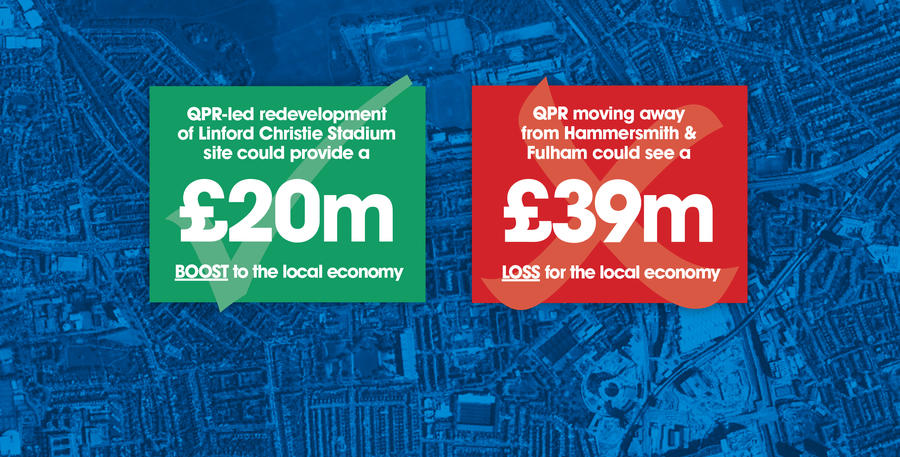 © QPR
All the underlines, capitalised letters, colour oppositions and symbols failed to impress the council, rightly so. In the council's statement we read:
"QPR's proposals are less about keeping football in the borough – and much more about them playing property developer in White City. […] The Council is a trustee of the Wormwood Scrubs Charitable Trust. And as a trustee we can't just give away over one hundred million pounds worth of land to QPR's multi-millionaire owners.
"The Council is very proud to have QPR in our borough and has long made it clear to their owners and executive team that we will go out of our way to help QPR improve their current stadium or will work with them to look at other alternatives. However, we cannot just give away land for free or hand land to QPR's owners well below its potential value – and just because QPR's owners have decided to campaign for the council to do that. We believe QPR deserves to be invested in and call on its owners to do just that."
"We'd be interested in discussing with QPR's owners the idea that they give up some ownership of the club to ensure the community and QPR's fans have a greater voice in the club's future."