New design: If only this was Szczecin's official concept...
source: StadiumDB.com; author: michał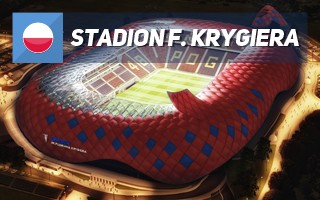 Upon first seeing it we thought: impressive but surely much more expensive than the official stadium scheme for Szczecin. But when the official tender brought bids exceeding expectations by 93% (!!!), we take it back. This vision would have been better and not certainly more expensive.
You may not know this, because we haven't covered it on our English version recently, but there are major issues with the tender for new Szczecin (Stettin) stadium. Following another budget increase and expecting offers in excess of early estimates, the municipality earmarked PLN 285 million for its new 20,000+ stadium and training complex.
And then, when bids where opened in late September, the cheapest one was 388 million, while the most expensive as high as 549 million. With immense excess the tender had to be canceled, which happened last week. Now the city is carrying out frantic efforts to cut costs and launch another tender by October 18. After that date legislation will change, making it more difficult for everyone involved.
We should note that early drafts of the stadium scheme had put cost at just PLN 50 million, back in 2013. Since then there were numerous changes to the vision and the budget went up to 100, then 150, then 200, then 245 and recently 285 million.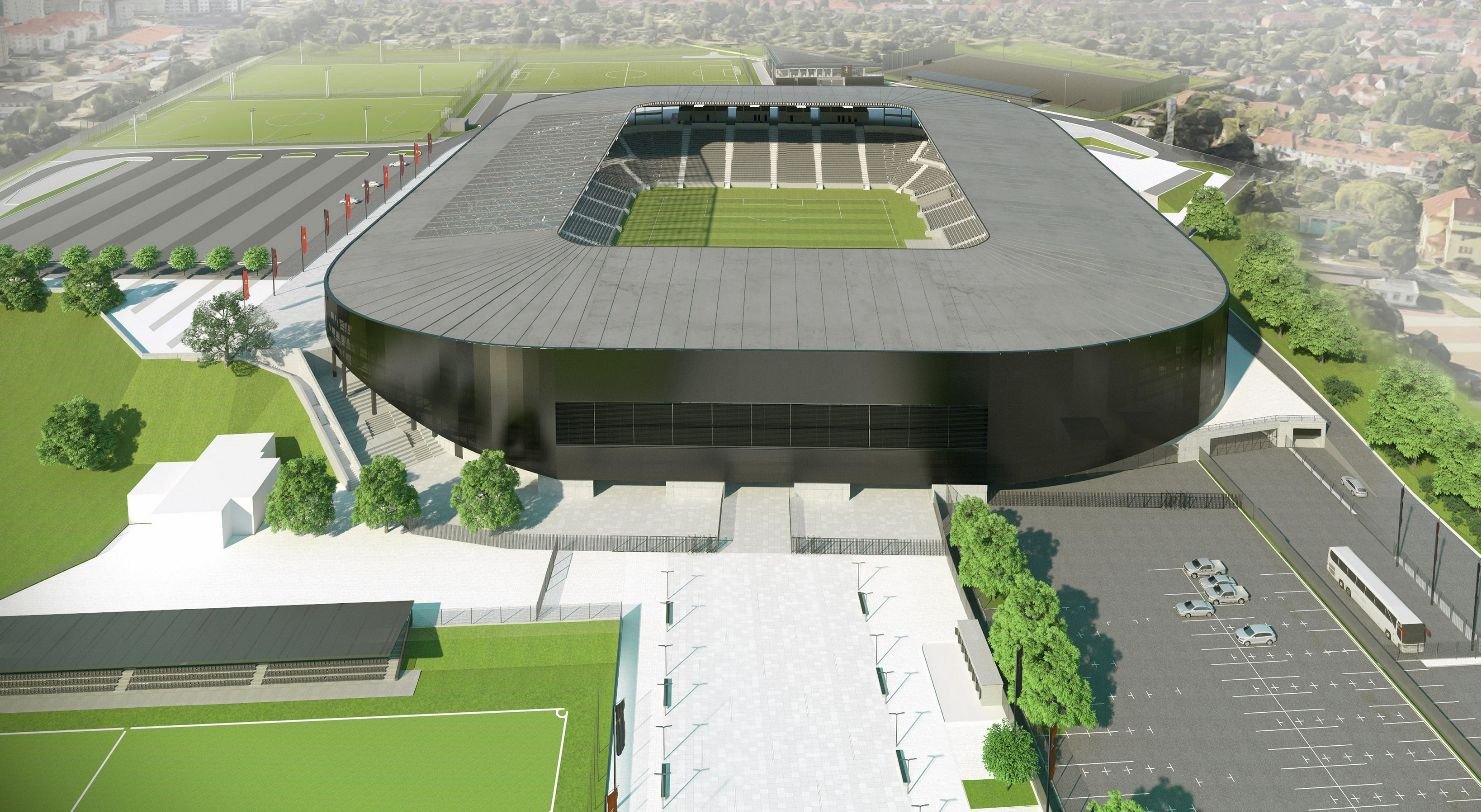 © UM Szczecin
On top of that, the resulting stadium project is hardly impressive. Not that architects at Dedeco have done a bad job. It's the outcome of turbulent and painful upgrading process, which ended up with a decent, but not impressive stadium, with quite high budget. And since at least one serious contractor puts its value at PLN 549 million, we decided to release this unofficial vision, which would probably be as expensive, at most. And since it's far more impressive, it's our pleasure to present it to you!
The concept was created by Msc architect Sebastian Łabędź as his master thesis, under supervision of Assoc. Prof. Grzegorz Wojtkun, and foresees complete redevelopment of the existing Stadion im. Floriana Krygiera into a top-category football-specific ground.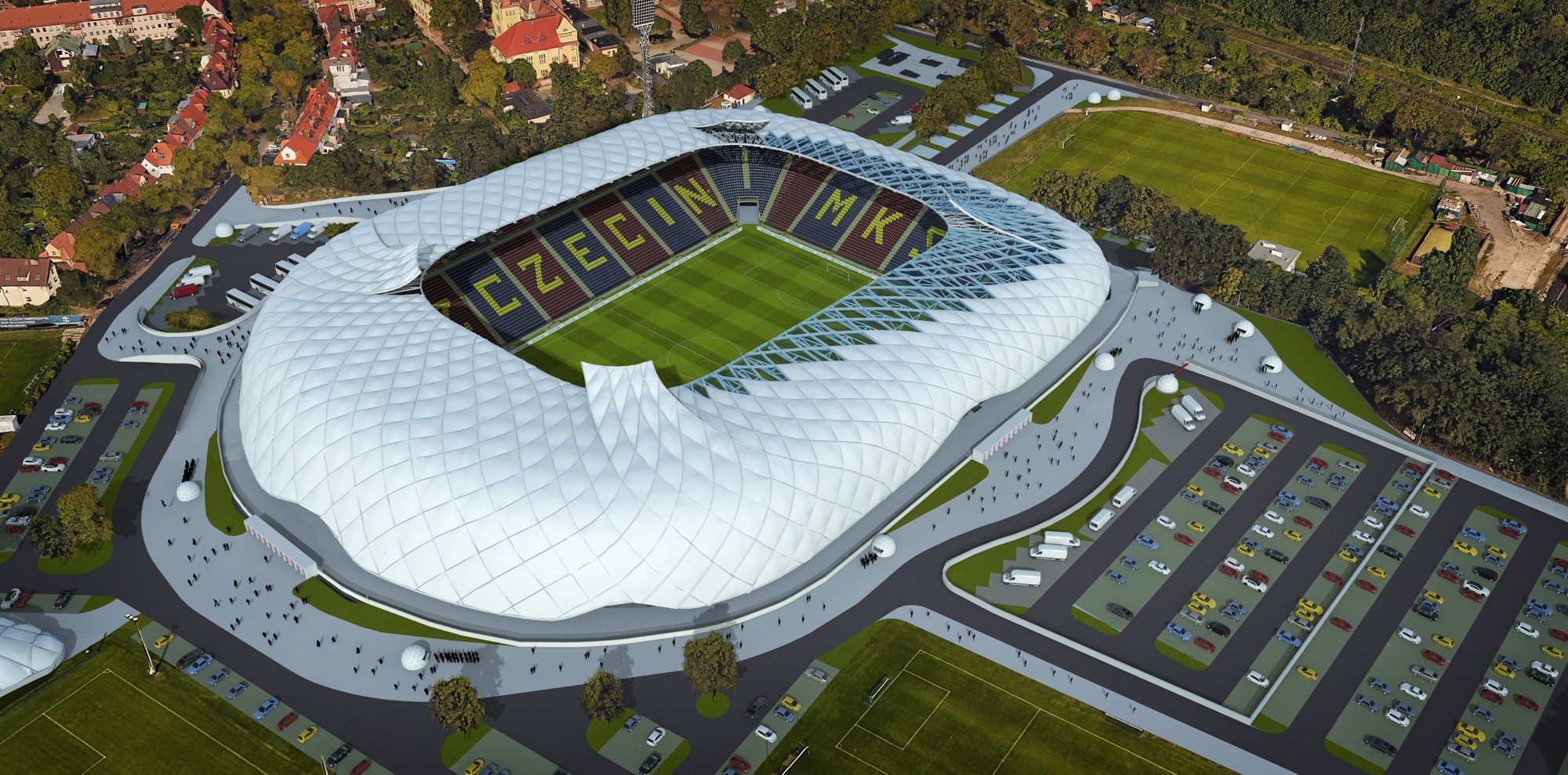 © Sebastian Łabędź

Very much like the official stadium redevelopment scheme by the city of Szczecin, this concept would see the field left as is it in terms of orientation, only slightly moved to the west in order to make better use of available space. Having removed old facilities, new grandstands would be built from scratch, fitting 5 levels of floor space within the auditorium of 21,537 seats.
Much effort was put into making the stadium a multi-use venue, housing not only typical sporting and administrative facilities. In order to meet such goal, the author decided to create a commercial/retail complex within the stadium's 3rd level, surrounding the entire stadium. It would bring the stadium to life not only once a week but on a daily basis.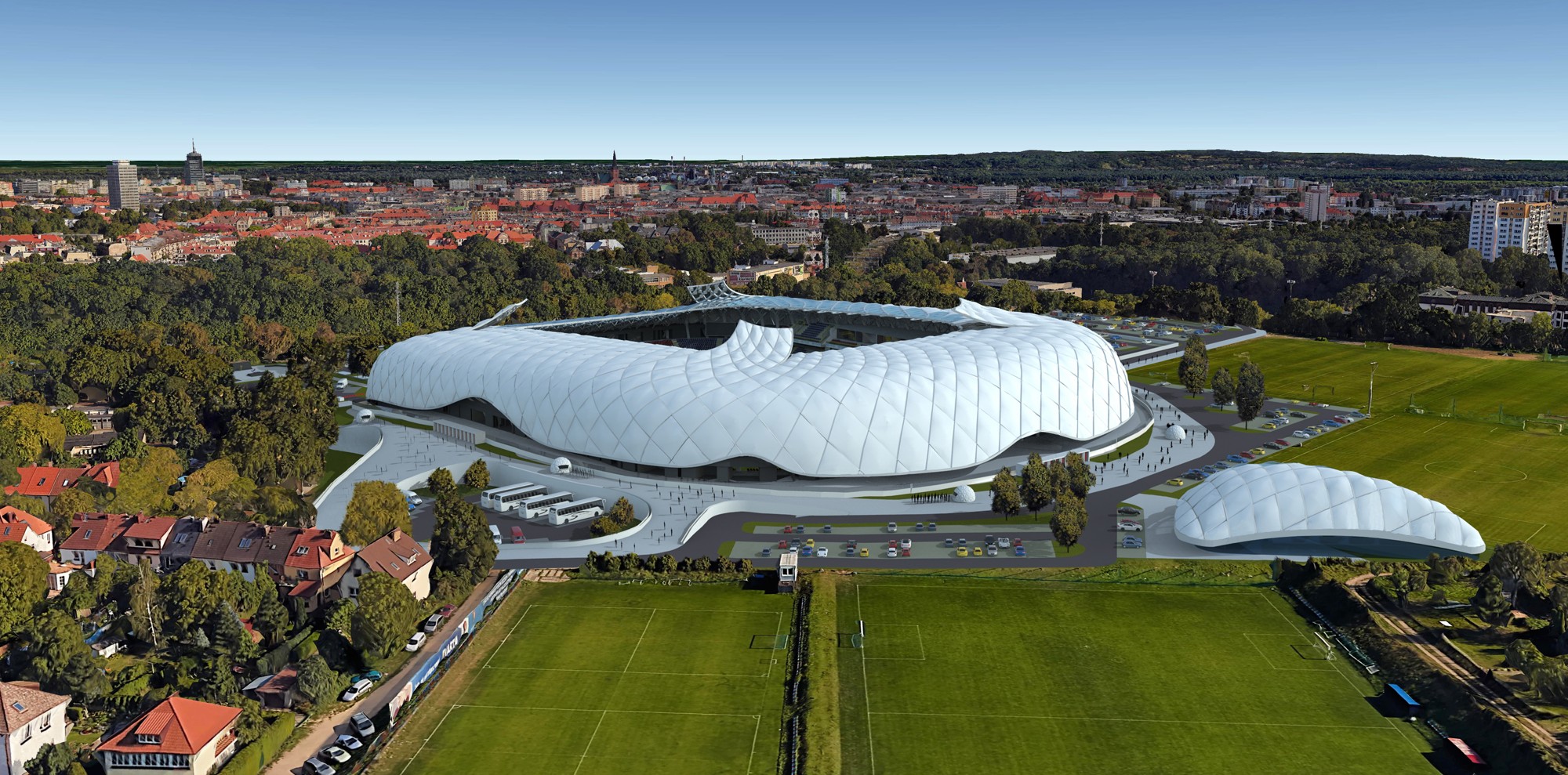 © Sebastian Łabędź

In total there is 35,855 m2 of usable floor space, including vast parking beneath the stands, with two levels in the west and north and a single level in the south stand. The south side, considered the main grandstand, hosts all of the crucial sporting, media and hospitality facilities, while newly built east end (old stadium is an open horseshoe) would provide well-exposed commercial facilities for non-matchday revenue.
© Sebastian Łabędź
Above 3rd level's commercial facilities are the toilets and sanitary amenities for matchday use. Above them, in turn, the public concourse. Yes, this means fans enter the stadium from the 5th level. Why? This is owed to natural land slope and stadium location – much like the new Besiktas arena – below ground level on two sides.

© Sebastian Łabędź
With this solution, supporters enter the stadium already on top of the steep lower tier and only have one small staircase to take in order to get onto the upper tier, created on three sides. Lack thereof on the east side is caused by the stadium's form declining in height towards the south-east.
Classic reinforced-concrete and steel girders of the main roof are covered with subtle parametric roof, filled with ETFE cushions. The resulting dome is also hanging above ground to give an impression of levitation, as if a soft cloud.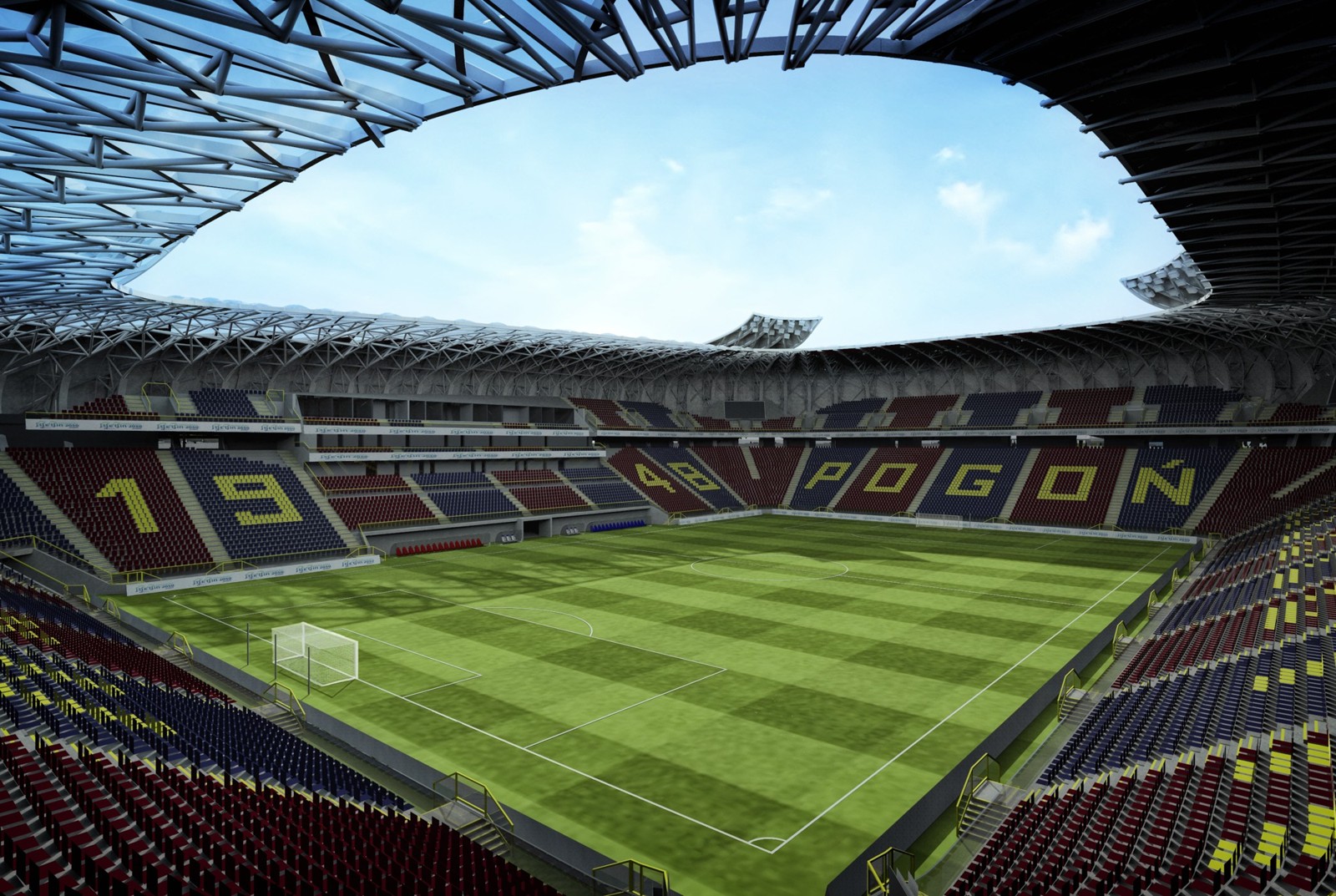 © Sebastian Łabędź
Bulk of the ETFE skin is translucent and white, while the south-eastern part is transparent. This way, together with the stadium's slope, proper sunlight access to the field is secured. Also, the roof above the west end is curved despite rectangular seating bowl, which pays homage to the current horseshoe shape.
Known from many modern stadiums, the ETFE wrap enables an impressive and dynamic illumination at night. It also should be noted that the stadium offers floodlight masts. It's a creative approach at combining traditional stadium layout with modern solutions. The masts are created by subtle elevation of roof segments, making it seemingly even lighter.
The stadium's parametric architecture also extends to the main building of nearby football training academy and – in more simplistic form – to kiosks spread around the stadium.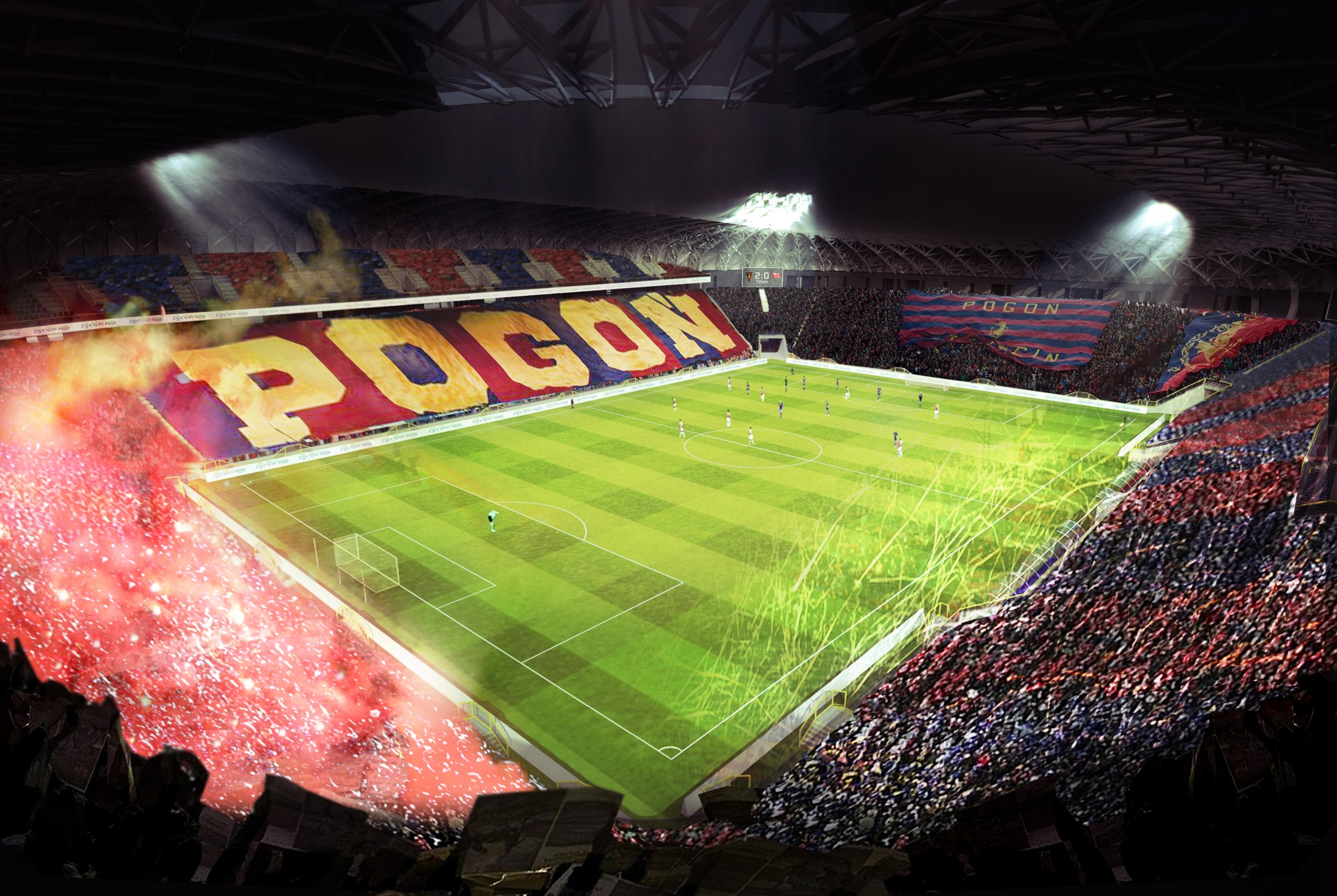 © Sebastian Łabędź