#MisjaStadion: 13 out of 100
source: StadiumDB.com; author: michał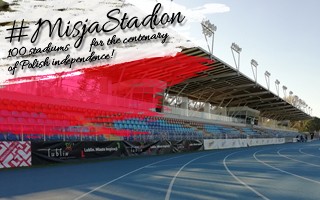 In our effort to add/update 100 Polish stadium presentations to celebrate centenary of regaining independence we're at number 13. Here are the latest additions, from Lublin, Kostrzyn nad Odrą and Siewierz.
As promised, this week we're adding new presentations as part of #MisjaStadion, our effort to update or add 100 presentations for 100 years of Polish independence. We began in September with a bang – aerial photos of PGE Narodowy – now it's time for three first stadium that we didn't have covered before. Check below to see their location: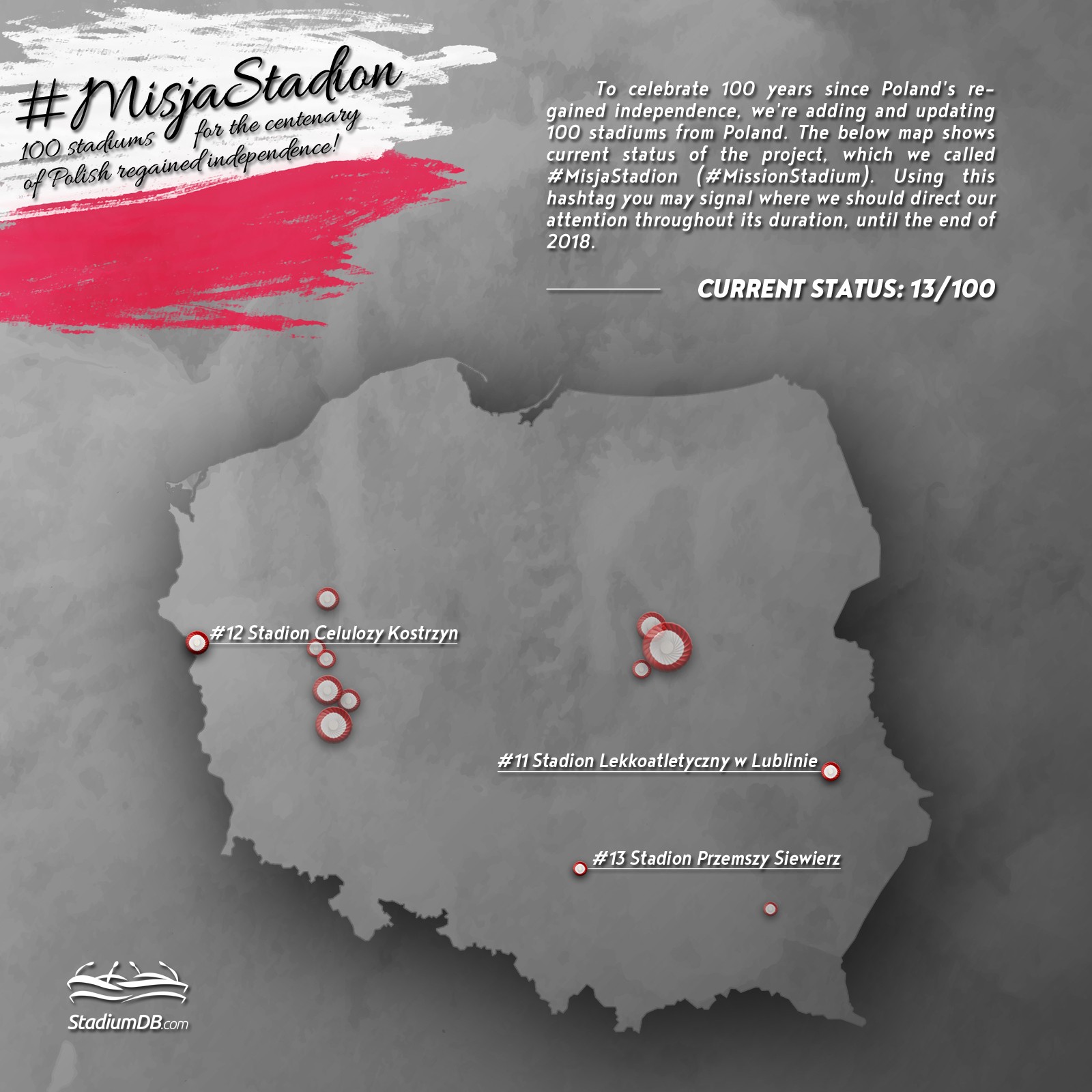 The track and field stadium in central Lublin, built in mid-20th century, was dilapidating gradually over the years. Last renovation happened in early 1990s and, with time, extensive revamp became a necessity. Thus, in 2016, the city council decided to allocate resources for the project to begin.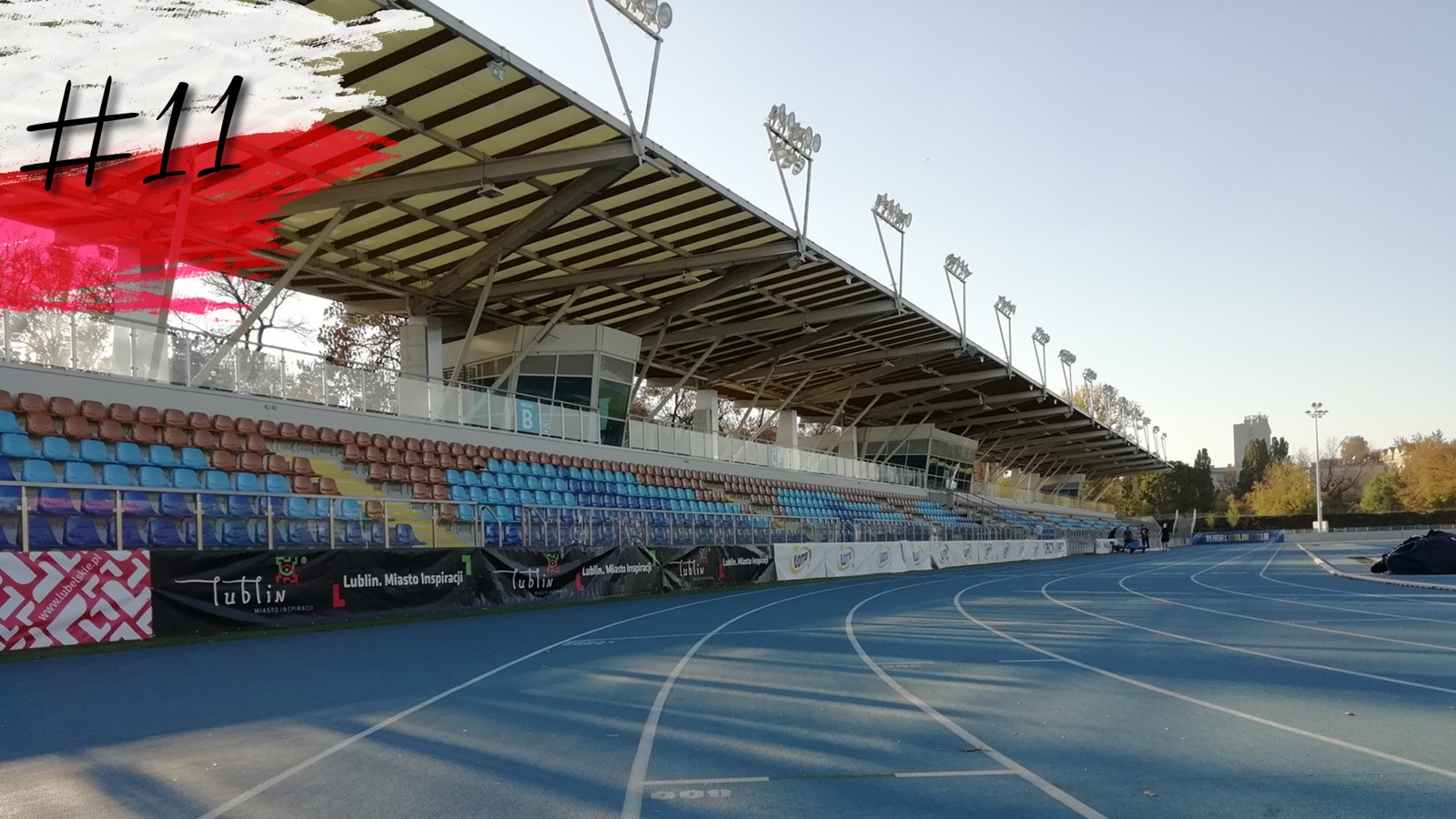 Work started from the demolition of old terracing and the maintenance building in the north east, along the Bystrzyca River. Further stages included construction of a much smaller covered grandstand on top of a partly-underground building with all vital sporting facilities. New running track, sound and floodlighting systems followed.
The ground meets all crucial IAAF requirements for Category III A, which means both domestic and international events can take place here. Just a year after its completion the stadium hosted its first major event, the Athletics Championship of Poland. It's possible to play football at the venue, however it would require reconfiguration of the playing field and is not considered due to growing football infrastructure in the city.
The single grandstand provides 1,370 covered seats and behind it youth athletes from across the city can find a training running track, though only over 150-meter-long due to spatial constraints. Allowing detailed time and distance measurement technologies, the stadium meets all major criteria for amateur and professional athletics.
It cost almost PLN 35 million to complete in 2017, which represents over €8 million. Over a third of the price tag was covered by the Ministry of Sports and Tourism. Remainder had to be footed by Lublin taxpayers.
The stadium in border town of Kostrzyn was built between 1962 and 1964, through social engagement of local celulose and paper mill, as well as the socialist Central Committee for Physical Culture and Tourism. Early games were held long before actual opening, usually on the side fields of the stadium.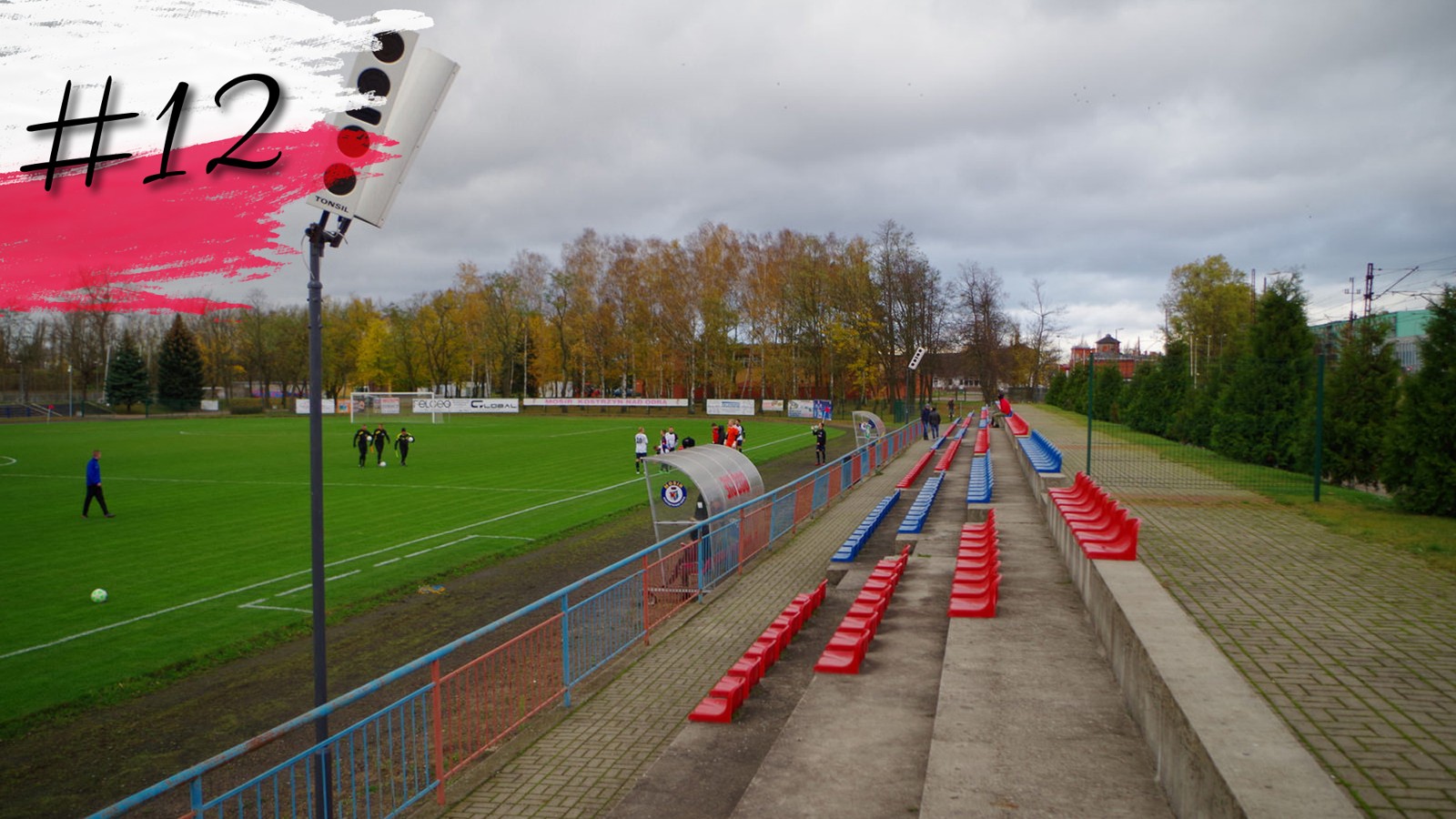 © Jörg Pochert
First international game happened in October of 1963, when the Kostrzyn team defeated DDR neighbours from BSG Chemie Schwedt. That game was attended by some 3,000 people. When second league was played here, the crowds were even twice that size!
In 1997, during the massive Central European flood, two thirds of the stadium were under water, losing the field, significant portions of the terracing, fencing, etc. A year later major revamp was carried out to repair the ground.
Further works took place in 2006-2009, when new concrete was poured and 1,000 seats installed, over 100 of them with a modest cover. New sound system, maintenance room and sanitary facilities were also created.
The stadium is entirely open, with seats representing the colours of Celuloza. The team steps down only during major municipal events at the stadium and, from time to time, for youth games of domestic and international importance.
Przemsza may only be a 5th-league team but in Upper Silesia that means playing against once-great sides like Polonia Bytom, Szombierki Bytom and Śląsk Świętochłowice. Przemsza also enjoyed an away following of 200 people when they won their promotion, a crowd that tends to be the entire attendance for many games in the 3rd and 4th leagues in Poland. Now, thanks to Łukasz Grochalski, we can show you their home.
© Łukasz Grochalski
In over 70 years of history of LKS Przemsza Siewierz the current stadium is already the third. First games were played at a school field, because it was local students and scouts whose initiative led to the club's creation just a year after WWII.
The second field was located close to today's town hall before the team finally settled at the current location in late 1950s. It lies on the opposite side of the railway to most of the town, surrounded from the east and north by woods. Quite rightly, as it's been donated to the football team by the Commonwealth and Forestry Community.
Though the location hasn't changed since, the stadium was completely reconstructed in 2010-2011, resulting in a brand new venue. The main element, aside from new natural turf, is the western building with maintenance and sporting rooms, topped by auditorium. While the football club still has its headquarters elsewere, the stadium provides sufficient infrastructure to hold games, including at night.
Aside from the main and temporary stands the stadium is equipped with one training field and two tennis courts.