Berlin: Union hopes for July green light
source: FC-Union-Berlin.de; author: michał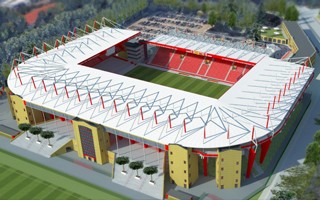 In mid-2019 both the stadium expansion and new club offices should have planning approval, according to latest Union Berlin statement. Public consultation regarding the club's largest ever project is about to begin.
In June of 2017 we first saw renderings of the new, completely rethought Union Berlin stadium. Though admitting delays, the team is holding on to the plans. Official proceedings have begun to receive planning permission.
Today Union informed that on October 15 public consultation on the scheme will be launched. Until and including October 26 all residents will be allowed to give their feedback either online or in person, at the Senate Department for Urban Development and Housing.
As we previously reported, Union hopes to boost the stadium's infrastructure and capacity by adding a second tier over three of four existing stands. This way capacity of Alte Foersterei will grow from over 22,000 to almost 37,000 people, most standing rather than sitting.
Work is expected to cost €38 million, though this estimate from 2017 may be changed due to price increase across the German construction market.
Aside from the stadium expansion, new club offices are planned beside the Old Forestry. Unuon hope to have planning permission for both projects in July of 2019. This means significant delay compared to initial hopes (club house was to break ground this year), though the entirety should still be delivered in 2020.