Milan: Both clubs agree on San Siro investment plan
source: CalcioEFinanza.it; author: michał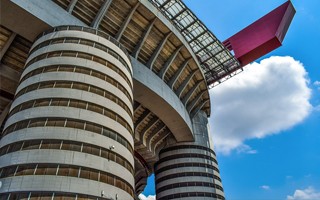 No revolution is planned, but when you see the list of proposed changes it's hard to believe €15 million will cover all these works. By June 2020 San Siro will be a much more modern venue.
The Milan city hall and two derby rivals AC Milan and Inter have agreed on the interim renovation plan for San Siro. It's not a complete overhaul, rather – as expected – a sensible and thorough partial revamp of crucial facilities.
In the biggest investment since the 2016 Champions League final an estimated €15 million will be spent over the course of two seasons, by June 2020.
Among the planned changes are some general improvements, like replacement of the field, improvement of ingress lighting, plaza outside the stadium and electrical upgrade. New safety management centre is planned, as well as improved police headquarters.
Most of the changes will focus on the lowermost level of seating. The entire bottom ring will see waterproofing works, general repairs, new toilets for fans, new media section and tribune of honour, aided by new corporate spaces.
Works are to be carried out gradually in order not to coincide with fixtures of both Serie A teams.