Belarus: Is the second national stadium still planned?
source: Tribuna.com / Euroradio.fm; author: michał
Had everything gone as planned, it would be complete in just 8 months. But as things stand, there's not even a complete design and very little is clear about the stadium. Except that it's still planned.
Belarus is currently preparing for delivery of the country's largest sports project and new national stadium, the revamped Stadion Dinama. Several months overdue, it will still be ready a year before the 2019 European Games, to be hosted by Minsk next June.
What's far more unclear is the fate of Belarus' second national stadium, the one specifically for football. In a recent statement for TV channel Belarus-1 president Aleksandr Lukashenko hinted the project is coming sooner than later. He wasn't actually asked about it, rather about an overdue media centre.
"We will build it [the media centre]. I don't know when, but we'll do it. Under my rule. You're right, it will cost $70-80 million. We have to think about it, given our experience. I'd like to see specialists and architects deliver at least a project, but it's not the right time. Because of the European Games. Then we need to build the national stadium and complete a lot of social facilities that fall on the budget", the authoritarian leader said.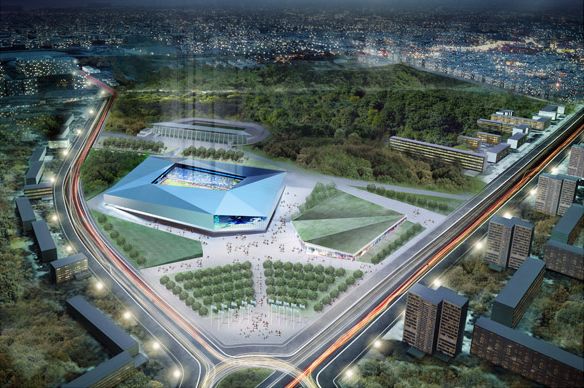 Lukashenko's statement would suggest progress on the football stadium might be coming within months or over a year. That's hardly encouraging if you recall that Lukashenko himself signed a decree proclaiming the construction of new football stadium back in 2014.
The 30,000+ capacity venue is expected to be built beside the aging Stadion Traktor and could come along with a large swimming pool. But it's unclear what stage the programme is at.
Back in 2015 it was announced that China might be a strategic partner in this sporting project, then in 2016 China's involvement was denied, only to be announced again in mid-2017. As things stand it's unclear even how the stadium would look. Presumably, if agreement with China is reached and executed, all documentation might be delivered by Chinese architects, as is common in the 'stadium diplomacy' policy.
You may recall that over 5 years back there was only one national stadium planned. Stadion Dinama was supposed to be rebuilt as football-specific, but during demolition of its interior the plan was put on hold and changed. Running track was reintroduced and football's own national stadium is expected as a separate project.