Stadium of the Year 2017: Jury Vote 2nd Place – U Arena
source: StadiumDB.com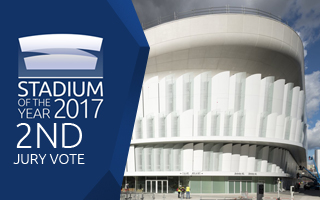 Being the runner-up is both a success and may leave some thirst. But U Arena reached a milestone in Stadium of the Year despite coming second. Find out why!
France is one of the few countries to already have its own Stadium of the Year (Jury Award) – Matmut Atlantique in Bordeaux. But what neither France nor we have ever had is a rugby-specific stadium ranked so highly. The same goes for any indoor stadium in the competition.
U Arena was created in a unique location, just at the gates of Paris at the famous La Defense. With captivating lines drawn by Christian de Portzamparc the stadium grabs the eye both by day and night, when it comes alive. A one-off mix of fine concrete, aluminium and glass, the stadium fits well in its modern setting. Thus the average score of 2.76 for architecture (out of 4).
Nick Birmingham of Arup Associates comments: "Very interesting response on this tight site. The multi-functional arrangement provides for a venue with a potentially economically viable operations plan. The facade design is well executed and unique; it suits the urban context well."
Indeed, the plot is very tight, which is why parking spaces were pushed under the stadium and its shape is pentagonal rather than rectangular to make the most of available space. All of its north end is a large office block of 31,000 square meters, soon to be inhabited by 1,500 public administration workers.
Inside, a very compact U-shaped seating bowl possible to divide with curtains to 10,000, 20,000, 30,000 or even 40,000 spectators, depending on event hosted. Combined with its cinema-like viewing conditions (padded seats, 95 boxes and dark colouring of all sections to improve sense of intimacy), the stadium received a very high grade in functionality: 2.96 out of 4.
While the operating model will be hard to replicate due to Racing 92 and Paris' market demand, the bold attempt at versatility stands out and can be used as a model. It's thus no wonder that out Jury granted the stadium an average note of 1.52 points for innovation (out of 2 possible). Congratulations!