Turkey: Lighting tests in Tire, but construction not finished
source: GercekIzmir.com / Haberler.com; author: michał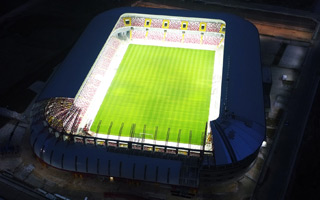 One of the more bizarre stadium projects in Turkey is slowly concluding. Which would have been great news if not the deadline of July 2017, which clearly wasn't met.
In recent days sports news in the Izmir metropolitan area saw Tire Stadium grabbing headlines once more. The curious case of international-class stadium being built for a 4th-league team is gradually nearing its end as floodlights were tested last week. As we speak, the stadium could effectively be used for a game.
At the same time, however, construction is still far from over. Works are still ongoing in the north, were the roof isn't ready. Keep in mind, deadline for delivery of the stadium has passed in July, 2017. Currently the first game is expected to be played in some 2 months.
Tire Stadium is largely being financed by the metropolis of Izmir (75%) rather than the municipality of Tire (25%), with price tag currently estimated to be TRY 60 million ($15 million). Final capacity could reach 15,000.