Berlin: No future for Hertha at Olympiapark?
source: Tagesspiegel.de; author: michał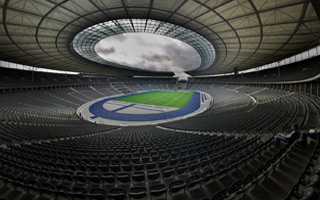 Nothing is decided yet, but talks are considered tough and challenging. Both the proposed conversion of Olympiastadion and a brand new stadium beside it raise very serious concerns in terms of monument protection.
If you're reading StadiumDB on a regular basis, you surely know by now what the two options are for Hertha, if the club is to remain within Olympiapark or indeed even within Berlin city limits. But both a conversion of Olympiastadion and a new stadium 300 meters to the east could prove hard to swallow, perhaps too hard, for local authorities.
On Friday the senator for sport Andreas Geisel is expected to report to the Sports Commission by the Berlin House of Representatives about ongoing talks with Hertha Berlin. These are already being described as 'tough and complex', according to Tagesspiegel.
Main cause for concern will be no news to anyone interested in Hertha's stadium plans: monument status of the Olympiastadion and surrounding Olympiapark. It's now clear that both analysed options run against interests of the conservation community.
State conservator Jörg Haspel expressed his "very serious reservations" to both and warns against "hastily following current trends" – referring to common redevelopments of large athletic complexes for football use only.
In turn, the Landesdenkmalrat (Monument Council of the Land) reminds that a brand new stadium would disrupt the original layout of Olympiapark, protected for decades, while conversion of Olympiastadion itself would damage original geometry of the venue.
What's on the table?
Two feasibility studies have been prepared by famous architects and consultants. GMP Architekten, the office behind pre-2006 World Cup conversion of Olympiastadion, ran an analysis of possible conversion of Olympiastadion.
The upper tier, facades and western entrance would be entirely retained, but all of the lower tier – removed. Instead, the field would be lowered by 2.5 meters (less than in the below early render) and front row of seating moved to as close as 10 meters from the field. Such layout, while entirely feasible, might not entirely satisfy fans as the current stadium has low rake (23° for lower and 25° for upper tier), which means that even the more compact layout would result in quite flat auditorium.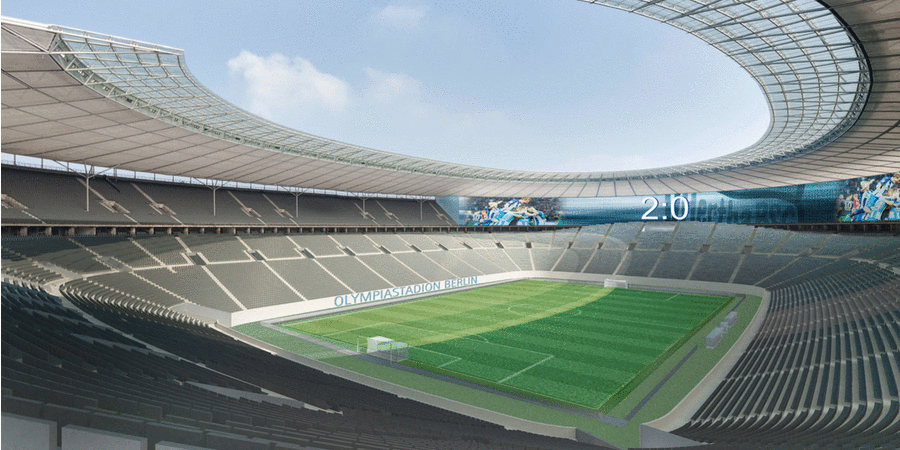 Meanwhile, Albert Speer (AS+P) ran a simulation of how 50,000 people could be accommodated along Rominter Allee, east of Olympiastadion. Here creating optimal stands isn't a problem. What's more troubling is the inevitable scale of such building. Even with lower tier entirely sunken into the ground, AS+P have confirmed such stadium would disrupt Olympiapark's layout.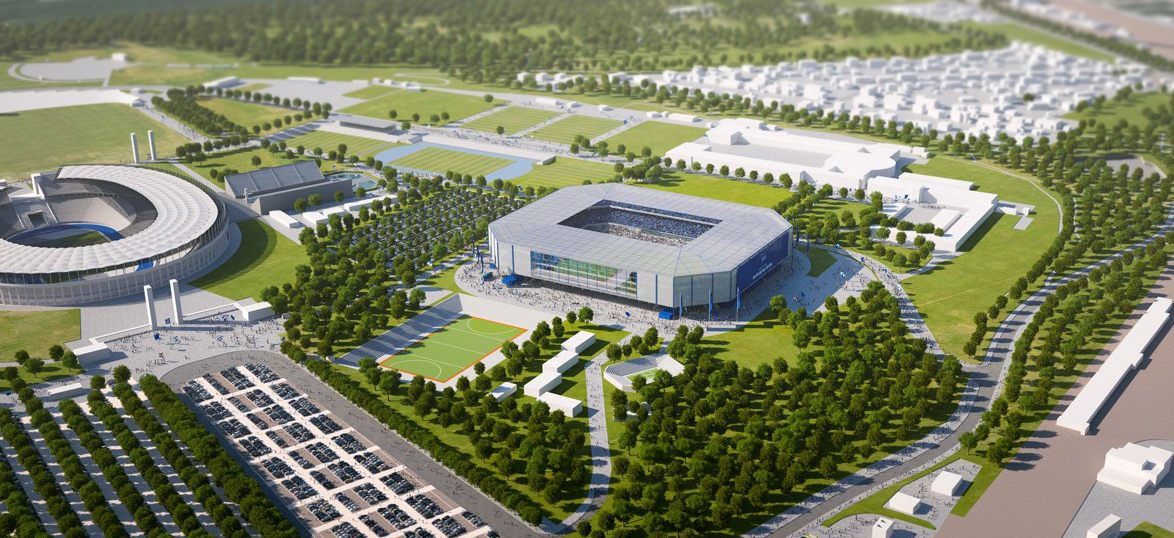 Details of both studies are yet to be released and further talks are planned.