New design: A bit more Crystal, the Palace
source: StadiumDB.com; author: michał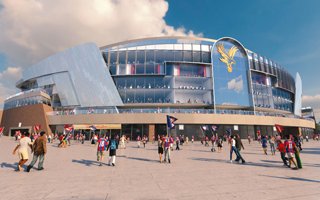 Everything's there: the eagle's wings and the Crystal Palace pavilion of 1851. But there's much more to this project. More money, most importantly, both to be spent and made in the future.
In mid-November the co-chairman of Crystal Palace Steve Parish hinted that he's going to give supporters a present before Christmas. Then last week the Croydon Council confirmed they're in early talks with Crystal Palace over Selhurst Park expansion. Which meant that an expected "major announcement" on Monday was treated almost unanimously as big stadium news.
And big it is, indeed! Even if only one stand will be entirely rebuilt, Selhurst Park will change its appearance completely. Compared to traditional layout of all other sides, the west stand will be by far the most flashy, including vast glass-clad surface and two key symbols of Crystal Palace: eagle wings on each end and outline of the famous Crystal Palace exhibition pavilion of 1851 incorporated into the central part.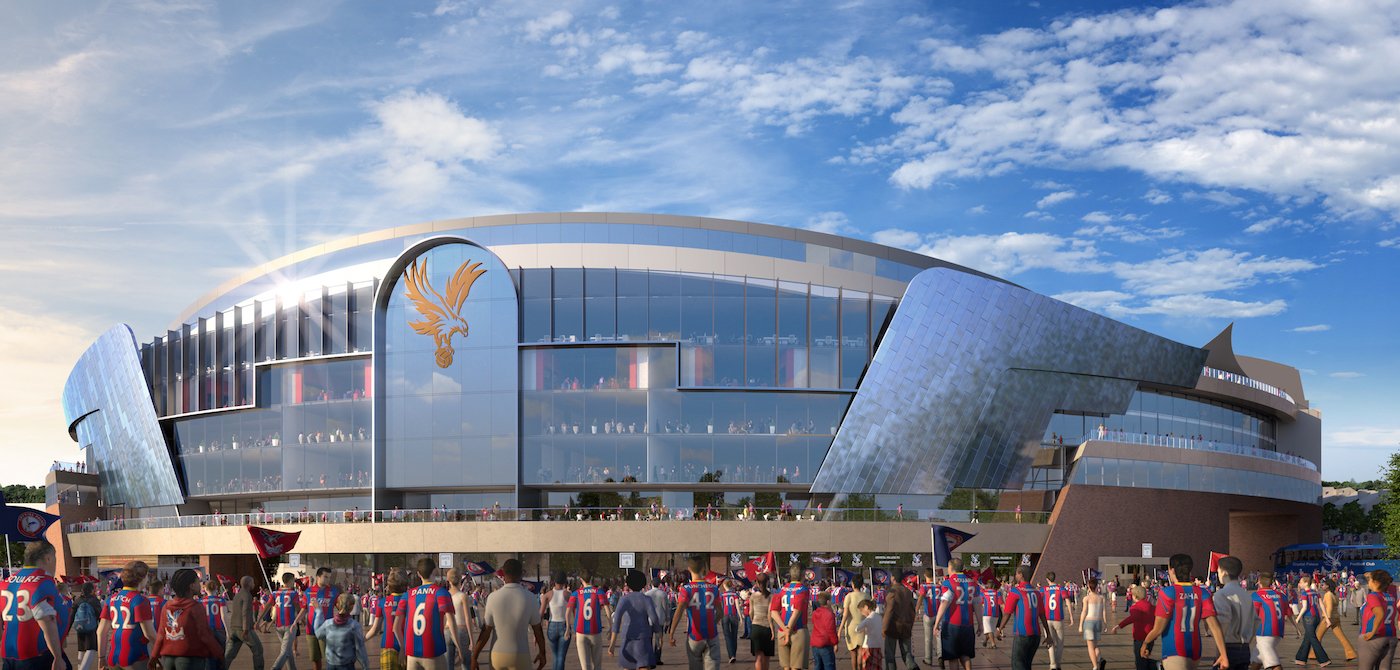 41 meters tall, the new structure will replace current west stand, spreading into the plaza in front of it. It should not require any demolition of surrounding buildings, though, which is expected to facilitate the planning process. CPFC hope to submit their planning application in January, with the aim of breaking ground late into 2018.
Importantly, capacity should not fall below the current 25,000-26,000 range throughout the construction process, which means we could expect a similar model to that carried out at Anfield: First, construction behind the existing stand and only then changing the lower parts.
Following replacement of the main stand, capacity of the west side will grow from 5,400 to 13,500 seats. In terms of overall capacity, the stadium will reach over 34,000 seats. Eventually Crystal Palace would prefer to go further, but adding this first new stand is a crucial step both in terms of ticket demand and commercially.
It will house between 16 and 28 new private boxes, new business clubs (including one of the first tunnel clubs in Europe) and 2,500 premium seats in the stand. Combined with increase in general admission tickets, the new project should generate some £15 million annually. With construction cost expected to be within £75-100 million, this means it will pay for itself in 5-7 years.
And we didn't mention Anfield by accident. The two projects share more than just extent and economic boost expected after completion. Both Anfield's main stand and the Crystal Palace concept were drawn by KSS Design Group, who just a few days ago accepted an award for how well the interior of Liverpool's new stand was designed. Now chance for another award is here!