Rotterdam: Feyenoord confirm talks with Goldman Sachs
source: AD.nl; author: michał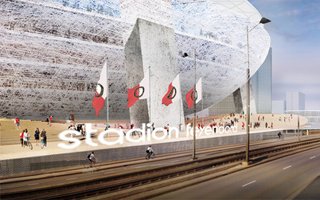 Reigning Dutch champions seek funding for their long-awaited new stadium at the Nieuwe Maas. Not for construction yet, they need some €20 million for preparatory works.
Feyenoord Rotterdam have confirmed they're in talks with American bank Goldman Sachs in order to secure funding for preliminary works on the new 63,000-seat stadium at Nieuwe Maas.
"It is about the period between planning and the actual start of the project. There are people at work and they have to be paid. That applies, for example, to the architects who created the preliminary design." club spokesman explains, speaking to Algemeen Dagblad.

Reportedly it would be "a small 20 million euros". While this amount would be enough to fund a smaller stadium from scratch, for a project of Feyenoord's magnitude it's only expected to cover the 2018 preparations. A deal with Goldman Sachs is expected in January and might become prelude to a much greater financing scheme for all of the stadium's €366 million.
The new stadium at Nieuwe Maas is expected to be built partly over water and the project includes complete revamp of existing De Kuip, which would comprise residential, commercial, leisure and recreational sues.
Construction on the largest and most modern stadium across the Netherlands is expected to begin in 2019 and last until 2022.