Germany: Darmstadt stadium lease clears way for reconstruction
source: Hessenschau.de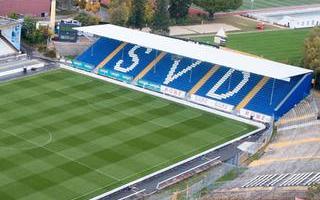 The city of Darmstadt approved SV Darmstadt's plans of stadium redevelopment. The club was given a 40-year lease of its home stadium to run the overhaul.
Earlier this week, on Tuesday night, the Darmstadt city council voted on proposed SV Darmstadt 98 stadium lease that would give the club power to manage the building and redevelop it in partnership with taxpayers.
As anticipated, the vote approved a 40-year lease of Stadion am Böllenfalltor, which will begin in January, 2018. As we informed you, the stadium will be managed by the club's newly-formed subsidiary, SV 98 Stadion GmbH.
The company will oversee all of the works, which will be financed partly by SV Darmstadt (€10 million), partly by the city (€15 million) and partly by the state of Hessen (€3.5 million). By late 2020 the stadium will have nothing left of its historical structure, offering 18,603 places in the stands, over half of them standing.
Please be sure to check the detailed time frame of this phased development in our previous coverage.