Germany: New stadium in Darmstadt by the end of 2020
source: StadiumDB.com; author: michał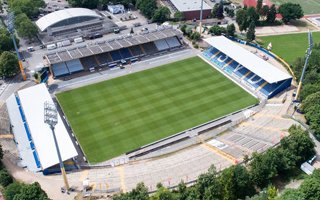 After failed attempt to relocate now SV Darmstadt 98 are ready to rebuild their stadium entirely. By the end of 2020 no piece of the old ground will remain in place.
We've been covering their stadium efforts for a few years now and the outcome has always been the same: nothing. Now, having seen the relocation attempt die in July, it should go the other way, though. A modest, economic, but very sensible redevelopment of Stadion am Böllenfalltor.
You may recall that the proposed new stadium in another location was to hold 20,000-25,000 people and would have cost some €35 million or more. But since it fell through, now SV Darmstadt 98 aim at revamping Bölle for less. The stadium itself would cost €28.5 million, though with an adjoining development the amount will rise to €33.5 million.
How do we know the amount in detail? Because it's been approved by the club and municipality earlier this week. Budget estimate and construction time frame had to be created in order to submit them to league authorities before October 31 deadline. Here's everything we know about the development.
First of all, part of it is already done. The two modular grandstands behind south and north goals will remain as they are and be incorporated into the new building. Thanks to them fans will be able to use the stadium throughout reconstruction and capacity should never fall below 11,000.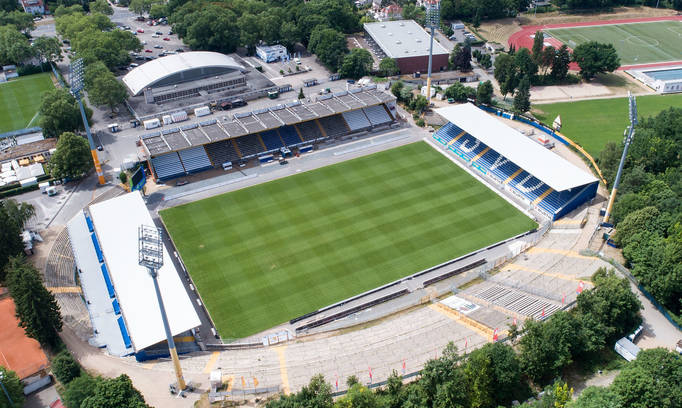 Though no final renderings of the stadium have been released so far, the plan is very advanced. In just over two months, in January 2018, a special subsidiary will be established, SV 98 Stadion GmbH. The company will oversee all of the works, which will be financed partly by SV Darmstadt (€10 million), partly by the city (€15 million) and partly by the state of Hessen (€3.5 million)
In April the aforementioned adjoining development will begin. The club will finance it entirely with own resources (€5 million). The project covers part of nearby indoor arena, which will comprise club offices, new fanshop and sports use for young players. It should be operational by early 2019.
In May/June, just after the 2. Bundesliga season ends, demolition of the eastern landfill stand will begin. Only a small temporary section will remain in place to provide away supporters with a place of their own. The new grandstand will be divided into two tiers, one behind the other. Lower one will also be based on landfill and consist only of terracing. It should be ready by early 2019.
Once open to the public, the stand will gain its second tier, this time seated and fully covered. The two should be fully available for the 2019/20 season.
Finally, in June of 2019 the stadium will have three new stands, opening up the possibility of rebuilding the main one. All of the current west stand will be demolished and a brand new 3,200-seat area with hospitality and media zones will be created by the end of 2020.
When you compare the numbers, it's clear SV Darmstadt aren't gaining too much. Their ground will grow from 17,468 to 18,603. Slightly more fans will stand than sit (9,558 standing and 9,045 seated).
That said, the comfort level will hardly be comparable. For the first time the stadium will be fully enclosed (walls will be erected in corners) and football-specific in terms of layout. Last but not least, the club should face no more issues regarding compliance with league regulations.