The top three most beautiful football stadiums in the world
source: press release; author: michał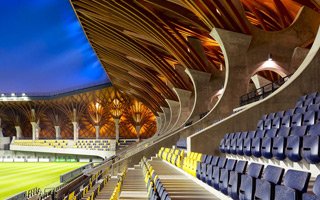 As building and design tools become ever more advanced, the boundary between architecture and art is becoming increasingly blurred. Major cities across the globe are seeking to outdo each other when it comes to the most eye catching and distinctive public buildings, and today's metropolitan skylines would have looked like science fiction back in the 1960s.
Typically, when you think of this kind of architecture, you will picture a concert hall, museum or even an office block. But there are few public buildings that can be more prominent than a football stadium, and in the modern, digital age, they receive global attention from sports fans the world over.
TV coverage and online casinos
This increased profile has come about from two primary sources, international TV deals and the growth of sports betting via online casinos. This summary of the top 10 casinos provides a case in point. It is aimed at users from everywhere on the planet and provides access to not only traditional online casino games like slots and roulette, but also sports betting opportunities.
With the potential to win against the odds with zero risk, thanks to many of the top online casinos no deposit bonus offers, it becomes obvious to see why football stadiums that traditionally attracted only local interest now enjoy worldwide attention.
Here, then, we will take a look at three football stadiums that really should be considered works of art.
If you thought a modern, breathtaking design automatically means steel and glass, hop on over to the Hungarian village of Felcsut. Local team Puskás Akadémia FC has the honour of playing in the remarkable Pancho Arena.
The wood-lined curved interior to the stand gives spectators the feeling that they are attending a Sunday church service, not a football match. The 3,500 seater stadium opened in 2014 and was the brainchild of local architect Imre Makovecz.
Singapore Floating Stadium
From the sublime to the ridiculous, The Float in Singapore is proudly proclaimed to be "the world's largest floating stadium." While this is a little bit like the sun billing itself as the most popular star in our solar system, the stadium itself is undeniably breathtaking.
Completed in 2007, the platform was designed to host a variety of spectator events, as well as football matches. It was built to stringent environmental guidelines, as construction took place at the same time as the Marina Bay, in which it lies, was being transformed into a fresh water reservoir.
Estádio Municipal de Aveiro, Portugal
Architecture and artistic merit all sound great, but perhaps a little dry and high-brow. To prove some life and laughs can also be injected, look no further than this fun and funky stadium in Aveiro. First time visitors get the distinct impression that designer Tomas Taveira simply turned up with the world's biggest box of LEGO blocks one day, and this was the result.
It is certainly not a stadium that any visitor is quick to forget.