Mexico: Azteca damaged by earthquake, but only slightly
source: StadiumDB.com; author: michał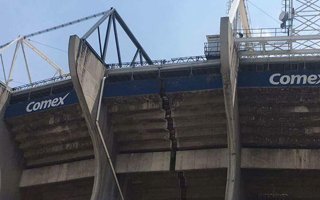 While it may have looked scary to see one of the stands almost split in half visually, that's just how the stadium deals with earth shaking beneath it.
Following yesterday's deadly earthquake not far from Mexico City the whole world is expressing solidarity with Mexicans as death toll surpassed 200 people. In the football media world one headline gained prominence, though: Estadio Azteca was seriously damaged. And indeed, if you look at the below video, it does look as if a section was fractured.
Aquí pueden ver como funciona la JUNTA CONSTRUCTIVA que evita un mayor daño al Estadio Azteca en el temblor de #CDMX pic.twitter.com/0yokpDADuy

— Said Rodríguez (@Saidgol) September 19, 2017
However, this hole in the south-western corner of Azteca wasn't caused by accident. To the contrary, it's been there for years as a way for the stadium to bear its load when the ground shakes. It's a structural joint which served its purpose yesterday.
Tuesday's earthquake is already the second in September after which fears of damage at Azteca were raised. Thankfully, in both cases these proved unsustained. While the colossal stadium will need minor repairs, it's structurally safe, according to authorities.