New stadiums: Crawley, Southport, Ashton and Matlock added
source: StadiumDB.com; author: michał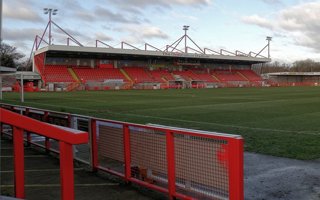 Four new English stadiums joined our base during the weekend. It's stunning what grounds are used as way back as 7th tier of the English football system!
On Saturday and Sunday four new grounds from England were added to the list of English stadia, ensuring that it remains our second largest national database. These might not be architectural masterpieces, but please be sure to recognise that you're looking at grounds from the 4th, 6th and 7th levels of English football!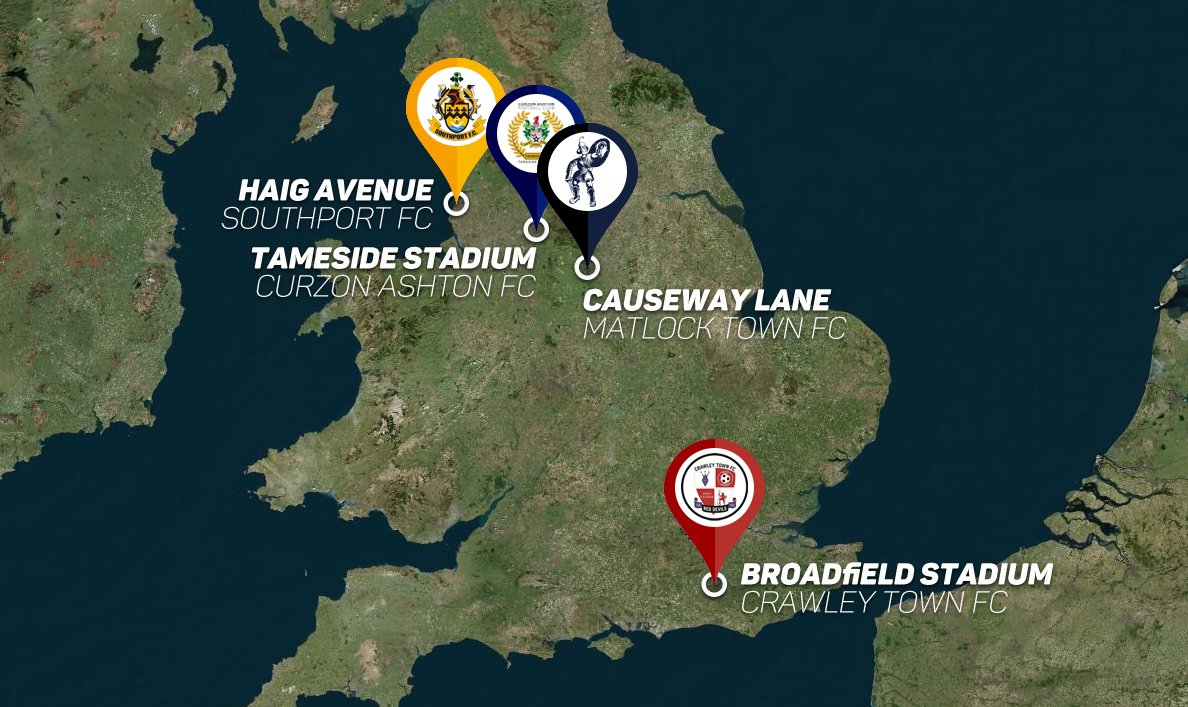 (League Two / 4th league) – capacity 6,134
After 49 seasons at the old Town Mead, Crawley FC in 1997 moved from the north to southern part of town. The purpose-build Broadfield Stadium served as a long-term solution after Taylor Report, eventually being opened with three grandstands.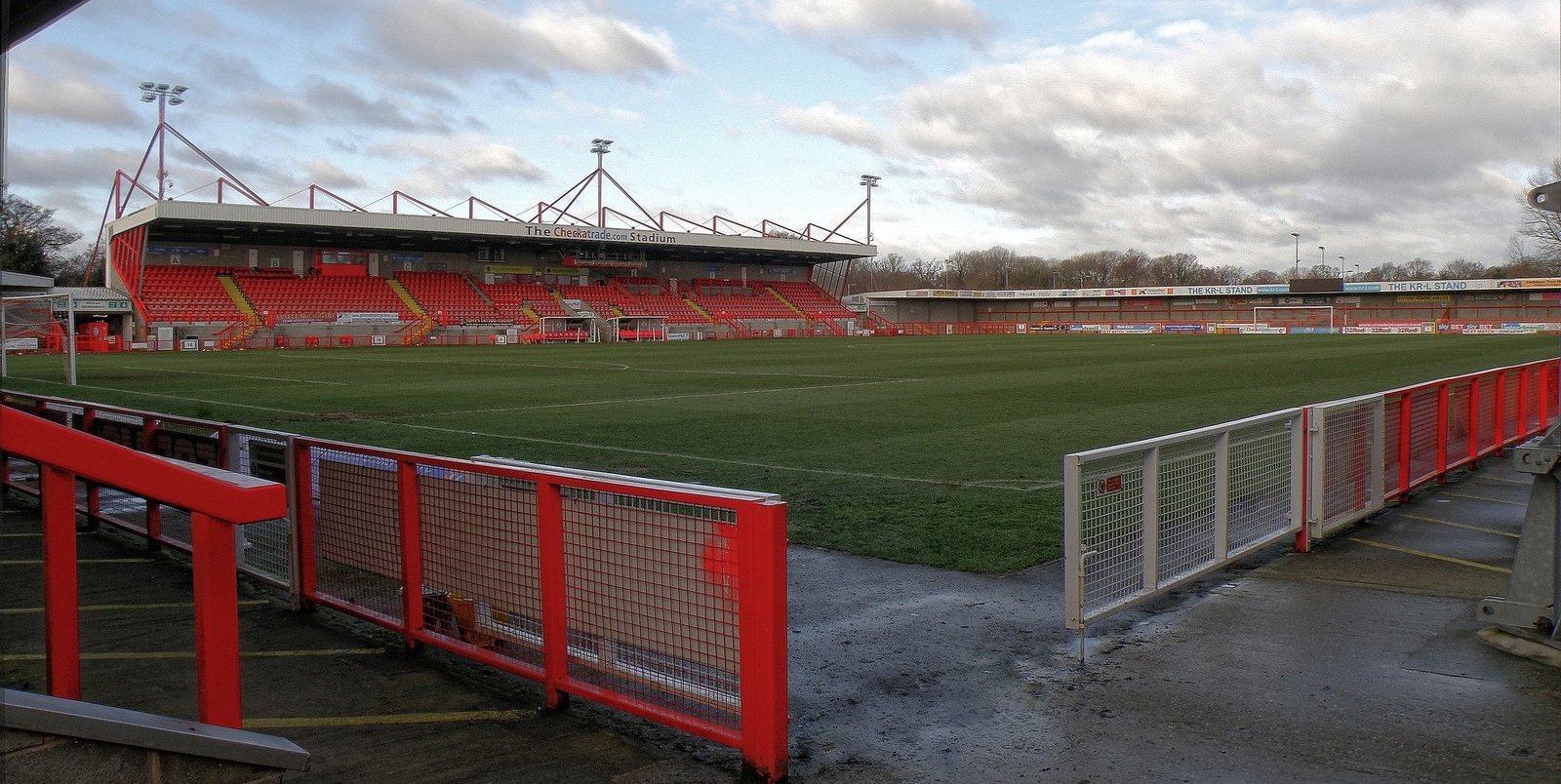 © Heather Ormsby
The main one and only part to have seats was built in the west, along with all crucial club facilities. Both ends received covered terracing while the east side, along Brighton Road, was initially left open.
Following amazing success and promotion to League Two in 2011, the east side was filled with temporary seating, which in 2012 received a canopy.
In 2013 the ground became subject to its first ever naming rights contract, with Checkatrade.com.
(National League North / 6th league) – capacity 6,008
From the first day in use, back in 1905, the stadium has been home to Southport FC. While that hasn't changed at all, the stadium is completely different than in the early days. First of all, it's now known as Haig Avenue, while until 1921 it was Ash Lane. As is tradition in England, the stadium's name was derived from its address and also changed along with it.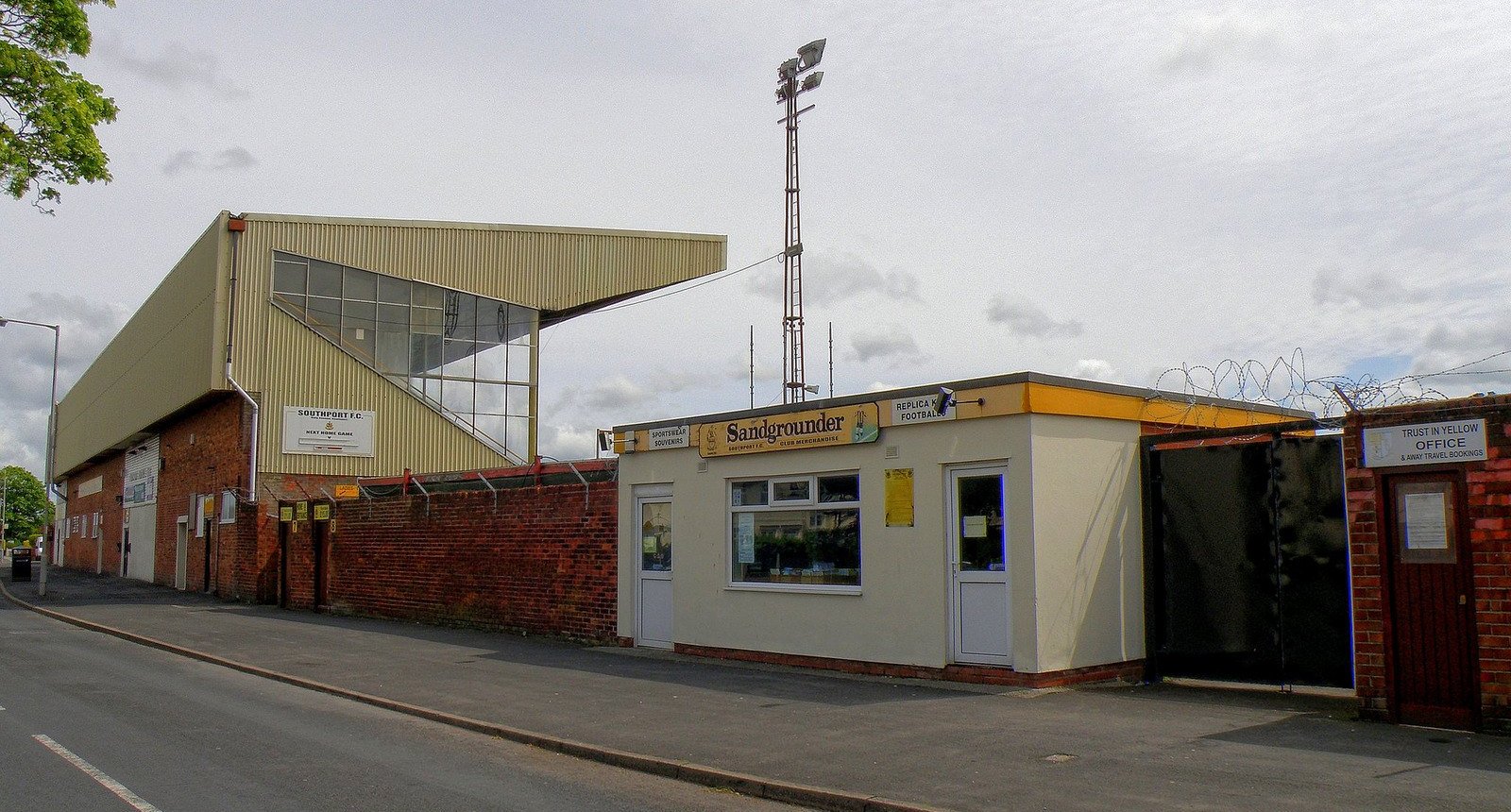 © Heather Ormsby
More importantly, the stadium's structure are nothing like they used to be. The old wooden main grandstand (north) burnt down completely after Boxing Day game of 1966, leaving only the safe with matchday proceeds untouched. It was then replaced in 1968 with the current covered grandstand. Another significant change came with the demolition of the southern terrace (for security reasons), which at its peak could hold up to 10,000 people.
With limited remaining demand, the stadium now has only low-scale terracing on three sides and the main grandstand. It still plays a significant role, though. It's been used by Liverpool FC and Everton reserves. It also gained its first ever naming rights deal in 2012, then prolonged in 2016.
(National League North / 6th league) – capacity 4,000
It's one of those cases when neither the club, nor the stadium have too much of a history. Curzon Ashton may have been founded back in 1963, but playing in the Greater Manchester area means stiff competition even at non-league level.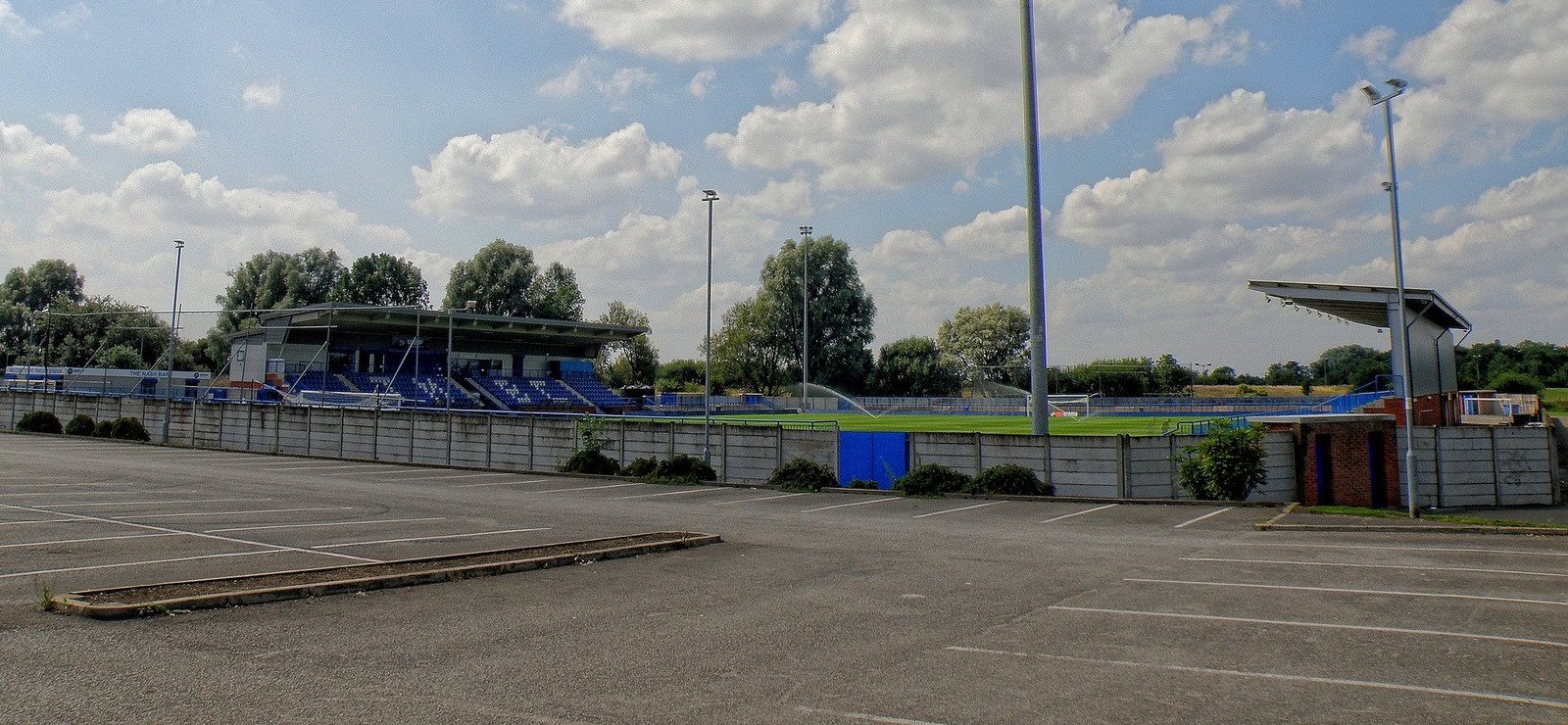 © Heather Ormsby
Their stadium is even younger, having been opened in 2005, but it already saw some of the world's best players play here. Already on opening night the home side faced Manchester United. It may have been only the reserve side, but it was led by Sir Alex Ferguson. The two sides have been clashing more frequently later, which means that the likes of Pique and Pogba were guests at Timeside Stadium.
The ground was built as a community stadium, largely thanks to the Tameside Metropolitan Borough Council, thus the TMBC letters spelt out with seats in the main stand. With just over 500 covered seats, the south stand houses almost all facilities and lies directly next to the venue's 3G training field. The north side has a covered terrace for roughly 1,000 people, while all remaining parts of the field are surrounded by small terraces to give the total capacity of 4,000.
(Northern Premier League / 7th league) – capacity 2,757
The ground is located in the centre of Matlock and has a semi-open layout. This is owed to the south goal's location just inches away from a locacl cricket field. The three usable sides have been occupied by irregular terracing for almost all of its history, with parts in the west and north covered.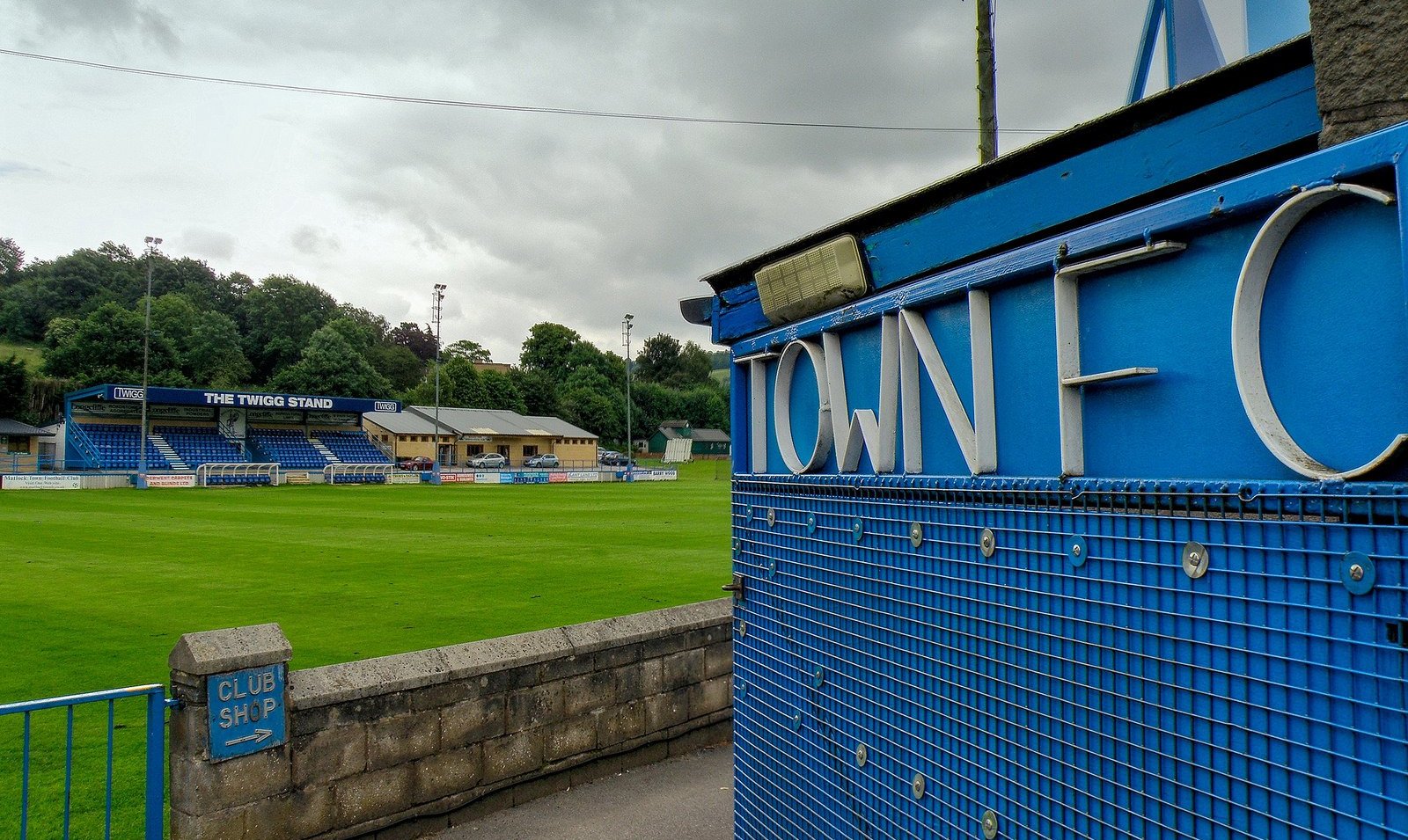 © Heather Ormsby
Until 2010 the stadium's east side was uncovered terracing but it was then replaced with the first all-seating stand and a new pavilion with club facilities. This also meant that capacity of the team's heyday would not be available anymore.
Due to naming rights partnerships, the satadium's name has been changing in recent years between Reynolds Stadium, Autoworld Arena and DCJ Insurance Group Stadium. For the fans, of course, it's still Causeway Lane, as the address indicates.