Montreal: Olympic Stadium becomes refugee centre
source: TheStar.com; author: michał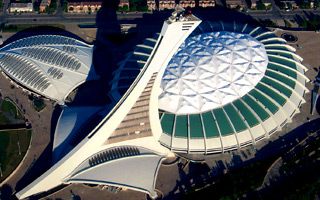 Fearing Trump's deportation policies, a record-breaking number of people from the US are seeking refuge in Canada. The biggest burden falls on Montreal, which forced authorities to create a makeshift residential centre in the Olympic Stadium.
You know it as the venue for 1976 Olympics, you know it for the iconic architecture, you may also know it for very questionable legacy use. Now the list of potential uses has grown as the Olympic Stadium in Montreal is becoming one of Canada's largest refugee centres.
It was announced to take on that role earlier this week in response to all other compounds in Montreal being packed to capacity. As refugees keep coming, the stadium is being prepared to accommodate 600 people in temporary layout. As of Friday the number of inhabitants already stands at 132.
Refugees from USA
Contrary to European refugee-relocation dynamics, in Canada almost all asylum seekers come from the US. They have various reasons to fear Donald Trump's anti-immigration policies, but the most vulnerable group recently are Haitians. For year's they've been protected from deportation by law as their country has been continuously the site of humanitarian crises, including the tragic 2010 earthquake, high rates of crime, AIDS and extreme poverty.
Now immigrants from Haiti have been warned by the Department of Homeland Security that the protection programme for them is likely to end in January, forcing many of them to consider leaving USA in fear of deportation. Montreal seems to be the first choice as it already has a large Haitian community, dating back to the Duvalier regime, and has French as its official language.
The number of asylum seekers has doubled between June and July (according to PRAIDA, organisation supporting asylum claimants) and overall this year it's been larger than ever. Quebes bears over 77% of overall immigration to Canada, thus the stadium use.
Only temporary
While spectacular, the stadium will not serve such purpose for long. It's only a temporary measure in order to cope with peak migration through the border. Montreal's authorities announced they're open for Haitians to come and will make it easy for them to find permanent homes as soon as possible.
It's worth noting that the Montreal Olympic Stadium is currently undergoing a very significant reconstruction of its tower. From 2018 onwards it will serve as one of the city's largest office towers outside downtown with expected number of 1,000 workers in new Desjardins offices created on 7 floors of the tower.