Mexico City: Construction for Cruz Azul to begin in late 2017 or early 2018
source: ElUniversal.com.mx / RadioFormula.com.mx; author: michał
If the director general of public Instituto del Deporte is to be believed, we're about to see major development on Mexico's latest sports city and the Cruz Azul football stadium at its heart. But are we?
"It could start in 2017 or at least should have all the permits this year and start construction in early 2018. […] We are going to start surely before the current administration term is finished (Dec, 2018) and surely the stadium will take 2 or 3 years to build" said the head of Instituto del Deporte, Horacio de la Vega.
The public official assured talks with Cruz Azul are advanced and the football club is willing to be at the heart of Mexico City's latest sports complex. Their football-specific stadium would become the crucial facility, while surrounded by infrastructure for cycling, swimming and indoor sports, among others.
De la Vega claims there are still a few options on the table as far as location is concerned, which may put some doubt on timing for necessary paperwork. If the final location isn't selected yet, it's hard to believe all permits could be issued by year end. That said, de la Vega also hinted that the masterplan is ready and he has already seen a mockup, which would mean the site is selected, though not revealed publicly so far.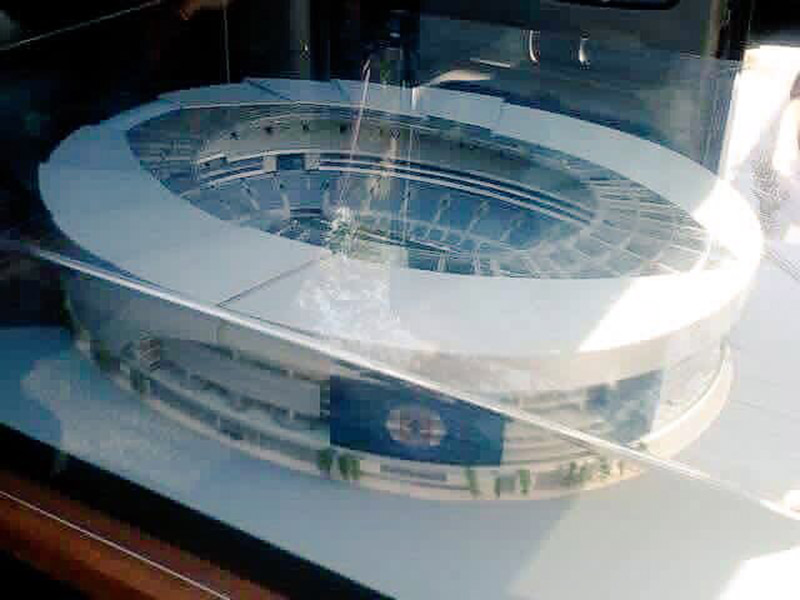 At present, the press and Cruz Azul supporters can only wonder how the future stadium might look. Back in June photos of a mockup were leaded to the media and went viral. One of them can be seen to the left. However, it later proved to be a mockup of Cruz Azul's stadium scheme from the previous decade (below), so shouldn't be treated as final.
The famous Mexican club has to vacate current Estadio Azul and from 2018 onwards will play all home games at Estadio Azteca until their new home is finished.