England: Fans urge Huddersfield Town to expand stadium
source: StadiumDB.com / Examiner.co.uk; author: michał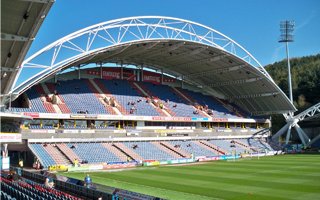 Tweets and emails remind Huddersfield Town that there aren't enough tickets for everyone interested. But is this enough of a reason to revamp John Smith's Stadium already?
Huddersfield Town may have won three consecutive championships, but that was in 1920s. Now the club has only begun its first season in Premier League's brief history and their first two home games, to no surprise, were sold out quickly. With 99% occupancy John Smith's Stadium's capacity of 24,169 is far too low to meet the demand.
It's thus no wonder that fans have been urging Huddersfield Town to expand as soon as possible. After all, not being able to see a game of the local team is a real pain. Even more, Huddersfield Town themselves have examined the chance of expanding the lower tier of their north-east end.

© Groundhopping Merseburg
"We looked at extending the Fantastic Media Lower during the close season. The quote we received from KSDL (stadium operator) was £300,000 just to add 200 seats. For just those few seats it was very expensive." said commercial director Sean Jarvis.
While it may seem to supporters that filling the corners would be easiest, it's quite the opposite. With its arched roofs, the Huddersfield stadium offers very little space in each corner and it seems unfeasible economically to go in this direction. The most rational options are second tiers (and consequently new roofs) over the south-western end and south-estern side.
That however would require continued high demand for tickets over a few seasons. Meanwhile, as much as The Terriers are surprising with their no-lost-goal record, the team is yet to be safe from relegation. It's also worth remembering that just two seasons ago, while playing in the third league, Huddersfield Town couldn't even sell 50% of available seats.