Major bookmakers as football club sponsors
source: press release; author: michał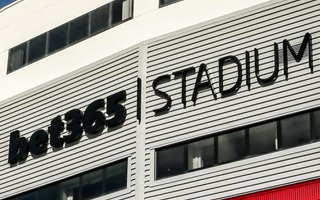 There used to be a time when football was all about the sport but times have changed and like in most other industries, money has become a very important factor.
With the popularity of the sport reaching unprecedented levels and the English Premier League being the most popular football league worldwide, it is no wonder that many huge companies are jumping in to have their names associated with the big guns of English football.
Most frequently, we are seeing companies that are worth billions of pounds put their names on the players' kits, but the stadiums are also becoming encroached with advertisements in recent years. Watching Premier League matches nowadays, you will not get by without noticing adverts for various international airways or British bookies and gambling establishments.
Today we take a look at some of the most popular gambling related businesses that are associated with Premier League clubs and their stadiums and briefly discuss the impact of these deals on the clubs and the companies alike. We also take a look at what other betting companies are doing and how they are involved in the sponsorship business.
Bet365 and Stoke City
Stoke City has been a regular in the English Premier League for some time now and as one of the largest international boomakers, Bet365 has been associated with Stoke ever since 2012. The initial deal had the club earning £1.3 million per year, but the number has since increased to over £3 million.
It is not strange to see Stoke and Bet365 associated if we consider the fact that the owner of Stoke City is also a major shareholder in Bet365 and the entire deal seems to be making him quite a bit of money both ways.
Very recently, as of last season, the club's field that used to be called Britannia Stadium was renamed to Bet365 Stadium, making the club and the bookie even more interdependent. The £15 million stadium now hosts the popular Premier League side and turns a hefty profit for its owners and the world renowned bookmaker.
Betway and West Ham United
Another popular Premier League side that has secured a lucrative deal with a major bookmaker is West Ham United. The club entered a major sponsorship deal with Betway back in 2015 worth £20 million for just three years.
For Betway, this deal was also lucrative as not too many betting companies get to be the main sponsors of a Premier League club and they have managed to secure that status in competition of much larger companies.
For Claret and Blues, this deal makes probably the best commercial deal they have ever made as it brought a significant amount of cash to the club for not too much hassle. The club has recently moved to the new Olympic Stadium of Queen Elizabeth and will likely be looking to extend the deal once the three years have expired.
138 Bet and Watford
138 Bet may not be as big of a company as Bet365 or Betway, but they too have secured a lucrative deal with a Premier League side in Watford. Watford have been doing solid in the Premiership lately and their £1 million per year deal with the club seems like a real steal.
The popular Asian bookmaker has secured its deal back in 2013 and has been the club's main sponsor since then. It is a bit of a mystery how the deal has managed to remain so cheap for the bookie but Watford is probably profiting from it in some way and likely negotiating better deals as we write this.
Dafabet and Sunderland
The North-East club has been sponsored by Dafabet since last season and while no definitive information has been released, it seems that the bookie is paying them £12 million for a two year deal. The deal includes adverts on players' shirts and their stadium.
However, now that Sunderland have been relegated from the Premier League, it is likely that Dafabet will be looking to back out of the deal unless the club can regain their Premier League status for the next season which is still a long way away.
Other bookies in the sponsorship business
When we look at the football industry in general, there is hardly a club out there without a boomaker as one of their official sponsors. While only a few companies of the sort have secured their place as the main sponsors of a major club, most bookmakers have their names in there in some way.
Companies like Bwin and Unibet are sponsoring clubs worldwide. Bwin specifically are sponsors of the likes of Real Madrid and AC Milan, while Unibet is sponsoring the likes of Celtic FC. You can find out even more about these betting companies, their deals and their platforms here.
The major bookmakers continue to invest money with football clubs and if the trends are anything to go by, we can expect them to do so even more in the upcoming seasons as these kinds of deals clearly seem to be very profitable for both the clubs and the bookies. It remains to be seen which bookie will make a move for main sponsorship of a major football club next.