Southend: Hotel and two apartment blocks in one grandstand!
source: StadiumDB.com; author: michał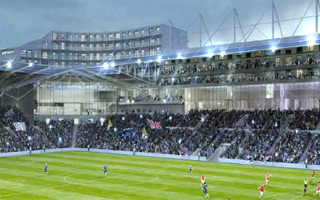 Although reduced and somewhat modest, the new iteration of Southen United's stadium continues to amaze. Over 500 people could live above the north stand at any given time!
Some of you know the story all too well. If you're a Southend United supporter, you've probably lived a large portion of your life listening to stories of planned new stadiums for the club. The earliest mentions we know of date back to mid-1980s, while the current plan to relocate to Fossetts Farm is literally 17 years old.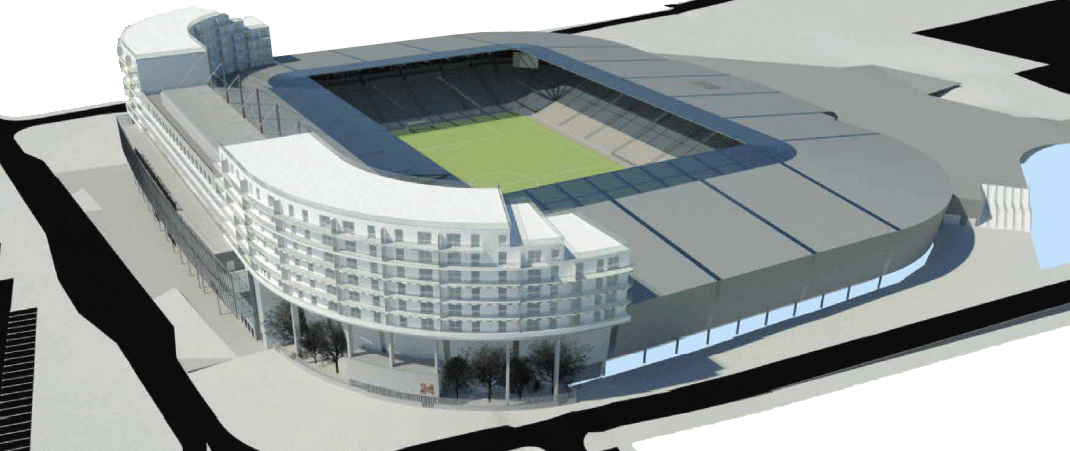 Obviously it went through many changes over the years and the latest iteration was lodged in late April. It's already the 13th version of documents submitted to the Southend-on-Sea municipality and in recent days it was finally released to the public. We've read most of the hundreds of pages to give you a better idea of what's planned and it's quite a story.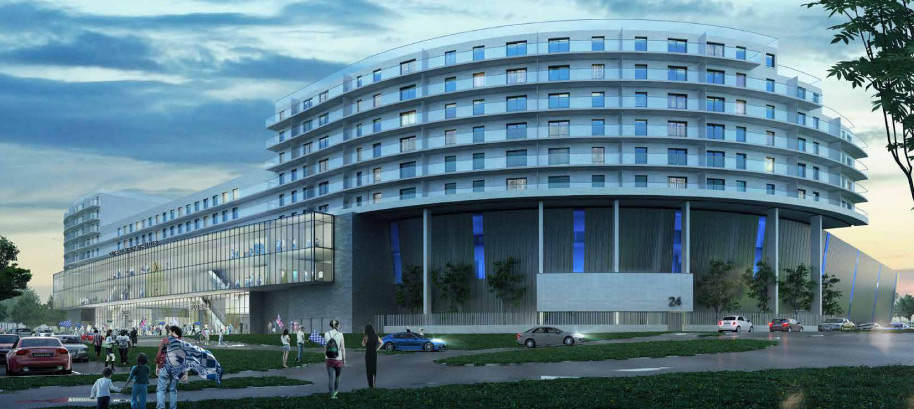 As you may know, the Fossetts Farm plan is based on quite simple assumption that a vast residential and commercial scheme will help finance the sporting part, including a 21,000-seat stadium and new training complex for Southend United.
Among many reasons it hasn't worked out so far is the complex's scale. Last iteration of the plan was significantly above local height limit with two apartment buildings rising to 9 floors in north-western and north-eastern corners of the stadium. In the new planning application their size has been reduced to 6 floors, with apartments more spread through each floor, ending at 42.3 meters. That's still more than desired but could be acceptable.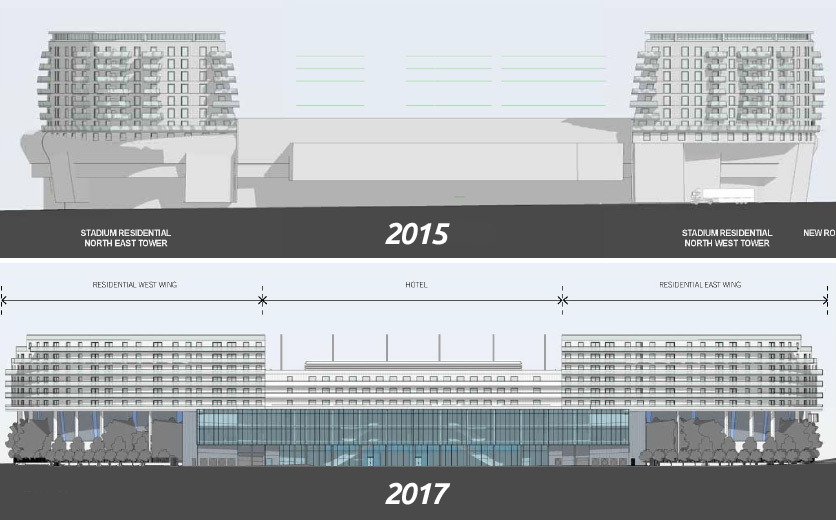 Even if reduced, it's still quite something to imagine 182 apartments (mostly 1-bedroom but still!) on top of a 7,108-seat grandstand! And that's not the end yet. The plan also includes a hotel, which was previously einvisioned as a separate building. Now it's incorporated into the north stand, just between the two apartment blocks. It should offer 107 rooms in total, part of them overlooking the field!

The stadium will be built in two phases. First the simple and cheap part: single-tiered C-shaped stands in the west, south and east, holding 13,893 people. Only then the north side would be built, changing the stadium's layout to make it one of the most original among new venues.

The building should easily meet all crucial domestic and international requirements, including 159 wheelchair spaces. Evenv more, Populous ensured its readiness to convert half of the west end to safe standing (2,753, increase to overall capacity of 21,919).
Aside from the stadium itself, the planning application includes 194 more apartments in 4 separate blocks, vast retail complex with a cinema, as well as over 1,700 parking spaces. Southend United would also get four training fields and two additional ones under a dome (one full-sized).