As stadiums undergo a makeover, these ones got left behind
source: press release; author: michał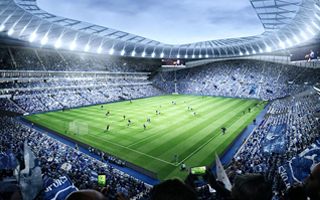 Everton have become the latest Premier League club to be given the go-ahead to build a new stadium. Liverpool City Council have given approval for a £300 million new stadium, on the basis that it will form part of a city-wide bid for the Commonwealth Games. Should the plan come to fruition, Everton will be leaving their iconic home since 1892 – Goodison Park is one of the oldest purpose-built football grounds in the world.
But there appears to be little room for sentiment when it comes to football stadium development these days. West Ham fans will look back on a disappointing first season at the London Stadium – And few would take betting offers on an improvement next season. Built for athletics during the London Olympics in 2012, there is no disguising that it wasn't built for football, with fans distant from the pitch. All of this stands in stark contrast to their former home, the Boleyn Ground. Since 1904, it stood as a landmark in London's East End and was renowned for its atmosphere. With the crowd so close to the pitch, it was hardly a ground opposition players enjoyed visiting.
Meanwhile, Arsenal's move from Highbury to the Emirates Stadium in 2006 was widely thought to make prudent financial sense, especially as it allowed the Gunners to drastically increase their capacity. However, it is widely accepted that the passion of Highbury's North Bank and the Clock End has been somewhat lost since the move, unlikely to ever be rediscovered.
Should Everton's new stadium host the Commonwealth Games, the Toffees will make a similar move to that made by Manchester City in 2003, when they began playing at the City of Manchester Stadium (now the Etihad Stadium) in the wake of the 2002 Commonwealth Games. They too left an iconic home of many decades in Maine Road. With the full backing of the vast Kippax terrace, City would routinely take on English football's finest, set in the middle of their south Manchester heartland.
Talking of atmosphere, few who experienced it would forget the 'Roker Roar.' The North East of England is famed for its football fervour and although Sunderland's home of 100 years held just 22,500 spectators towards the end of its use in 1997, the noise that it generated became legendary. Situated in one of the most inhospitable locations in English football, Roker Park was rarely an easy away trip for visiting teams and their fans. Today's Stadium of Light was one of the first in a new generation of all-seater purpose-built stadiums.
Plenty of similar structures have since been erected, replacing some of English football's grandest old grounds. In the same year that Sunderland left Roker Park, Bolton Wanderers abandoned Burnden Park for the Macron Stadium, Derby County left the Baseball Ground for Pride Park and Stoke City's Victoria Ground made way for the Britannia Stadium.
Critics have argued that this new generation of football stadiums has left a legacy of soulless grounds having replaced focal points for an entire community. Perhaps that is one reason why many of today's major stadium developments are focused on adding to current stadia. Tottenham Hotspur are redeveloping White Hart Lane, retaining their spiritual home, while Chelsea will continue to make improvements at Stamford Bridge. Meanwhile, Liverpool's long-awaited redevelopment of Anfield looks like it may get underway, maintaining the Kop as an iconic structure. It would appear that there is still a space for romanticism in English football.