Warsaw: Polonia a step closer to their versatile arena
source: StadiumDB.com; author: michał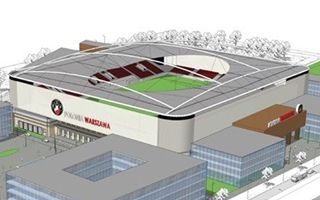 It's the first official step forward for this project: the city hall has approved of Polonia Warszawa's private stadium plan. It could be the world's smallest retractable-roof football venue.
It will soon be a year since Polonia Warszawa had presented their proposed stadium scheme. The initial one was rejected due to excessive percentage of commercial use in the sports-dedicated location.
But then the club have refined their scheme and lowered the scale of proposed office and commercial buildings and in January received the green light from both the conservator-restorer's office and Warsaw architect's office.
Now it's also confirmed that the city hall has approved the proposed replacement of Stadion im. gen. K. Sosnkowskiego. There's still some campaigning ahead of Polonia with the city council and voivode to convince, with both bodies able to kill the project if they oppose. Still, that's a major step forward already.
One major issue that might arise is, again, the scale of secondary commercial use around the planned stadium. According to local zoning there needs to be no more than 40% of commercial space within the project, with majority dedicated to sports, primarily football.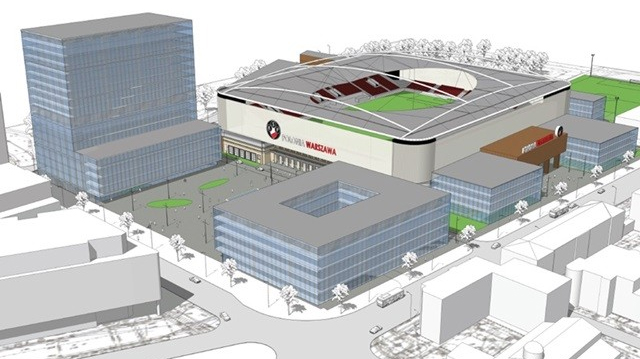 The image above depicts a preliminary idea of how the complex could look. Detailed design is expected to follow after the scheme is approved by all governing bodies. Eventually Polonia Warszawa aim to build a 20,000-seat stadium with retractable roof.
Should they achieve the goal, Polonia would have the smallest stadium so far built with a retractable roof. It would also make Warsaw only the second city after Stockholm to have two fully climate-controlled stadia.
One more landmark achievement by Polonia would be that no other football club in Poland managed to get a privately-funded stadium. All have either received access to municipal stadia or, in the case of Zagłębie Lubin, received a stadium funded by a public industrial company.
Polonia chairman Jerzy Engel assures he already has a developer interested in delivering the project, though it has to be commercially viable. If things go as planned, all formal proceedings should be done within 1.5 year and construction would take 3 more years, ending in 2021.