Poland: Third modern stadium in Warsaw?
source: Warszawa.Wyborcza.pl / StadiumDB.com; author: michał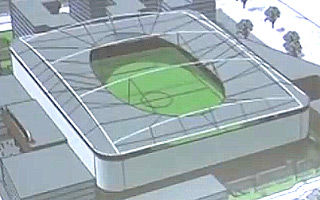 Polonia have just won promotion to the 3rd league, but the goal is to become once again a major Ekstraklasa side. New stadium for under 20,000 people could be a major catalyst.
During the pre-season presentation Polonia Warszawa officials revealed what's been under debate for quite a while: the new stadium scheme. Polonia, who just won their promotion to II Liga (3rd league) after bankruptcy are on their way to re-establish themselves as a strong contender in domestic football.
The new stadium is a crucial part of the masterplan, which is why the latest development had to be noticed. Since the 2015 takeover of the bankrupt team by financial group around former coach Jerzy Engel, the attractive plot at Konwiktorska in central Warsaw has been considered a major asset Polonia have.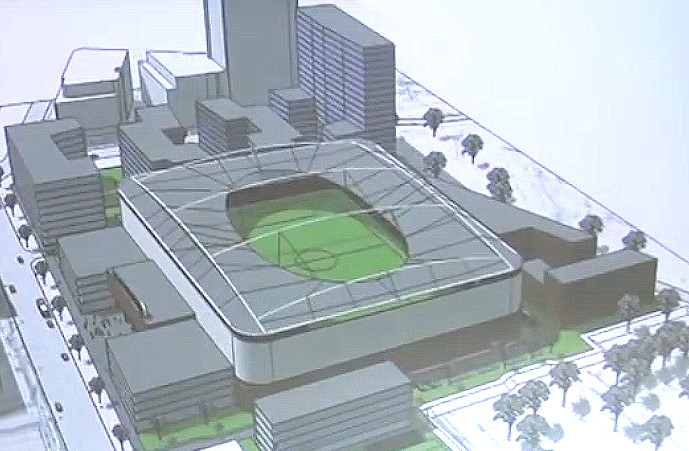 Few details can be confirmed as the presented scheme is preliminary, but Polonia are hopeful of getting a stadium for up to 20,000 people, most likely slightly below that number. It would be rotated by 90° compared to the current one, leaving only the historical western façade of the old building.
Interestingly, the stadium would not have field on ground level, but rather on top of other facilities, which may include parking or offices. Existing western entrance area would be completely consumed by 4 office buildings, three of them with 8 floors and one a true tower of 80 meters.
This congestion of secondary uses is a must if the stadium is to be built. Polonia cannot count on municipal founding like rival Legia did. Instead, the smaller team want to build a private stadium, luring a private partner precisely by the extent of non-sporting use. According to Jerzy Engel, there is a strong developer interested in carrying it out.
One major obstacle over the years has been land ownership. The plot is municipal and Polonia want to secure a freehold by year end. If agreement with the city is reached, detailed planning will take approximately 2 years, followed by 3 years of construction. The result: opening in 2021.
However, there is a lot to talk about, because Warsaw authorities strongly suggest the commercial/office part to be downscaled. Local zoning plan only allows buildings of up to 20 meters, while the tallest tower is four times that height (although some high-rise buildings have been permitted in the area). Also, according to zoning 40% of the land has to serve sports and leisure, while the proposed masterplan puts much greater emphasis on non-sporting use.
Still, both Polonia and municipality confirm there is room for compromise and the preliminary scheme has been approved, pending further negotiations.