Belgium: Waregem begin work on pavilion
source: Nieuwzblaad.be / VoetbalBelgie.be / Goedefroo-Architecten.be; author: michał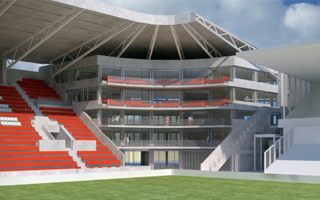 Following their success in Belgian Cup final, Zulte-Waregem have two major challenges: adjusting their stadium to European standard and expanding it by year end.
On March 18 SV Zulte-Waregem have won the Belgian Cup and are now thus guaranteed to have a spot in next season's Europa League. Even more, they still have a chance of getting into Champions League, if they catch up to Anderlecht, now 4 points ahead.
However, in recent days an inspection from KBVB (Belgian FA) showed that Regenboogstadion, despite having two new stands, is not suitable for international games. It was suggested that Essevee might have to play in Lokeren.
However, on Wednesday the team tweeted they are not going anywhere. Instead, SV Zulte-Waregem opt to improve their ground and adjust it to meet Europa League regulations. The only large change will be expansion of the press area, otherwise it's secondary improvements.
Aside from these alterations the club's biggest project of the year is now beginning. The stadium's southern corner will be filled with a modern pavilion with 5 floors.
Two of them will be occupied by private boxes. Additional suites, new club megastore and changing rooms are being planned within the new facility. It's expected to be ready for opening early into 2018 at the latest, while structurally complete by the end of 2017.