Rotterdam: 80th birthday of De Kuip
source: StadiumDB.com; author: michał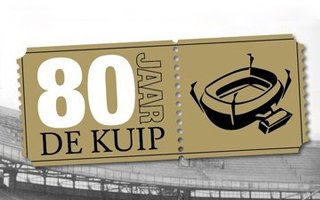 Yes, birthday. Not anniversary. De Kuip is more than a building to Feyenoord fans, which they proved last night in quite significant numbers.
Exactly on this day 80 years ago the very first game at Stadion Feijenoord took place. You may ask: wait, wasn't it still under construction? Yes, it was only delivered in July of 1937, but already in March 37,825 people crammed inside despite the falling rain. They enjoyed the very first victory of Feyenoord, who defeated Beerschot 5:2.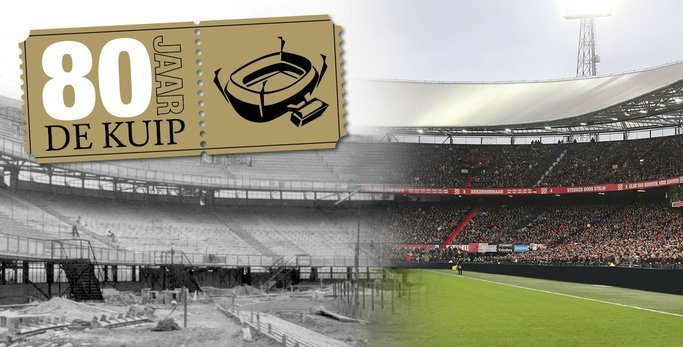 Yesterday there was no crowd like that, but the occasion was different as well. On the eve of De Kuip's birthday dozens, maybe hundreds of people turned up outside the building to wish it a happy birthday. They brought quite a few "candles", including regular flares and fireworks, lighting up the sky.
They also brought a special gift. Fan group De Feijenoorder created a special graffiti on plywood, which they then mounted onto a fence outside De Kuip. The impressive 68-meter work reads: "Stadion Feijenoord – De Kuip – Sinds 1937", which seems self-explanatory.
That's just a piece of the 80th birthday celebrations. The stadium and club launched a competition for best memories from De Kuip, which attracted over 1,500 people! Winners were awarded tickets to games and souvenirs.
It's worth mentioning that De Kuip is a listed monument of architectural value and will thus not be demolished. However, with Feyenoord's relocation to the new riverfront stadium on the horizon, its use will change entirely. In legacy mode the stadium will incorporate residential, commercial and leisure uses, still leaving room for fans to gather and cherish one of global football's most celebrated temples.