Rome: Lazio remind Rome of their stadium plan
source: StadiumDB.com; author: michał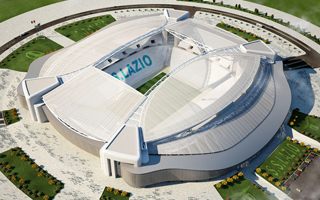 Agreement between AS Roma and the city of Rome seemed to strike a nerve at Lazio. Their stadium design was also planned on a floodplain, but never received an approval…
While we quickly noticed the great news about AS Roma reaching an agreement with the mayor of Rome, we completely missed Lazio's reply. And we shouldn't have, because it's amusing and quite witty. It's also a great reminder that Lazio too, after all, have been campaigning to leave Stadio Olimpico.
On Saturday, the following day after Roma's agreement, the derby rivals released this statement:
"Following the statements of mayor Virginia Raggi and the representatives of AS Roma, SS Lazio notes with pleasure, that all the obstacles related to constraints of superintendence and hydro-geological constraints for the construction of Stadio della Roma have been overcome."
"Lazio and its many supporters are confident and certain that the entire administration of Rome council will not create discrimination between Roman citizens based on their football allegiance, so Virginia Raggi and her group will certainly allow the construction of a stadium for the Biancocelesti fans too."
Especially the "hydro-geological constraints" mentioned are poignant. AS Roma's new stadium has been approved by the mayor despite being located within a floodplain. Of course the agreement envisions strengthening of the flood protections at Tor di Valle.
What Lazio are aiming at is that they too have been working on a new stadium on a floodplain and their application was denied. While AS Roma's road to their private stadium may be considered long, SS Lazio released images of their planned home (illustrating this article) back in 2004 and still made little to no progress.