Poland: Framework ready for Sosnowiec stadium
source: StadiumDB.com; author: michał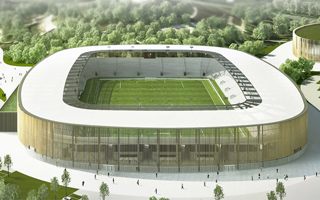 The Sosnowiec city council approved creation of a municipal company responsible for delivery and management of their new sports complex. First phase: the 12,000-seat stadium.
Earlier this week the Sosnowiec city council debated the establishment of a municipal subsidiary, Zagłębiowski Park Sportowy (ZPS). The limited liability company named after the planned sports complex, was approved despite some opposition. 15 members voted for it, 7 against and 4 abstained.
The company has to begin operation this year, because it's created to run Sosnowiec's largest sports project in history. Worth PLN 150 million ($37 million), the sports park will comprise a 12,000-seat stadium (with expansion to 15,000 foreseen), a 3,000-seat indoor hall and 2,500-seat covered ice rink.
Complete design documentation for the complex will be ready by the end of 2017, which will open the possibility of tendering construction works in early 2018. Should that go along plans, the football stadium (first phase of the complex) for Zagłębie Sosnowiec will be ready for use in 2020.
This scenario seems to be a realistic one, because the citizens of Sosnowiec had already voted in favour of the project, while geological studies on site gave green light for construction works.